Affordable one-way flights to Kefalonia
Other destinations like Kefalonia from North America
Other destinations like Kefalonia from Germany/Austria/Switzerland
Holiday tips for Kefalonia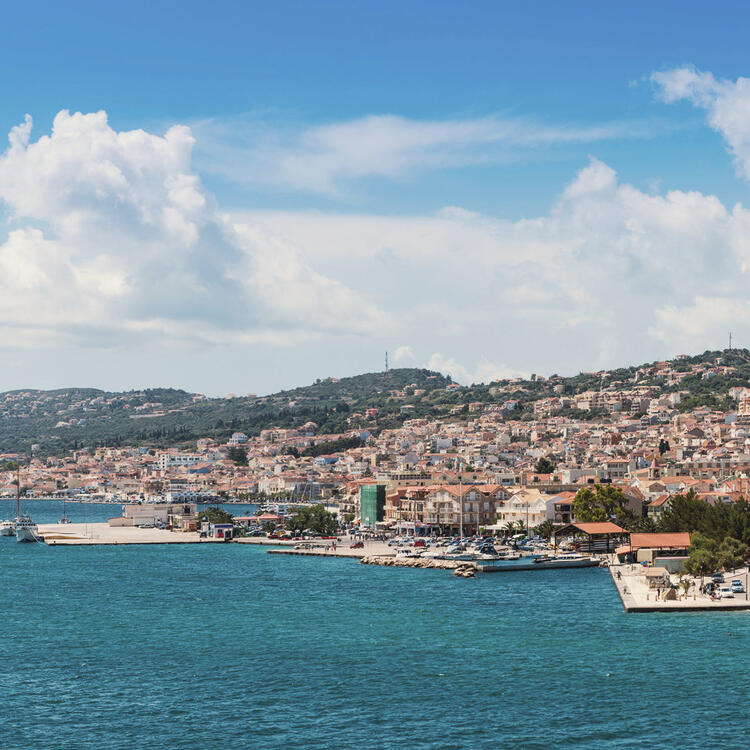 Argostoli
The capital of the island was virtually completely destroyed by an earthquake back in 1953 and therefore now has a very modern townscape. Lithostroto, the town's pedestrian area, is home to a multitude of attractive shops, tavernas and cafés, while many visitors also like to explore the market along the waterfront.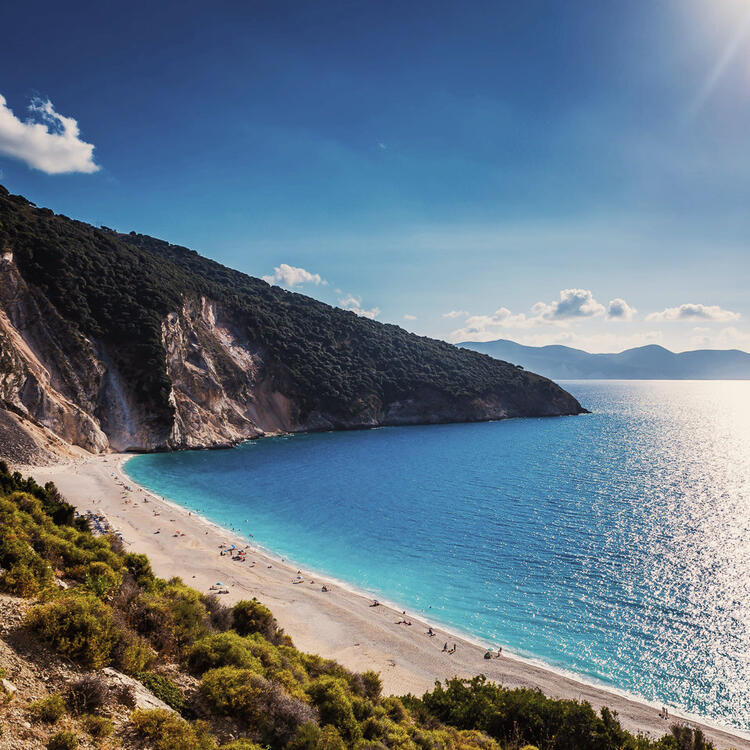 Stunning beaches
Kefalonia impresses visitors with its abundance of attractive bays and beaches – our favourites are the Myrtos and Antisamos Beaches. Myrtos Beach is considered to be one of the most beautiful beaches in Greece but Antisamos Beach is equally stunning.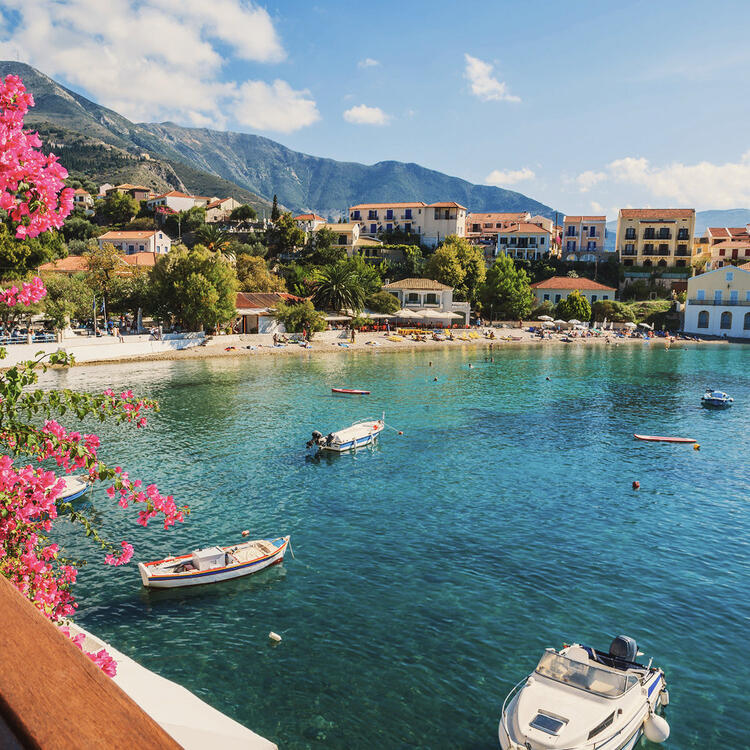 The village of Assos
If you follow the many winding roads beyond Myrtos Beach, you will end up in Assos. This small village is located on a peninsula extending out into the ocean and is especially popular due to its wonderfully relaxed atmosphere.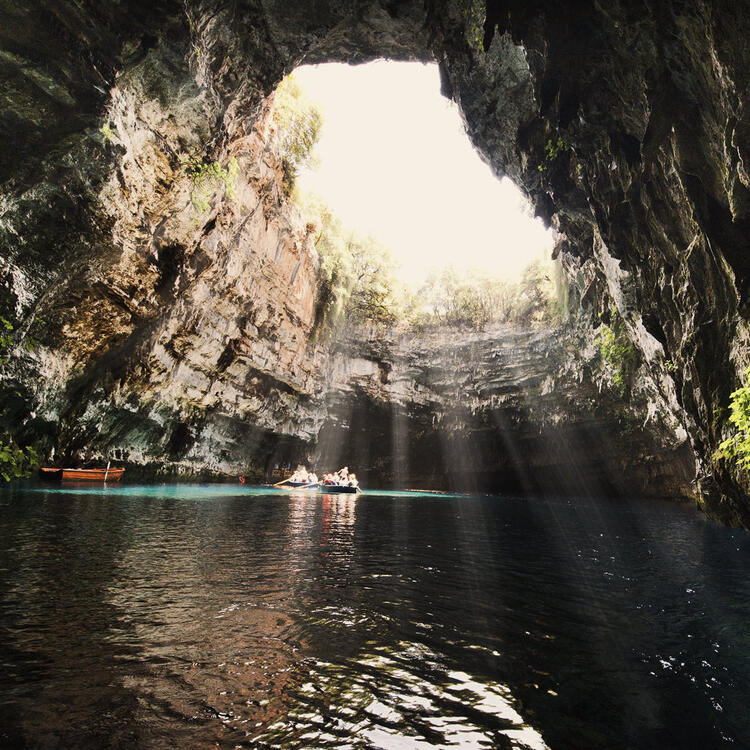 Melissani Lake
This lake is located in an underwater cave that is lit up by the sun at certain times of day, producing a truly wonderful array of sparkling colours. We highly recommend the lake as a must-see on your trip!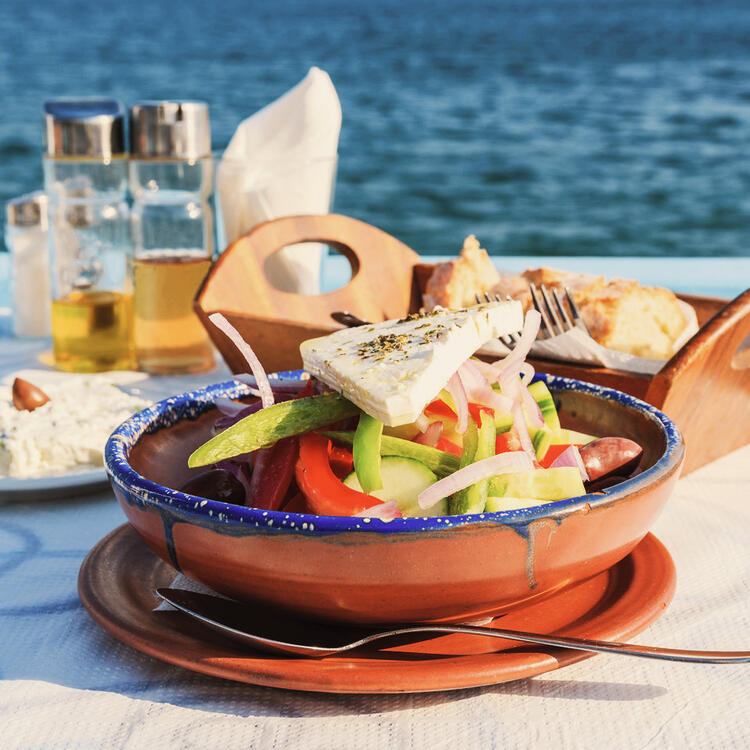 Greek delicacies
Given that Kefalonia is located away from Greece's main tourist destinations, its cafés and restaurants offer wonderfully authentic and unbelievably delicious cuisine. Our tip: Greek salad with feta cheese, freshly caught fish and a glass of wine – delicious!
weather Kefalonia
JAN

FEB

MAR

APR

MAY

JUN

JUL

AUG

SEP

OCT

NOV

DEC
Welcome to Kefalonia!
A flight to Kefalonia is an excellent opportunity to discover the charming Greek islands located in the Ionian Sea. Kefalonia is still a true insiders' tip and impresses visitors with its crystal-clear azure waters, gorgeous beaches, secluded bays and abundance of Greek hospitality.
Book one of Condor's cheap flights to Kefalonia now and look forward to a relaxing break away in Greece!
Flight facts
Cheap flights to Kefalonia with Condor are available via stop-over in Düsseldorf and Munich. The flight from Germany to Kefalonia International Airport takes from there approximately 2.5 hours.
The airport is situated around 9 kilometres away from the capital city Argostoli and you can access your holiday destination either by taxi or hire car.