Cheap flights to Florence from US$ 249.99*
All flights from North America to Florence
What to do in Florence Italy - Our Top attractions
Piazza del Duomo
This is a truly stunning square that proudly displays the city's iconic Duomo, also known as the Cathedral of Santa Maria del Fiore, along with its magnificent Giotto Bell Tower. The Duomo itself is a masterpiece of Italian Gothic architecture, with an intricate facade adorned with marble panels and statues. Upon entering the square, you are immediately immersed in the grandeur and rich history of Florence. Don't miss the opportunity to climb to the top of the Bell Tower for a breathtaking panoramic view of the city and its vibrant red rooftops.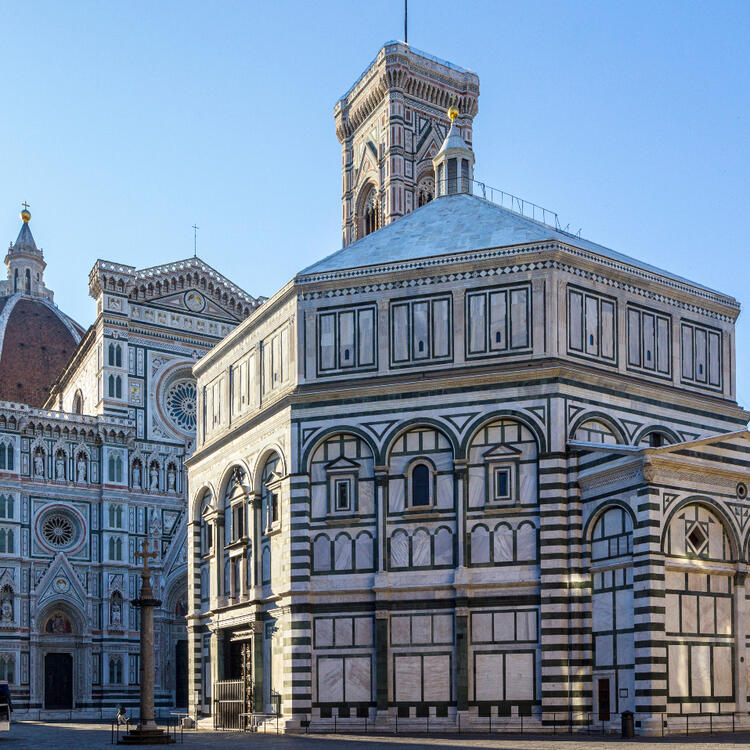 The Baptistery of St. John
Just across the street from the magnificent Duomo, the Baptistery of St. John is a true architectural gem. This octagonal building, with its awe-inspiring façade, is adorned with meticulously crafted sculptures depicting captivating scenes from the New Testament. Among its most notable features are the breathtaking bronze doors, expertly designed by the renowned artist Lorenzo Ghiberti. Once inside, prepare to be enchanted by the ornate interior, where every nook and cranny reveals intricate detail and stunning craftsmanship.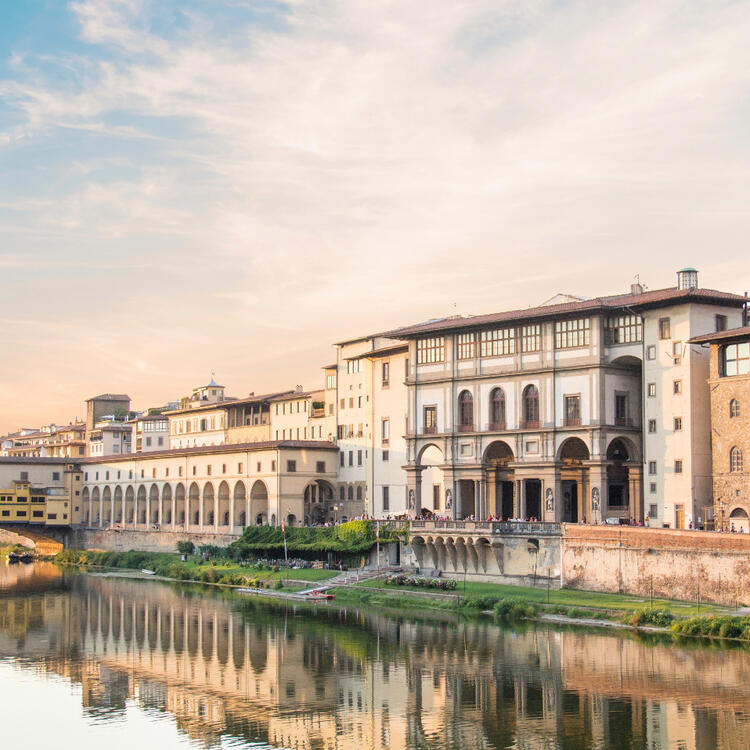 Uffizi Gallery
For art lovers, this is a must-see. Located in the heart of Florence, Italy, this world-renowned museum houses one of the most comprehensive collections of Italian Renaissance art. Enter a realm of artistic brilliance as you stroll through the magnificent halls adorned with masterpieces by renowned artists such as Botticelli, Michelangelo, Leonardo da Vinci, and Raphael. Marvel at the delicate brushstrokes, intricate details, and exquisite craftsmanship that define these iconic works of art.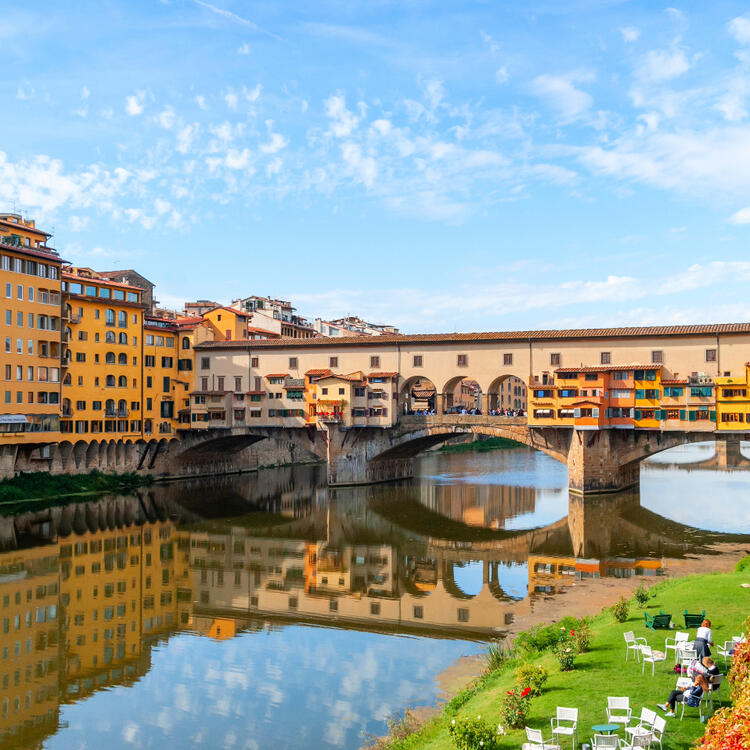 Ponte Vecchio
This iconic bridge spanning the picturesque Arno River is one of Florence's most famous landmarks and a beloved symbol of the city's rich history and culture. Its unique architecture, with beautiful arches and stunning stone work, is not only visually captivating, but also holds centuries of stories within its walls. As you take a leisurely stroll along the bridge, you'll be greeted by a charming array of shops and jewelry stores that add to the bridge's allure.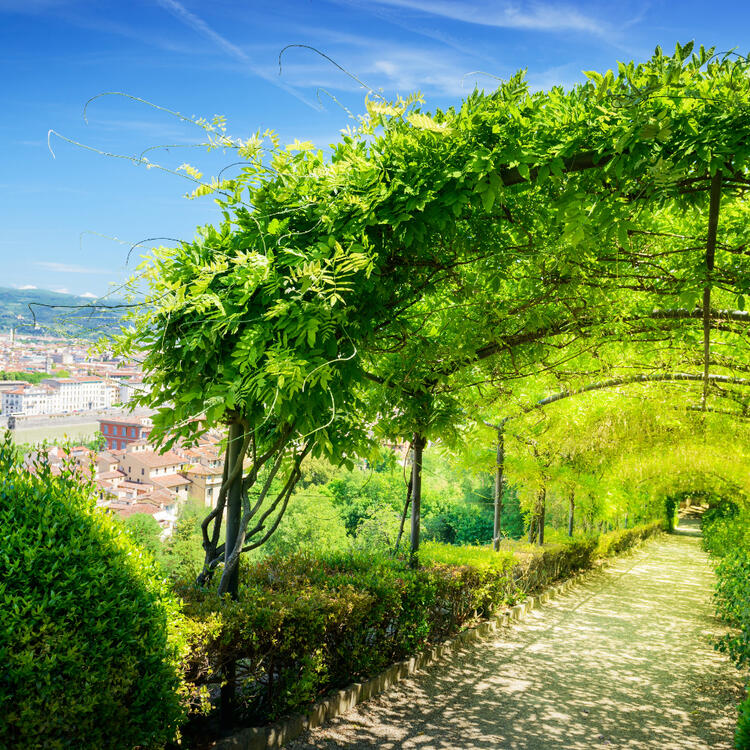 Boboli Gardens
Escape the bustling streets of the city and enter a peaceful oasis of natural beauty at the Boboli Gardens. Located behind the spectacular Pitti Palace, this enchanting garden is a popular spot for locals and visitors alike to relax, unwind and admire the splendor of nature. The beautifully manicured gardens, adorned with stunning fountains and statues, offer breathtaking panoramic views of Florence's iconic skyline. Stroll along the winding paths, surrounded by vibrant flowers and lush greenery, and discover hidden corners that reveal enchanting gazebos and secret gardens.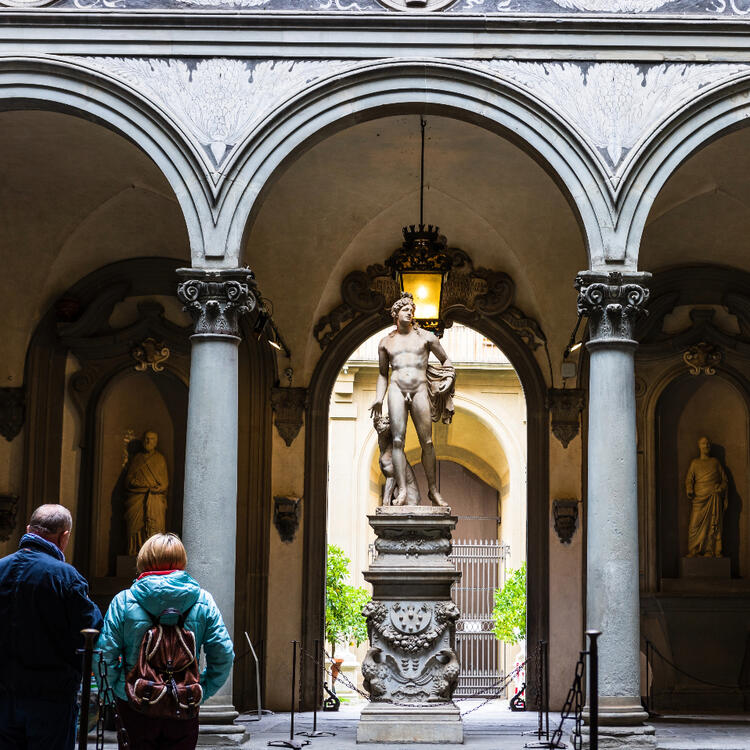 Galleria dell'Accademia di Firenze
Located in the heart of the city, this renowned art museum is home to one of the world's most famous sculptures - Michelangelo's David. Standing an impressive 17 feet tall, this awe-inspiring statue captivates visitors with its remarkable craftsmanship and lifelike depiction. As you stroll through the museum's grand halls adorned with elegant artwork, you'll embark on a journey through the history of Renaissance art. Marvel at the intricate brushstrokes and exquisite details in the vast collection of paintings and sculptures by renowned Italian masters, each piece demonstrating the evolution of artistic expression over the centuries.
Welcome to Florence , the capital of Tuscany in Italy
Situated in the captivating region of Tuscany, Florence stands proudly in the heart of Italy. Approximately 275 kilometers (170 miles) northwest of Rome, the country's capital, this mesmerizing city is nestled among rolling hills adorned with vineyards and olive groves, epitomizing the classic Tuscan scenery. Its strategic geographic location makes it an ideal hub for embarking on remarkable journeys throughout Italy, as numerous important cities and captivating tourist destinations can be easily reached within a reasonable travel distance.
For art enthusiasts planning a trip, Florence, widely known as the "Cradle of the Italian Renaissance," offers an exhilarating experience. The Renaissance left an indelible mark on Florence, completely transforming it into a vibrant center of art, culture, and humanism. This extraordinary period witnessed a burst of intellectual and artistic creativity, sparking a new fascination with classical antiquity. At every turn in the city, you'll encounter architectural wonders that testify to the innovative spirit of the age, including the iconic Duomo and Ponte Vecchio. Florence became an inspiring muse for renowned artists such as Michelangelo, Leonardo da Vinci, and Botticelli, who made significant contributions to the city's rich cultural heritage. Prepare to be captivated by the fascinating allure of Florence, a true paradise for art lovers.
Weather in Florence Italy: Florence has a Mediterranean climate, with hot, dry summers and mild, wet winters. The city experiences its warmest months from June to August, with average highs ranging from 80°F to 90°F. Winters are cooler, with temperatures ranging from 40°F to 55°F. Fall and early winter bring rainfall to the region.
When is the best time to fly to Florence? When planning your visit to Florence, take advantage of flexible dates to maximize your experience. If you're looking for the cheapest month and fewer tourists, consider avoiding the summer months of June through August, even though they offer warm weather. It's the peak tourist season and popular attractions can be quite crowded. For a quieter and less expensive trip, the shoulder seasons of spring (April to June) and fall (September and October) are ideal. Not only will you encounter fewer tourists, but the city's charm is enhanced by the blossoming flowers in spring and the vibrant foliage in fall.
Embark on an unforgettable journey with Condor and book flights to Florence today!
Information about your Flight to Florence
Welcome aboard your Condor flight to Florence! Your destination is Florence Peretola Airport (FLR), also known as "Aeroporto di Firenze". This airport offers convenient access from major airports in the U.S. and Canada, including Halifax (YHZ), Phoenix (PHX), New York (JFK), and more. Prepare for an exciting trip to the stunning city of Florence with the best flight deals from Condor.
Located just 4 km from Florence city center, the airport is easily accessible by car. Upon arrival, you'll find a variety of transportation options, including taxis, buses and rental cars, readily available to whisk you away to the vibrant city.
Flight duration: Flights to Florence from major cities in Canada and the U.S. typically take between 9 and 12 hours, including a layover in Frankfurt. The exact duration may vary depending on your departure city. For example, the flight from New York (JFK) to Florence (FLR) takes approximately 11 hours and 5 minutes. Meanwhile, flights from Halifax (YHZ) take approximately 11 and a half hours aboard our state-of-the-art A330 Neo . Experience the captivating sense of spaciousness and enjoy maximum seating comfort on board.
While you're soaking up the charm of Florence, don't miss the opportunity to take advantage of the popular routes for delightful day trips to discover the enchanting neighboring cities. A round trip within a few hours drive from Florence will introduce you to fascinating destinations such as Siena, Pisa, Lucca and the magnificent San Gimignano. To make your trip even more convenient, look for car rental deals that allow you to explore at your own pace.
Don't miss the chance to secure the best prices for Florence flights with Condor! Use our search form to find cheap flights and treat yourself to the perfect flying experience. Our comfortable cabins are equipped with amenities such as complimentary food and beverages, in-flight entertainment and generous legroom (XL-Seats). Embark on an enjoyable and budget-friendly journey with Condor.
Frequently Asked Questions about Florence
1.
How many airports are there in Florence?
Florence, Italy has one main airport, known as "Peretola Airport" or
"Aeroporto di Firenze-Peretola"
. It's also sometimes referred to by its former name,
"Amerigo Vespucci Airport,"
named after the famous Italian explorer Amerigo Vespucci. When booking flights or navigating, it's useful to know the airport's
IATA code, which is FLR.
2.
How do I get from the airport to the city center?
Getting from Florence Amerigo Vespucci International Airport to the city center or your hotel is incredibly convenient! You have two great options: taxi or bus. Taxis are readily available just outside the arrivals terminal and provide a quick and comfortable ride that takes about 15 minutes. If you prefer a more budget-friendly option, buses are also available. They offer regular service and usually take about 20 minutes to reach your destination.
3.
Can I rent a car at Florence airport?
Yes, several car rental companies operate out of Florence Airport, making it easy to explore the city and the beautiful Tuscan countryside at your own pace.
4.
Do I need a visa to travel to Florence if I am a US / Canadian citizen?
If you are a US/Canadian citizen traveling to Italy as a tourist, you do not need a visa if your stay is less than 90 days. If you hold a passport from another country, it's important to check with the Italian embassy or consulate in your country for entry requirements and to apply for a visa if necessary.
5.
How many days in Florence?
We recommend spending at least 3-4 days to explore the main attractions and experience the local culture and cuisine. With its
6.
How far is Pisa from Florence?
Pisa, famous for its Leaning Tower, is located approximately 83 km (51 mi) west of Florence. It's an easy day trip, with travel times of about 1 hour by train or 1.5 hours by car, depending on traffic and origin/destination.
7.
Is Firenze Italy the same as Florence?
Yes, Firenze is the Italian name for the city known in English as Florence. You'll often see both names used interchangeably, especially in bilingual resources, maps, and transportation services. If you're in Italy, you're likely to hear locals refer to the city as Firenze, while international visitors usually know it as Florence.
8.
What languages are spoken in Florence?
Italian is the official language spoken in Florence. However, English is widely spoken in tourist areas, hotels and restaurants.
9.
What currency is used in Florence?
The official currency in Florence is the Euro (€). Credit cards are widely accepted, but it's a good idea to carry some cash for smaller purchases, especially in more traditional establishments or outdoor markets.
10.
What's the food like in Florence?
Florence is famous for its cuisine. Traditional Florentine dishes are based on the concept of 'cucina povera' or 'poor cooking', using simple, high-quality ingredients. Must-try dishes include 'bistecca alla fiorentina' (Florentine steak), 'ribollita' (hearty bread and vegetable soup) and 'pappardelle al cinghiale' (pasta with wild boar sauce). Don't forget to try 'gelato', Italy's famous ice cream, especially famous in Florence.
Other destinations like Florence from North America