Condor Upgrade
At Condor, we make it easy to upgrade your flight. The choice is yours: Enjoy our Premium Economy Class, or settle in on Cloud 9 while experiencing our Business Class. On this page, you will find a complete overview of your upgrade options.
Have you already booked your flight with us and now desire to enhance your journey with the comforts of Premium Economy Class or Business Class? Rest assured, if seats are still available, you can easily and swiftly enhance your journey for an additional charge via My Booking or the Online Check-in. Indulge in the perfect travel experience with added comfort and convenience. Benefit from more luggage allowance, generous legroom, access to exclusive lounges, and adjustable headrests – sometimes, it's those little touches of luxury that make all the difference, and with a seat upgrade, your relaxation begins from the moment you depart. Find out more here:
---
Upgrade to Premium Economy Class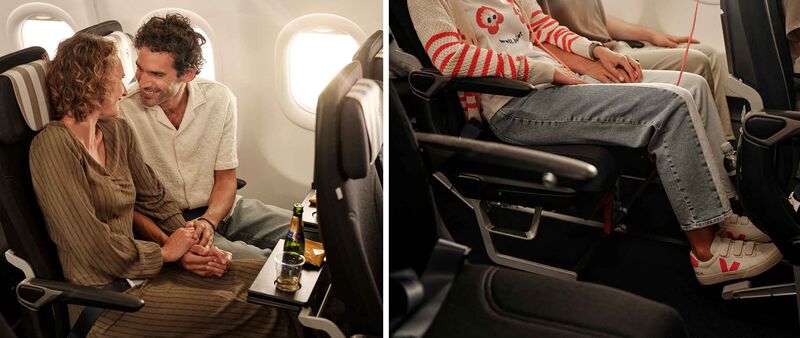 Make your travel experience even more enjoyable. Our Premium Economy Class offers additional legroom and wider seats for a comfortable journey. You can find more space for relaxing, as well as exclusive cabin features such as tasty meals, premium snacks, and a complimentary drink. Only available on long haul flights, this upgrade will guarantee a unique flying experience.
Your Perks in Premium Economy Class at a Glance:
Online check-in, free airport check-in or free late night check-in at many German airports and in Zurich
More checked and carry-on baggage
Large personal monitor including premium entertainment and eJournals
More legroom and more comfortable seat with more recline, individually adjustable footrest and headrest.
"Taste the World" premium menu, snacks and beverage selection
Travel Kit incl. welcome gift and headphones
Sparkling wine service after take-off (only in A330neo)
---
Upgrade to Condor Business Class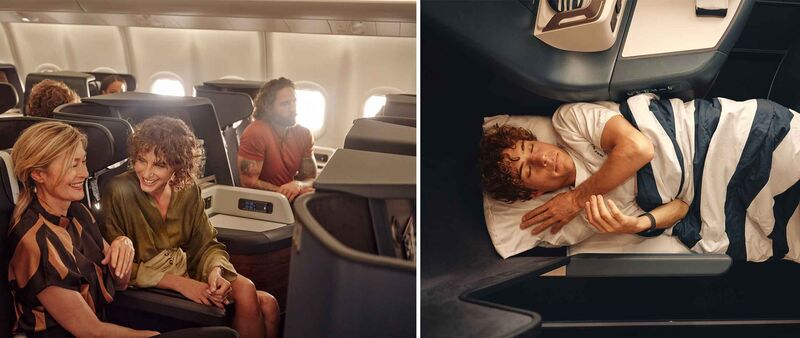 Take your flying experience to the next level with an upgrade to Business Class. This premium class provides superior comfort with additional legroom, wider seats, and exclusive cabin features. Enjoy delicious meals, premium snacks, and drinks, and much more. Take your flight experience to new heights with Condor's Business Class.
Your Perks in Business Class at a Glance:
---
Experience the Difference: Our Best Seats on the Plane
In the front row of the Airbus A330neo, four exclusive seats await you for even more first-class comfort with special extras - our Prime Seats. Here, you'll enjoy a larger reclining seat with expanded legroom. For even more convenience, a special travel kit and cozy pajamas are available. The Prime Seat is perfect for traveling as a couple, because your travel companion can sit in the opposite seat. The shared table in the middle invites you to eat, play or work. On the over 24-inch screen, you can enjoy our entertainment program in 4K resolution. With the included Internet package, you'll stay online the whole time. Upgrade to the front rows for the very best travel experience!
Book now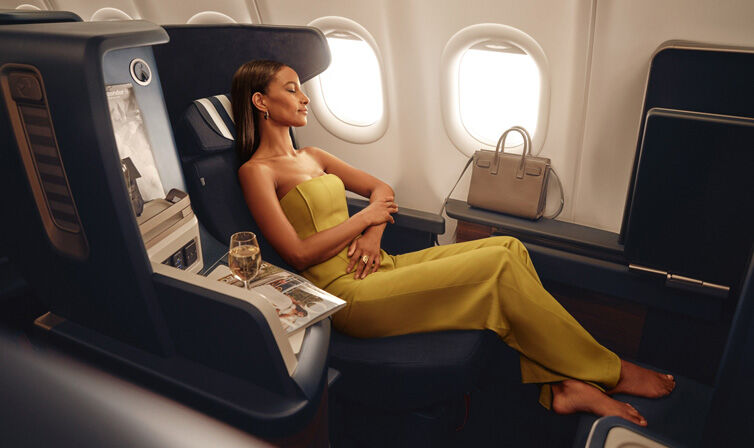 ---
Upgrade Auction with SeatBoost
Enhance your travel experience right at the airport through a smartphone live auction with the free SeatBoost app. Bid for the available seats on select long-haul flights and unlock the opportunity to experience the ultimate comfort of Premium Economy Class or Business Class until shortly before departure. As the highest bidder, your new tickets will be delivered straight to your smartphone, allowing you to indulge in added comfort during your Condor flight.
---
Enhance your next journey the easy way: At Condor, you have different options to maximize your travel experience in our Premium Economy Class or Business Class.
Advance Booking: Log in to My Booking on our website with your name and flight information to secure your upgrade in advance.
Online Check-in Upgrade: During online check-in, starting 24 hours prior to departure, you still have the opportunity to enhance your travel experience by selecting Premium Economy Class or Business Class, if seats are still available.
Last-Minute Upgrade: If seats are available, upgrade directly at the airport or onboard.
Contact our service center: Our dedicated colleagues are available 24/7 to assist you with booking a higher travel class and ensure a seamless process.
Please note: Upgrade options are available on Condor (DE) flights to elevate your travel experience. Should your journey include connecting flights operated by any of our partner airlines, please, explore our rebooking feature and ascend to a higher class.
---
Frequently Asked Questions
Can I upgrade my travel class at the airport?
Yes, Condor provides the opportunity for last-minute upgrades directly at the airport, subject to seat availability. If there are vacant seats in the higher travel class, you can inquire about upgrading at the airport check-in counter. The availability of upgrades may vary depending on the flight and demand.
When is the best time to inquire about a last-minute upgrade at the airport?
It is recommended to arrive at the airport with ample time before your flight departure. Inquire about last-minute upgrades at the airport check-in counter during the check-in process.
Can I upgrade onboard the aircraft?
Yes, if seats are available, you can also request an upgrade onboard. The cabin crew will notify you if Premium Economy Class or Business Class tickets are still available. Please note that for onboard upgrades, only card payment is accepted. Cash payment may not be available, so please ensure you have a valid card for payment.
Are there any restrictions or conditions for last-minute upgrades?
Last-minute upgrades are subject to seat availability, so please note that upgrades are not guaranteed.
How much does an upgrade with Condor cost?
Please note that prices for upgrades to Premium Economy Class or Business Class can vary depending on the offer and route. To find out the actual surcharge, we recommend logging into My Booking or contacting our service center.