Extras
Rail&Fly
It's inexpensive, comfortable, and available throughout Germany – travel free of stress from your destination airport to any city in Germany by train with Condor's Rail&Fly offer, for just US$ 34.04 per person.
With Condor's Rail&Fly service, you'll travel to your departure airport economically, comfortably and stress-free.

Fares:
US$ 68.08 per person, per journey in First Class, and
US$ 34.04 per person, per journey in Second Class.
You can reserve Rail&Fly tickets up to three hours* before departure, either immediately when booking your flights at www.condor.com, in My booking, or through our Service Center.
*120 hours (5 days) for flights to Windhoek (WDH), operated by Air Namibia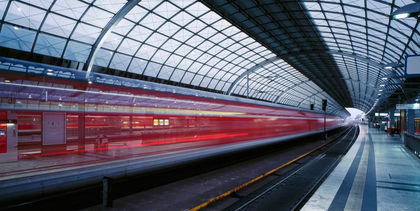 More information on Rail&Fly
Validity
Rail&Fly tickets are valid only in conjunction with a Condor flight reservation, are available for all Deutsche Bahn AG routes, on all regular scheduled DB trains (including ICE, IC / EC). The flight must be reserved directly with Condor. Rail&Fly cannot be combined with travel to special events.

Rail&Fly tickets are not valid
on DB Motorail services, Thalys trains or special (non-scheduled) trains.
within one 'transport association' (PTE) if the departure and destination stations are both within the same association.
Depending on the type of ticket (i.e. one-way or return), Rail&Fly tickets are valid for the flight date, also one day before departure and/or one day after arrival.

The maximum period between the outward and return legs of a Rail&Fly ticket is six months.

A supplement is payable on the train when travelling on ICE Sprinter services. The reservation fee is included in the supplement.

In the case of Condor customers travelling from German airports but arriving from abroad, the Rail&Fly ticket will be valid only from the German border.
Evidence of identity (ID)
You will need to produce evidence of identity on the train in the form of your printed Rail&Fly ticket, your flight itinerary, also your passport and/or travel document.

In the case of reservations for more than one person, all must travel together on the same train /by the same route to and from the airport. Each person travelling must produce evidence of identity. If a person is unable to produce their ID when tickets are checked, the Rail&Fly ticket will be invalid and a new ticket must be purchased at the applicable on-board fare. Retrospective refunds are not permitted.
Child reductions
Infants up to and including one year travel free with an accompanying adult. Rail&Fly Tickets are not valid for unaccompanied children.
Punctuality
All Deutsche Bahn AG trains within Germany are available to you with a Rail&Fly ticket. Since delays can never be totally ruled out when using public transport, you should arrange your connections to arrive at the check-in counter well before the latest check-in time. Each traveller is responsible for ensuring he/she arrives at the airport in good time. Condor can accept no liability for failure to reach the airport in time owing to delayed buses or trains.
Travel documents
For all Rail&Fly services reserved separately as an extra either online at www.condor.com or through our Service Center, the Rail&Fly ticket will be sent as a PDF document by e-mail immediately after the reservation is complete.
For all other Rail&Fly services (e.g. Condor flight reservations with rail transfer [2A], you will receive within 72 hours of making the reservation either an e-mail with a 'Pick-up number' or an e-mail that includes a Rail&Fly ticket as a PDF document.

If you have been given a 'Pick-up number' by e-mail, the Rail&Fly ticket can either be called up online using the print@home procedure, within 72 hours of departure, at www.accesrail.com/checkin (quoting reservation code/reference and name), or it can be printed out at a ticket machine, quoting the Pick-up number. Once a Rail&Fly ticket has been called up online using the print@home procedure, it is no longer possible to print it out again at a ticket machine.
If your Rail&Fly ticket has been sent by e-mail as a PDF document, you can print it out directly. In this case, it is not possible to use the print@home procedure, nor to print the ticket out at a ticket machine.
Changes of reservation
If you reserved the Rail&Fly service as a separate extra (e-mail with PDF document) from 03 Aug 2017 and you change your flight reservation, Rail&Fly must be rebooked and paid for again. The previous ticket will be refunded immediately.
However, if the Rail&Fly service was reserved as a rail transfer (2A) (e-mail with ticket number), this will be automatically transferred to the new flight when you change the flight reservation.
Rail&Fly tickets already issued before a reservation was changed become invalid and will not be accepted for travel.