On Board
Food & Beverages
In Economy class, we serve tasty Premium Menus and Special Menus at reasonable prices.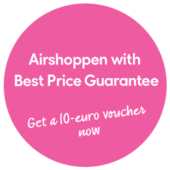 On short-and medium-haul flights (zones 1-2), in Economy class we offer a wide range of non-alcoholic and alcoholic beverages at reasonable prices. You will find a list of beverages in your seat pocket.

Please note that water, coffee and tea will be free of charge until 31 October 2016 only.
We will pamper you with our delicious 3-course Premium Menus which you can pre-order, from only € 7.99.

To Premium menus
Meals and drinks on longhaul flights
On long-haul flights (zones 3-5), in Economy class we serve a free hot meal, and either a cold light meal or cold breakfast prior to landing, according to the time of day (or for flights up to 8 hours, a light snack).
All non-alcoholic beverages are served free of charge. On longhaul flights you can pre-order either a delicious Premium Menu or a Special Menu.

To Premium Menus
To Special Menus
More on the topic of "On Board"