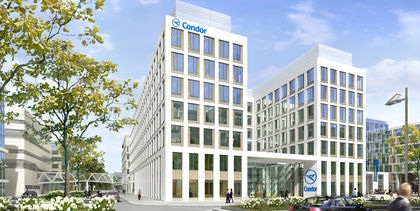 Condor Flugdienst GmbH

Condor Platz
60549 Frankfurt am Main
Germany

Service Center
Phone: +1 (0) 866 960 7915
(Free of charge. For hearing and speech impaired customers please dial 711 or use the toll free number for the voice relay in your state.)
E-mail reservation.en@condor.com

Chairman of the Supervisory Board
Executive Board

Ralf Teckentrup (CEO),
Dr. Ulrich Johannwille,
Christian Schmitt

Registered Office

Kelsterbach/Germany
Business address: Condor Platz, 60549 Frankfurt am Main, Germany

Register Court and Number

Amtsgericht Darmstadt Nr. 83385

Value Added Tax Identification Number (VAT ID No.)
Regulatory authority
Image and photo credits: Images and photos on the condor.com website are used with the kind permission of Simon Gehr, Marco Polo and Getty Images International.