Check-in
Late Night Check-in
Everything you need to know about Condor's late night check-in is here
Convenient and stress-free: Late Night Check-in
Condor offers you the option to check in your baggage in advance and pick up your boarding pass the night before the flight. On the morning of your flight, you can then go straight through the security checkpoints an on to your gate.
Please bring your travel documents and a valid ID card or passport if you are using the late night check-in service.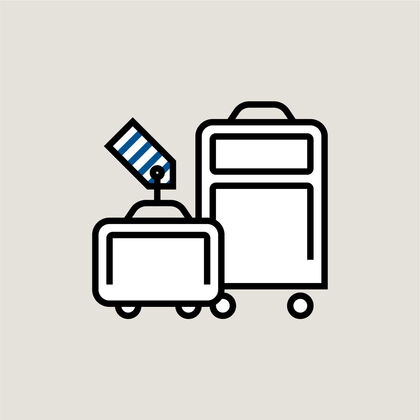 What do I need to know about Late Night Check-in?
A fee of €25.00 (Economy Light) and €5.00 (Economy) per traveller will be charged.This fee is already included for the Economy Light fare when booking airport check-in.
Late night check-in is free of charge for passengers booked in Business Class, Premium Economy Class and Economy Best Class.
Sports equipment can be checked in (please note the terms and conditions of registration).
Animals may not be checked in until the day of departure.
Late night check-in is not available for special flights (flights not operated with a regular timetable, e.g. a sightseeing flight over the Alps).
Every passenger must present an official photo ID (identification card, passport)
If an adult travelling family member wants to check in other members of his or her family, he or she must present their travel documents and official photo IDs of everyone being checked-in, and must also pay the late night check-in fee all persons who will be travelling.
Unfortunately, we are unable to offer this service for groups of 10 or more people. For security reasons, these passengers are required to check-in in person.
If a person who is not travelling wants to check in passengers, that person's personal ID document will be verified and the person's personal data will be recorded. The passengers' travel documents and official identification documents must also be presented and the late night check-in fee paid for everyone who will be travelling.
If the late night check-in service is used, we ask our passengers to come to their departure gate at least one hour prior to departure.
Please note: Separate regulations apply to flights operated by other airlines (e.g. Lufthansa). Please contact the respective airline for more information on these regulations.
Here you can find the Late Night Check-in counters:
Late night check-in Dusseldorf
Late night check-in opening hours
For departures on the following day
All departures on the following day
Area
Terminal B, counters 187 - 190
(Subject to change without notice)
Late night check-in Frankfurt/Main
Late night check-in opening hours
For departures on the following day
All departures until 2:30 pm
Area
Terminal 1, Departure Hall C, Counter 778
(Subject to change without notice)
Late night check-in Hamburg
Late night check-in opening hours
For departures on the following day
All departures on the following day
(Subject to change without notice)
Late night check-in Hanover
Late night check-in opening hours
For departures on the following day
All departures on the following day
(Subject to change without notice)
Late night check-in Cologne/Bonn
Late night check-in opening hours
For departures on the following day
All departures on the following day
(Subject to change without notice)
Late night check-in Munich
Late night check-in opening hours
For departures on the following day
All departures until 6:00 pm
Area
Terminal 1, Departure Hall D
(Subject to change without notice)
Late night check-in Stuttgart
Late night check-in opening hours
For departures on the following day
All departures until 2:00 pm
(Subject to change without notice)