On Board
Inflight Entertainment
Enjoy our interesting and varied entertainment programme on board. It will truly make the time fly by.
Given the current circumstances caused by Covid-19 we regret to inform you that we won't be able to offer you inflight entertainment on short- and mediumhaul flights.
On our longhaul flights (Zones 3 to 5) with the Condor Boeing 767 fleet, a personal monitor is available at each seat in all classes, so that you can put together your individual entertainment program.

Passengers in Business Class and Premium Economy can use our extensive Premium Entertainment programme at no extra charge.

Economy Class passengers can watch a small selection of movies and TV shows for free. To enjoy the full Premium Entertainment programme with more than 70 blockbusters, classics, children's films and documentaries or our extensive music selection, you can purchase an access code on board for only US$ 13.00.

Our premium entertainment is already available for US$ 10.00. Simply book directly with your flight booking, afterwards via My booking or via our customer hotline.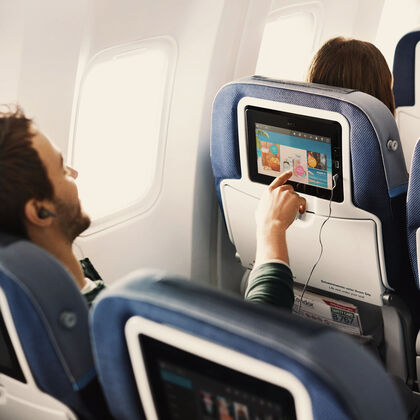 Your Individual Premium Entertainment on Longhaul Flights
Our Condor inflight magazine "Holiday" contains interesting and entertaining information about travel, lifestyle and culture.

In addition, it provides information about our destinations, route network and everything you need to know about Condor.