On Board
Condor FlyConnect – Inflight Internet
With Condor FlyConnect, you can easily and conveniently stay connected to the digital world on board our A330neo fleet - whether you want to surf the Internet, write messages or work.
Condor FlyConnect: Well-connected on board
Condor FlyConnect is available during your flight and works on all your WiFi-enabled devices such as smartphone, tablet or laptop. Get comfortable on board and surf above the clouds.
How to use Condor FlyConnect on board our A330neo in just a few simple steps:
Switch your mobile device to flight mode.
Activate WiFi and connect to Condor FlyConnect.
Choose your preferred package, and simply pay via credit card* or Apple Pay.
Sit back, relax and enjoy your surfing experience above the clouds!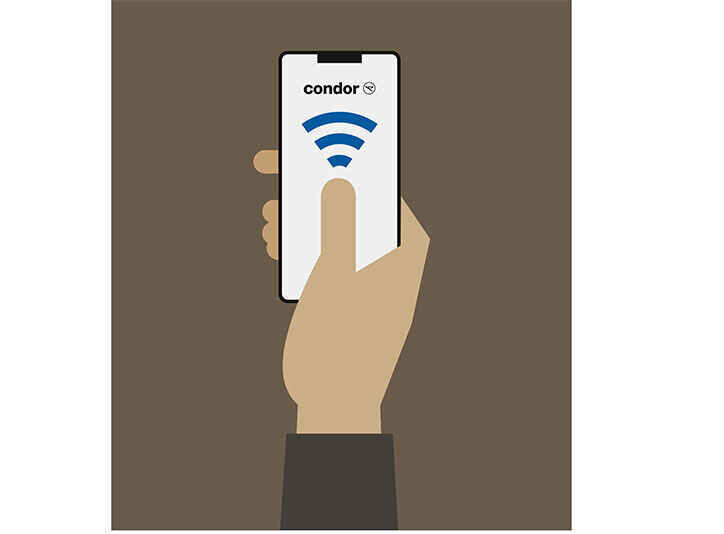 *You can pay using all standard credit cards or ApplePay.
The following options are available to you on board:
Chat Unlimited: 7 €
With Chat Unlimited (max. 50 kbps), you can send text messages via your smartphone or tablet and stay in touch with your family and friends throughout your flight – with no time limit.
Basic 2h: 12 €
With Basic 2h (max. 600 kbps), you can send text messages, get up-to-date with your emails, check your social media and surf online for two hours.
Premium 4h: 20 €
With Premium 4h (max. 1200 kbps), you can surf online, send text messages, get up-to-date with your emails, stream music and use your VPN client for four hours.
Questions on Condor FlyConnect
| | |
| --- | --- |
| I have booked the Basic or Premium option. What if I do not use all of the time booked? | Once you have activated Condor FlyConnect, you can use it for two hours (Basic) or four hours (Premium) in one go. It is unfortunately not possible to split the time during your flight. |
| Can I switch devices? | Yes. You will receive your personal login details after purchasing a Wi-Fi package. If you change your mobile device, these details enable you to log in on your new device and continue to make convenient use of FlyConnect. |
| Do other charges apply? | No, you only pay the usage fee. |