On board
Condor eJournals
Take your favourite magazines, journals and newspapers with you on your next flight using Condor eJournals.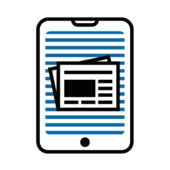 Whether you want to catch up on current world events, follow the latest fashion trends or just browse a bit: with the free Condor eJournals, the plane ride to your dream destination will fly by.*
Simply download the eJournals onto your laptop, smartphone or tablet 48 hours before departure
Up to 3 free downloads depending on the travel class booked:

Economy Class: 1 download
Permium Economy Class: 2 downloads
Business Class: 3 downloads
Over 850 digital magazines, journals and newspapers in 35 different languages, such as National Geographic, The Washington post or Harper's Bazaar
Did you forget to bring something to read while lounging on the beach? Download credits for eJournals can still be used up to 24 hours after departure
You can find your eJournals ready for download by logging into My Booking, when you are using our Online Check-in, and in the confirmation email for your digital boarding pass.
Go to My Booking
* Please note that our fleet for short-haul and medium-haul flights currently does not yet offer any sockets for charging your devices at your seat in Economy Class.
Discover and download Condor eJournals
Our eJournal world powered by Media Carrier Solutions