Families and Children
Unaccompanied Minors
Condor offers an attractive and varied on-board care programme for unaccompanied minors. Please note that on flights with partner airlines, other transport guidelines may apply for unaccompanied minors.
Please enter your flight details
You will receive specific information corresponding to your flight.
Is your flight (partly) operated by our partner airlines? Check out partner airline flight regulations here.
Condor provides an attractive and diverse selection of on-board childcare for every age group. Children aged from 5 to 11 years can travel unaccompanied, but must always be registered as an unaccompanied minor. Registration is also compulsory if they are accompanied by siblings aged under 16 years.

For a fee, unaccompanied minors can be registered on business days for all Condor flights no later than 48 hours prior to departure. Please send us an email to: specialassistance@condor.com.

Important: The above information refers to a Condor flight. Please note that on flights with partner airlines, other transport guidelines may apply for unaccompanied minors. For flights with our sister airline Thomas Cook Airlines, you can find all the relevant information here.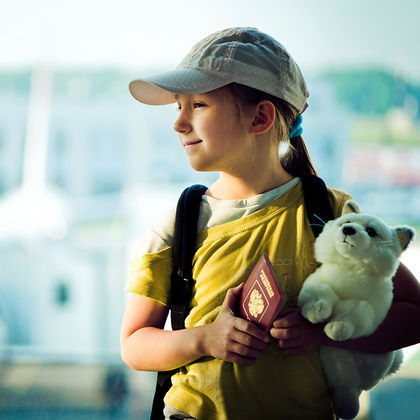 Charges for Unaccompanied Minors
In addition to the ticket price, the following charges apply for registering unaccompanied minors on Condor flights from/to:
Forms and Documents for Unaccompanied Minors
With regard to unaccompanied minors, please note the following when preparing for travel:
The assistance for your unaccompanied minor is only possible on Condor nonstop flights
Unaccompanied minors must be registered in advance
A fully completed assistance form* ("UM Handling Advice form") must be submitted
All required travel documents must be available
The minor must be personally escorted to the departure gate and the person accompanying them must remain in attendance until the aircraft has actually departed
The accompanying adult must provide proof of identification so that a "Gate Pass" can be issued
The person picking up the minor must also provide proof of identification that corresponds to the personal information provided in the assistance form
* Please complete the assistance form in full. Please print out all five pages, sign each individual copy and bring them with you to the airport, as the individual forms will be required as proof by different areas and staff. The fifth page is given back to the accompanying adult at the departure airport once it has been verified and signed by a member of the check-in staff.
Details on Assistance provided for Unaccompanied Minors

Children aged from 5 to under 12 can also travel unaccompanied on Condor flights on payment of a service charge in addition to the ticket price. This charge includes a seat reservation, which can be made up to 48 hours before departure. If desired, you can also book a children's meal, free of charge.
To ensure that things run smoothly, we need to have all the relevant data (name, address, phone number) at the departure airport for the people accompanying the child to the airport and picking him/her from the airport. If these persons are not the child's parents, we need the parents' authorisation for checking in and picking up the child. For security reasons, the person picking up the child must present a valid photo ID when the child is handed over at the arrival airport.
You will be given a small shoulder pack that your child must wear throughout the trip. All of the necessary travel documents (e.g. printed ticket, boarding pass, valid passport or children's ID card, visa for the country of destination, and the assistance form with information about the adults accompanying and picking up the child) must be stowed in this shoulder pack.

If the airport authorities allow it, you will be able to accompany your child as far as the departure gate. It is possible and mandatory to accompany your child to the departure gate at all German airports, so that you can supervise your child until the time of departure, and say goodbye to them in person at the gate.



To accompany your child to the gate, present a valid, personal ID card or passport at the airport check-in and you will be issued a "Gate Pass", which will allow you to pass through the security checkpoint and go to the gate.
From that point on, our friendly and experienced flight attendants will be pleased to look after your child, to ensure that they feel comfortable and at home both on board and at the airport, and enjoy a safe and pleasant journey to their destination.
Please note that as the accompanying adult, you will be escorting your child through the security checkpoint, and are therefore also subject to the relevant rules, such as the restrictions on liquids and hazardous goods regulations.
As the accompanying adult, you must always remain at the airport until the aircraft has actually departed, so that should there be any delays, or if the flight is cancelled, you will be able to take charge of your child again. Please allow sufficient time for this.