Families and Children
Child Safety Seats, Buggies and Strollers
Here, families with infants can find information on child car safety seats, buggies and strollers on board.
Child Safety Seats On Board
EU regulations require that infants (under 2 years of age) must be secured either by loop belts or by child safety seats on board of an aircraft.
Condor recommends using an approved child safety seat during the flight. Requirement is to book a seat as a full-paying child (2-11 years) for the infant.
To ensure you sit together as a family, we recommend a seat reservation for all travelers. Child safety seats are permitted on all window seats, except for the emergency exit rows as well as the row in front of and behind the emergency exit row. If you are traveling with two infants, you can also book a window and a middle seat for the child safety seats.
Our cabin crews are allowed to decline child safety seats which do not meet our requirements or the allocated seat is not permitted for the usage. If that is the case, the child safety seat will be taken into the cargo hold free of charge.
In this case infants will be secured by loop belts on an adults lap. A refund for the seat booking is not possible.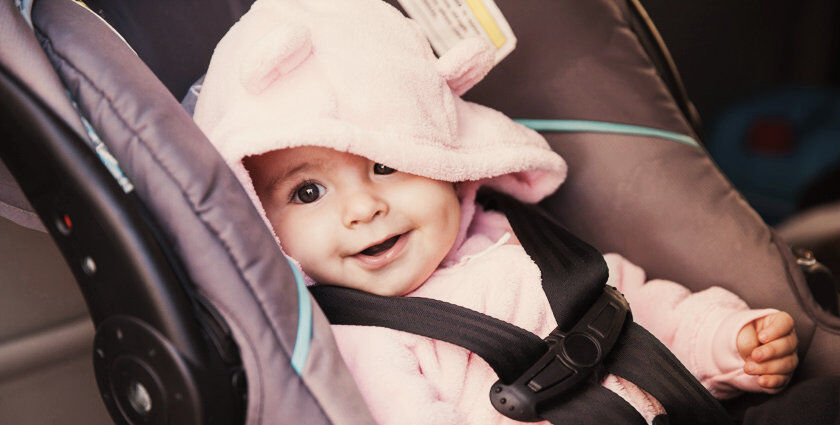 The child seat must have one of the following certifications:
Licensed by the relevant authorities of a given EU member state, the FAA (aviation authority in the USA) or Transport Canada (on the basis of a national technical standard) for exclusive use in aircraft.
Licensed pursuant to the UN standard ECE R 44, -03 or a later version for use in motor vehicles.
Licensed pursuant to the Canadian standard CMVSS 213/213.1 for use in motor vehicles and aircraft.
Licensed pursuant to the US American standard FMVSS no. 213 for use in motor vehicles and aircraft and have been manufactured in accordance with this standard on or after 26 February 1985. These seats must carry a sticker with the following text in red:
1) THIS CHILD RESTRAINT SYSTEM CONFORMS TO ALL APPLICABLE FEDERAL MOTOR VEHICLE SAFETY STANDARDS or
2) THIS RESTRAINT IS CERTIFIED FOR USE IN MOTOR VEHICLES AND AIRCRAFT
Baby carrier, Strollers and Buggies
Strollers, buggies, carry-cots, child-carriers and car baby-seats are carried in the baggage hold without extra charge. No more than two of the above items can be carried per child.

Advance registration is not required. Baby carriages with specific functions, e.g. joggers, bicycle trailers or handcarts, cannot be accepted.
Please note that, at some airports, prams and buggies stowed in the baggage hold cannot be unloaded directly onto passenger loading piers. Alternatively, strollers can be borrowed at some airports. You can find out which airports provide this service on the website for the airport concerned.