Cheap flights to Rome/Fiumicino from US$ 339.99*
All flights from North America to Rome/Fiumicino
What to do in Rome? Our Top 5 attractions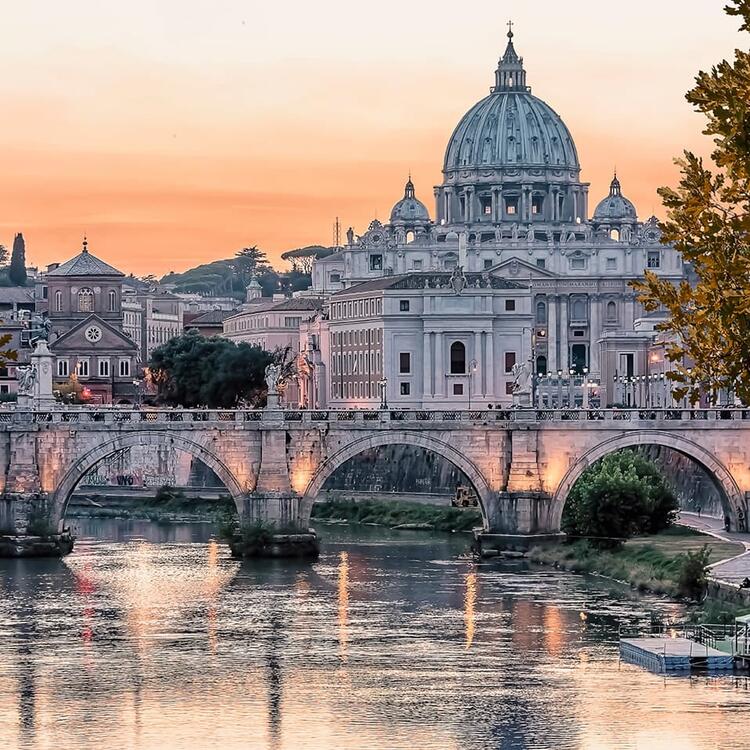 Vatican City
Discover the sacred wonders of Vatican City! A flight to Rome unveils this spiritual enclave. Explore St. Peter's Basilica, a Renaissance marvel, housing awe-inspiring artworks. Don't miss the Vatican Museums, a treasure trove of art and history, including the renowned Sistine Chapel with Michelangelo's masterpiece. Embrace the spiritual aura and architectural splendor of Vatican City, an extraordinary pilgrimage for believers and art enthusiasts alike. Book your Rome flights now and witness the timeless allure of this holy city. Book now your cheap flights to Rome.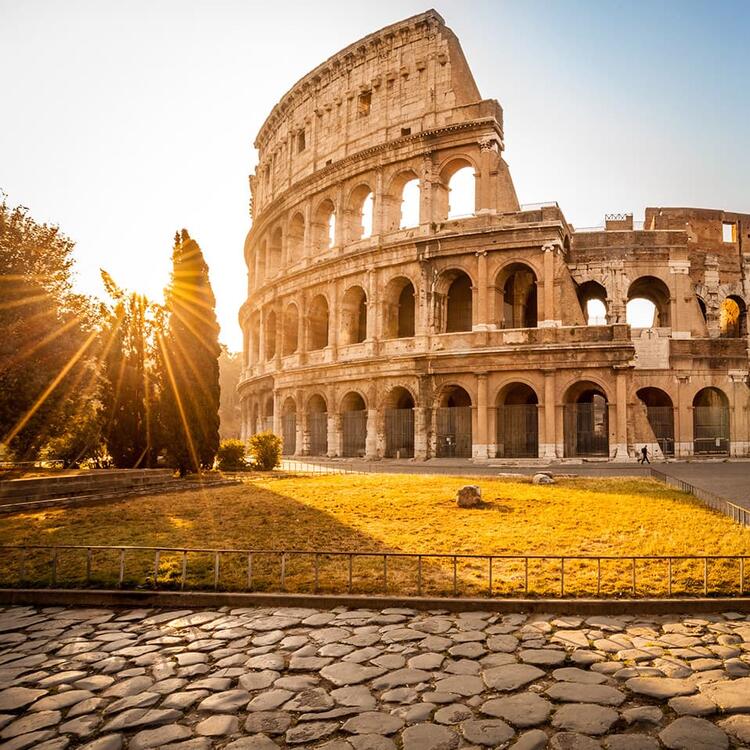 The Colosseum
Step back in time with a flight to Rome and explore the grandeur of the Colosseum, an ancient marvel that stands as a testament to Roman engineering and culture. Completed in 80 AD, it held grand gladiatorial battles and performances for over 50,000 spectators. Today, it remains an iconic symbol, offering visitors a glimpse into ancient Roman life. Book the best flight deals to Rome now to witness this awe-inspiring monument. Climb for stunning views and immerse yourself in its compelling history. Unravel captivating stories of an empire's past, embracing the wonder of this majestic Amphitheater. Discover the secrets etched in its stones on an unforgettable adventure.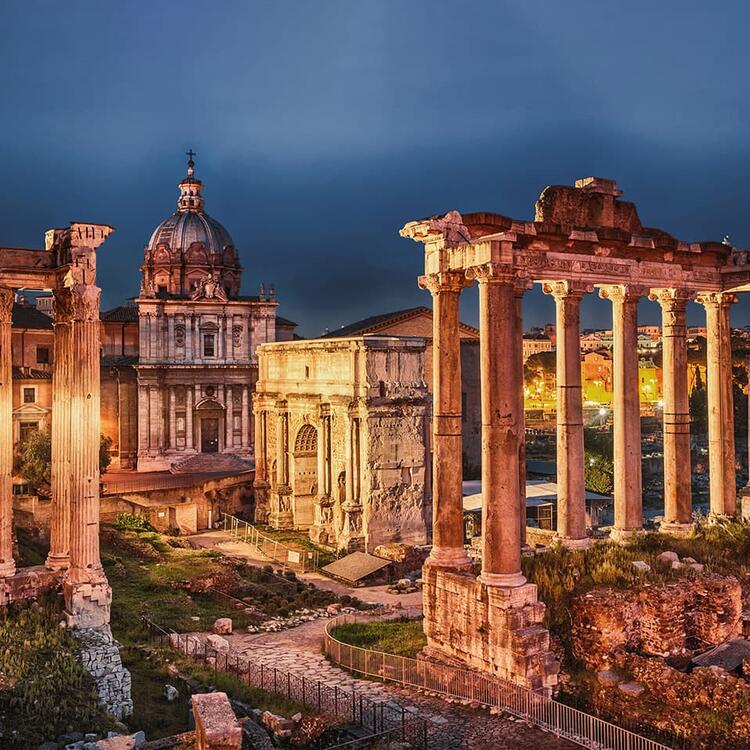 The Roman Forum
Explore the Roman Forum, an ancient hub of political and cultural life, located in the city center. Wander through ruins of temples, basilicas, and arches that once adorned this vibrant spot. Unearth history as you walk the same paths as ancient Romans, imagining the bustling city that thrived here. Let the Forum's majesty awe you, understanding its significance in shaping Rome's legacy. Book your trip now and immerse yourself in the captivating stories of this archaeological treasure. Don't miss the chance to experience the magic of the Roman Forum on your unforgettable Roman adventure.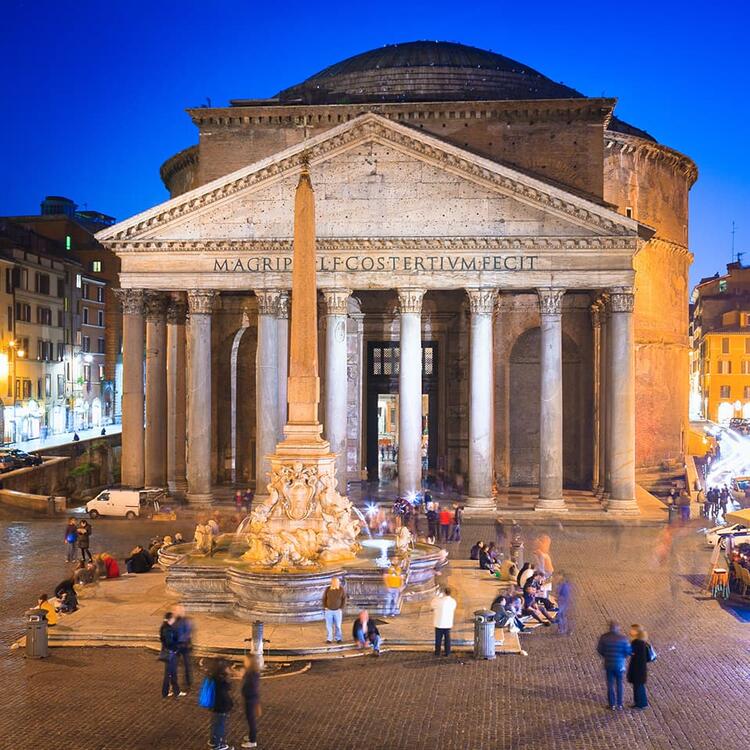 The Pantheon
The Pantheon, a remarkable ancient marvel, graces the heart of Rome, Italy. Situated in the Piazza della Rotonda, it stands as a symbol of Roman architectural ingenuity. Originally built as a temple to the gods, it now serves as a majestic church. The Pantheon's iconic dome, with its famous oculus, draws visitors from all corners of the world. Step inside to witness the perfect harmony of proportions and marvel at its enduring beauty. Book your flights to Rome to experience the awe-inspiring grandeur of the Pantheon and immerse yourself in over two millennia of history and splendor. Find cheap flights and enjoy Rome!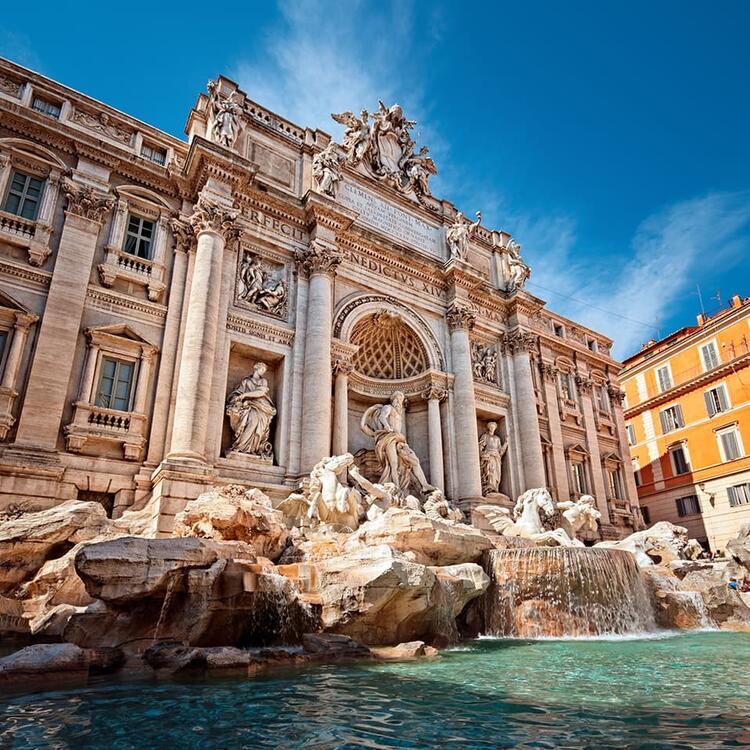 Trevi Fountain
The Fontana di Trevi, an enchanting masterpiece and a must see when visiting Rome. This iconic fountain has a rich history, having starred in several important films that immortalised its charm. From the iconic scene in "La Dolce Vita" to "Roman Holiday," where Audrey Hepburn's character makes a wish, it has left an indelible mark on cinema and hearts worldwide. Adorned with statues depicting Neptune, Tritons, and sea creatures, it's a breathtaking sight to behold. Legend has it that throwing a coin into the fountain ensures a return to Rome. Prepare to be enchanted by its beauty, especially when illuminated at night. Book the cheapest flights to Rome with Condor.
weather Rome/Fiumicino
JAN

FEB

MAR

APR

MAY

JUN

JUL

AUG

SEP

OCT

NOV

DEC
Welcome to Rome - the Eternal City
Rome, a mesmerizing city located in the Lazio region of Italy, is a timeless destination where the echoes of the past blend harmoniously with the rhythms of modern life. With a rich history spanning over 2,500 years, it stands as one of the most historically significant cities in the world.
At every turn, Rome reveals awe-inspiring ancient ruins, stunning Renaissance architecture, and iconic landmarks that narrate tales of an extraordinary past. It's a living museum, where the legacy of emperors, artists, and visionaries lingers in the air, inviting travelers to embark on an enchanting journey through time and culture.
The possibilities for awe-inspiring experiences are endless! Explore the majestic Colosseum, a testament to ancient Roman engineering and once the site of grand gladiatorial battles. Wander through the grandeur of St. Peter's Basilica in Vatican City. Walk up the Spanish Steps, an elegant staircase, adorned with beautiful flowers, which serves as a popular meeting place and a charming spot for people-watching in the heart of Rome. Make a wish at the Trevi Fountain, an enchanting Baroque masterpiece that has become a must-visit for visitors seeking to ensure their return to Rome.
Rome embraces families with captivating museums and historical sites for all ages. Experience immersive adventures at the Capitoline Museums, Museum of Roman Civilization, and Gladiator School. For couples, the city's romantic charm awaits in enchanting piazzas, intimate trattorias, and along the picturesque Tiber River. Hand in hand, explore Trastevere's charming streets, savoring delectable Italian cuisine and wine.
If you're wondering how many days to spend in Rome, we recommend at least three to four days. This will allow ample time to immerse yourself in the city's history, culture, and culinary delights.
Rome Weather: As for weather, Rome boasts a Mediterranean climate, with mild, wet winters and hot, dry summers. In winter, temperatures average around 12°C (54°F), while in summer, the city can reach temperatures of around 30°C (86°F). Spring and autumn offer pleasant temperatures and are popular times to visit when the weather is milder.
Book your cheap flight to Rome with Condor and embrace the allure of this captivating destination. Let the ancient wonders and modern delights of the Eternal City unfold before your eyes. Rome awaits your arrival with open arms!
Information about your Flight to Rome
Ready to embark on a memorable journey to Rome, Italy? Let Condor make your travel experience seamless and enjoyable! We offer convenient nonstop flights from 12 major U.S. airports to our hub in Frankfurt, including Los Angeles (LAS), San Francisco (SFO), Boston (BOS), and more. From Frankfurt International Airport (FRA), it's a breeze to reach the Rome with easy connections to Rome Fiumicino Airport (FCO).
Flight times: From New York to Rome typically average around 12 hours, depending on your flight connections.
Visa Information: As a U.S. citizen, you can rejoice! Under the Schengen Agreement, a visa is not required for trips to Italy lasting less than 90 days within a 180-day period, making travel hassle-free for tourism and business purposes.
So don't wait any longer! Condor provides a comfortable and cost-effective travel experience. Enjoy amenities like complimentary food and beverages, in-flight entertainment, and generous legroom (XL-Seats). Book your cheap tickets now and get ready to explore Rome. Let Condor be your wings to discover the wonders of Italy's captivating capital!
Frequently Asked Questions about Flying to and from Rome
1.
How many Airports does Rome have?
Rome has two airports: Leonardo da Vinci Intl Airport, also known as Fiumicino Airport (FCO), and Ciampino-G. B. Pastine International Airport (CIA), known as Rome Ciampino Airport. Fiumicino Airport is the primary international gateway to Rome and handles the majority of international flights, while Ciampino Airport primarily serves budget airlines and domestic flights.
2.
Where is the Fiumicino Airport?
Rome Fiumicino Airport, is located in Fiumicino, a town southwest of Rome's city center. It serves as the primary international airport for Rome and is well-connected to the city by various transportation options, including trains, buses, and taxis.
3.
How far is Rome Airport from the City Center?
The distance between Rome Fiumicino Airport (Leonardo da Vinci International Airport) and the city center of Rome is approximately 35 kilometers (about 22 miles). The airport is located southwest of the city center. Travelers can reach the city center from the airport by various transportation options, including train, bus, taxi, or private transfers. The journey typically takes around 30-45 minutes, depending on the mode of transportation and traffic conditions.
4.
Can I buy a Rome Pass at Rome Airports?
Yes! The Rome Pass, which provides free entry to some of Rome's top attractions and discounts on others, is available for purchase at several locations in Rome, including Fiumicino Airport, International Arrivals - Terminal T3 (this information may vary). Buying the Rome Pass at the airport is convenient, especially if you plan to start using it immediately upon arrival in the city. It offers a cost-effective way to explore Rome's attractions and public transportation during your visit.
5.
How big is Rome Airport?
FCO Rome Airport is handles millions of passengers annually and consists of 4 terminals, Terminal 1, 2, 3 and 5. Terminal 5, known as the "Satellite" building, is connected to Terminal 3 and is used for international flights within the Schengen Area.
6.
What is the IATA Code for Fiumicino Airport?
The IATA code for Rome Fiumicino Airport is FCO.
7.
Can I park my car at Rome Fiumicino Airport?
Yes, you can park your car. The airport offers both short-term and long-term parking options, located conveniently near the terminals.
8.
Does Rome Airport have Fast Track?
The QPass service at Rome Fiumicino Airport is available at terminals 1 and 3, allowing passengers to book an appointment at the security checkpoints for a dedicated and streamlined process. Passengers can easily make a QPass reservation online through the airport's website. The QPass service is free-of-charge and complements other types of security check access options, such as the premium Fast Track service, the Family line for families with prams, and the traditional security checkpoints. Please note that availability and specific details may vary.
9.
How to get from the Airport to the City Center?
Take the Leonardo Express train for a quick 32-minute ride to Roma Termini, the main train station. Alternatively, opt for a bus service like Terravision or SitBusShuttle, offering direct routes to central locations. Taxis are available outside the arrivals area, providing a direct but pricier option. Private transfers offer a comfortable and stress-free journey to your destination. Lastly, renting a car allows flexibility, but keep in mind Rome's traffic and limited parking.
10.
What should I be aware of for flights from Rome to the USA?
When flying from Rome to the USA, there are important considerations to keep in mind. For departures to Non-Schengen destinations like the USA, extra waiting time is necessary for passport control. Travelers bound for the USA are advised to arrive at the gate early due to enhanced security measures. A second security check is mandatory for passengers flying to the USA and Israel. To ensure a smooth journey, allocate ample time for this additional screening process.
Other destinations like Rome/Fiumicino from North America