With Condor, your holiday starts right on board
Your Flight in Economy Class
Premium Entertainment
Can be booked in advance or on board
USB port
At the seat
Free Baggage Allowance
Up to 20 kg*
Hand Baggage
Up to 6 kg (max. 1 baggage item)
Lighting concept
For a pleasant and comfortable atmosphere
Miles & More
Earn 250 award miles or more
*Only valid for Economy Class, no hold baggage included for Economy Light; USA & Canada flights: 1 x 23 kg and flights originating in Brazil: 2 x 32 kg
To travel even more comfortably, reserve one of our popular XL-Seats with extra spacious legroom right when you book your flight. You can make the reservation via Extras up to 48 hours prior to departure.
Would you also like to enjoy a culinary delight on your flight? Then treat yourself to one of our Premium Menus or Special Menus. You can book them up to 24 hours prior to departure via Extras.

For an enjoyable time on board, reserve our Premium Entertainment option with a huge selection of the latest movies, TV series and music at a low cost presale rate for longhaul flights. You can easily and conveniently purchase your access code in advance when booking your flight, or at a later time (up to 24 hours prior to departure) via Extras.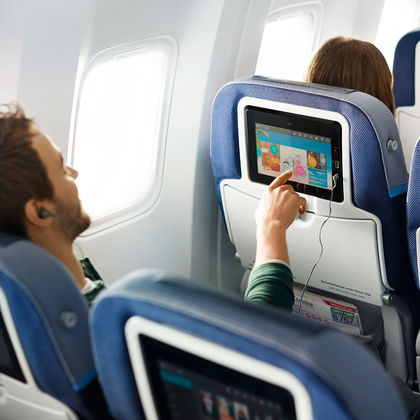 Premium Entertainment for a fun flight.