Embrace the Christmas Spirit
Best Christmas Markets in Europe 2023
Christmas time is approaching, and nothing starts the holiday season better than a visit to any of the best European Christmas markets. We're confident you'll discover the perfect destination that speaks to your festive spirit. Here are some of our favourites to step into a winter wonderland this Christmas season. What's yours? Just book a flight with our best deals and embark on a journey through the best Christmas Markets in Europe.
Plan your Christmas Market Trip in Germany
Combine the Best European Christmas Cities
Frankfurt, from November 23 to December 22, 2023
---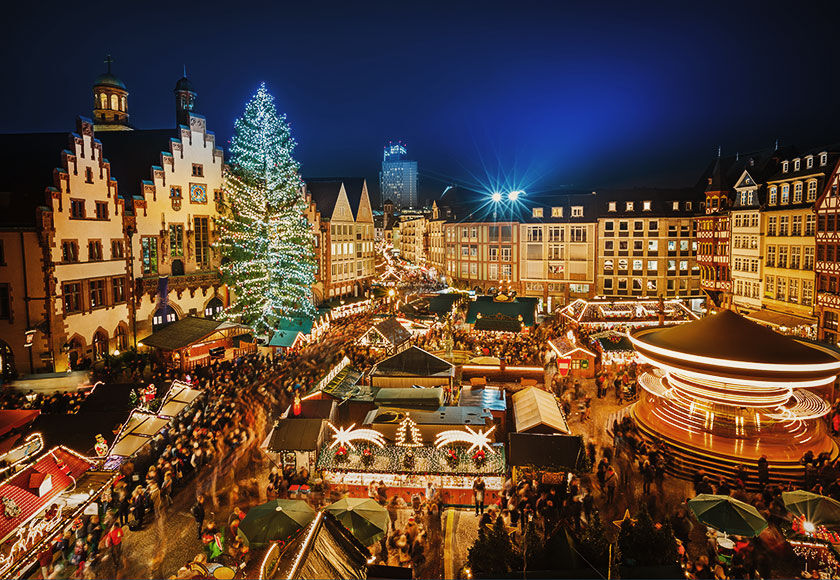 Explore the history of the Frankfurt Christmas Market, dating all the way back to 1393. It unfolds on the captivating Römerberg square, surrounded by traditional half-timbered houses that transport you to a bygone era. Originally open exclusively to Frankfurt residents, it offered the finest down-to-earth handicrafts, wooden toys, sweets, and Christmas gifts.
Today, this market is renowned for local delights such as hot apple wine and Bethmännchen, marzipan biscuits. With over 200 market stalls adorned in festive décor, you can discover unique handcrafted gifts and immerse yourself in the magical atmosphere of the holiday season, highlighted by a towering Christmas tree.
Fun fact: Frankfurt is also the birthplace of one of the most beloved Christmas carols, "Silent Night." Come and experience the magic.
Click to Discover Best Deals to Frankfurt / Main
Nuremberg, from November 30 to December 24, 2023
---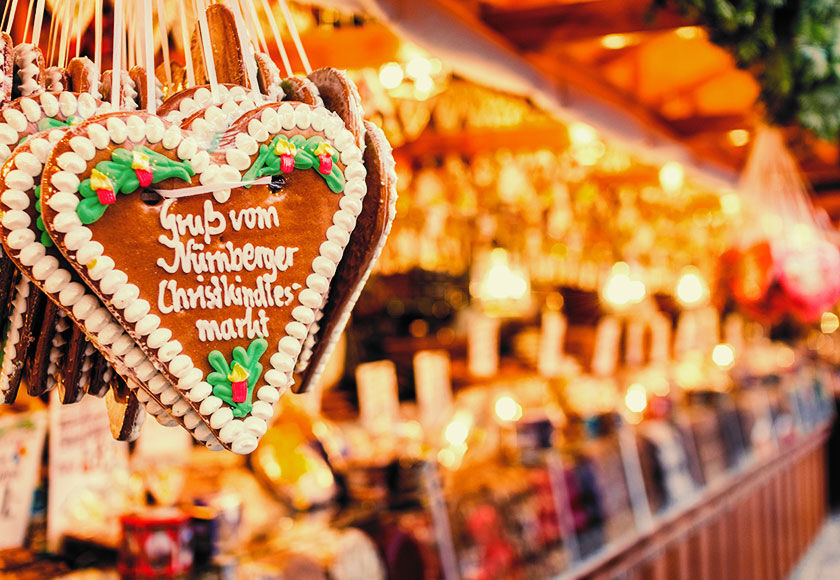 The Nuremberg Christkindlesmarkt, dating back to 1628, is a popular Christmas Market that immerses visitors in rich history during the Christmas season and proudly showcases the iconic Christkind.
What's more, Nuremberg's Christkindlesmarkt is famous for its uniquely designed Christmas ornaments called "Zwetschgenmännle" (plum people). These intricate figurines, crafted from prunes, walnuts, and other natural materials, add a charming and distinctive touch to Christmas decorations. And for an extra treat, don't miss the world's largest Feuerzangenbowle, a traditional German hot, flaming mulled wine punch, right here at the market."
Fun fact: Considered as one of the best Christmas markets, it is known for its strict regulations to maintain the authenticity of its offerings; everything is handcrafted and unique.
Click to Discover Best Deals to Nuremberg
Hamburg, from November 27 to December 23, 2023
---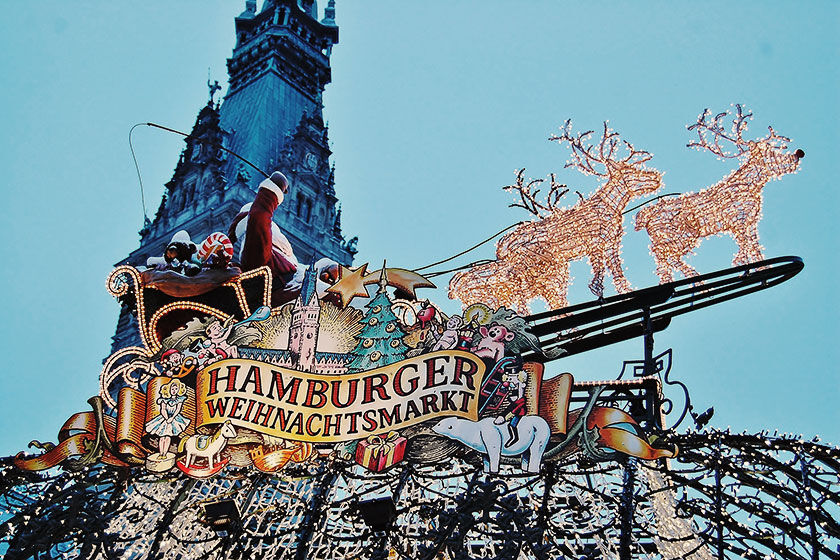 Looking for the best Christmas markets? Hamburg is a must-visit destination during the winter season in Germany. One of the most popular markets graces the square in front of Hamburg's stunning town hall, offering artful handicrafts. But did you know that Hamburg hosts many other great Christmas markets too? Discover the diverse range of Christmas markets, catering to various tastes: visit Santa Pauli, located on Hamburg's famous Reeperbahn, for an unconventional experience, or explore Winter Pride, the LGBTQ community's Christmas market.
Fun Fact: Hamburg's markets aren't just about admiring the Christmas tree, shopping, and festive cheer; they also have a stronga and unique maritime connection. Hamburg's historic harbor area hosts a unique Christmas market on the water, featuring beautifully decorated ships and boats that serve as market stalls.
Click to Discover Best Deals to Hamburg
Erfurt, from November 24 to December 22, 2023
---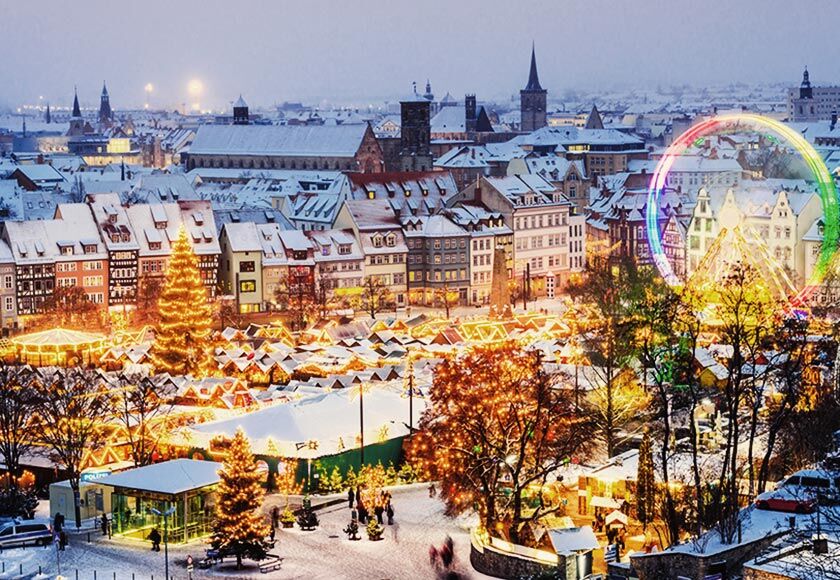 Erfurt, as Martin Luther himself once declared, is 'in the ideal location... the perfect place for a city.' Located about two high speed rail hours from Frankfurt, Erfurt's well-preserved medieval city center transforms into a Christmas wonderland every year, drawing in two million visitors during the festive season. The entire city center dazzles with Christmas lights, resonating with cheerful melodies, and fills the air with the enticing scents of mulled wine and gingerbread.
Fun Fact: The Christmas market in Erfurt earned its reputation as one of the best Christmas markets in Europe and was voted one of the top 5 most beautiful Christmas markets in Europe in 2019. In Germany, it proudly claims the first-place position! Located in the old town, visitors can meander along cobblestone streets and savor local favorites such as the Erfurt Schnittchen (a Stollen-like cake). Explore an array of glass ornaments and handcrafted products from vendors across Germany at this enchanting traditional market.
Click to Discover Best Deals to Frankfurt
Dresden, from November 29 to December 24, 2023
---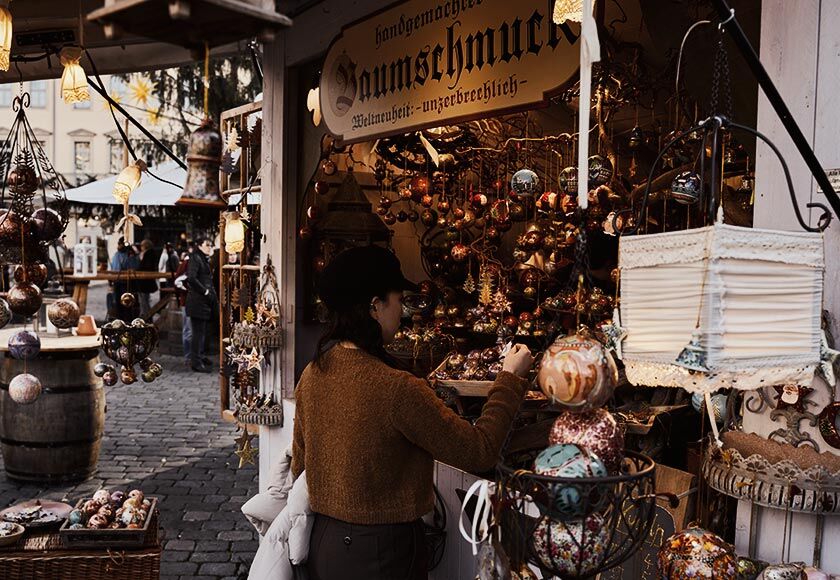 Plan your European Christmas Market trip and indulge in the enchantment of its magical atmosphere. This Christmas market, nestled in the old town, traces its roots back to 1434 and it is considered the oldest Christmas Market in Europe. It boasts the world's tallest Nutcracker and the tallest Christmas pyramid, making it a must-visit for lovers of festive decorations and fairy lights. If you're a fan of traditional Stollen cake, a rich delicacy enhanced with dried fruits and marzipan, then the Dresden Striezelmarkt is your ultimate destination.
Fun Fact: The Dresden Striezelmarkt's highlight is the Stollen Festival, a grand event held on the second Saturday in Advent. During this spectacular celebration, a giant Stollen is paraded through the streets, then ceremoniously cut and distributed among the crowd for a small token. The proceeds from this event go to charity, adding even more heartwarming charm to this historic Christmas market.
Click to Discover Best Deals to Dresden
Berlin, from November 27 to December 31, 2023
---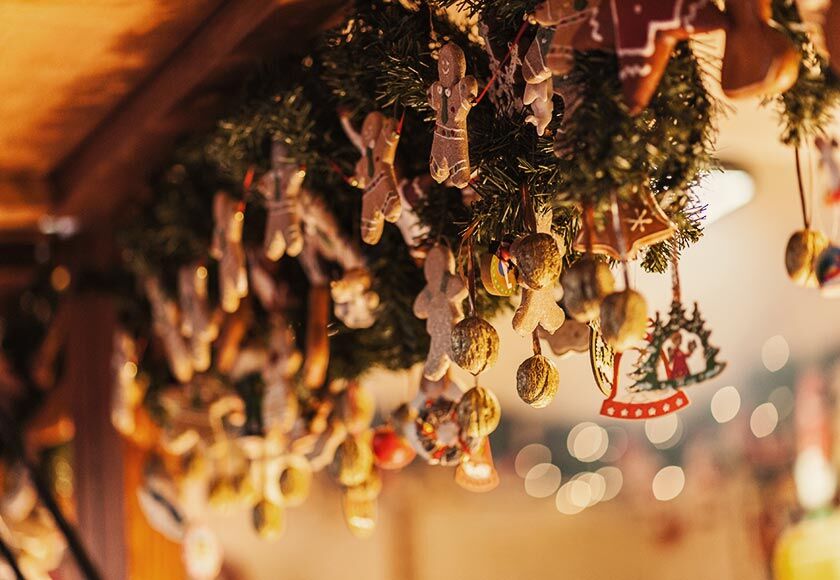 Berlin transforms into a winter wonderland during the Christmas season, making it the ultimate destination for those in search of the best Christmas markets in Europe. Adorned with festive decorations, twinkling lights, and even an ice skating rink, the main market at Gedächtniskirche (Memorial Church) is renowned for its handmade products and daily live plays that immerse you in the enchanting Christmas spirit
Fun Fact: Berlin boasts over 60 markets, ensuring there's something for everyone. From the Winter World at Potsdamer Platz, the queer Christmas Avenue (LGBTQ Christmas Market) or the Winter Magic, all- inclusive Christmas Market on the Spree (drinks and food are included in the entrance fee), to the Berlin Dog Christmas Market (exclusively for dogs and their owners).
Sounds crazy? In Berlin, every Christmas wish comes true.
Click to Discover Best Deals to Berlin
Uncover More Magical Christmas markets in Europe
---
What sets this adventure apart is the option to combine various cities, each offering its unique charm and traditions. From Vienna's traditional Christmas market with its imperial elegance to Prague Christmas markets and its Bohemian splendor, Budapest's Danube views, Strasbourg's Christmas magic, Valkenburg's subterranean wonderland, Copenhagen's Scandinavian delights and nice market stalls, and Rovaniemi's Arctic enchantment, you can craft your own magical itinerary. It's time to explore the best of Europe's Christmas markets and create cherished memories along the way.

Basel, Strasbourg, and Valkenburg
This trio, which includes some of the best Christmas markets in Europe, brings together traditions, flavors, and atmospheres for an unforgettable holiday adventure. You can fly to Basel and return by flying from Amsterdam, which is just a 40-minute drive from Valkenburg.
Basel, Switzerland: Swiss Elegance Meets Festive Charm
Enjoy the blend of Swiss elegance and festive charm. At Barfüsserplatz and Münsterplatz, the market dazzles with lights and exquisite ornaments. Indulge in local delights like Swiss chocolates and hot apple wine. Basel's market is a sensory delight, offering intricate crafts and delectable treats.
Strasbourg, France: The Capital of Christmas Magic
An absolute must on any list of the Best Christmas Markets in Europe, this Christmas Market is a true step into a timeless fairy tale. Affectionately known as the "Capital of Christmas. Glimmering lights. cast a magical glow, and the air is filled with the scent of the mullet wine vin chaud and the freshly baked bredele cookies. Strasbourg offers the best in Christmas decorations and heartwarming spirit.
Valkenburg, Netherlands: An Underground Wonderland
Discover one of the most original Christmas Markets in Europe! Descend into the depths of Valkenburg, Netherlands, for a unique underground Christmas experience. Held in ancient caves, the markets offer a surreal atmosphere with twinkling lights and one-of-a-kind gifts. Explore the rich history of these caves while immersing yourself in festive cheer.
---

Prague, Vienna, and Budapest
This trio of European Christmas market treasures unites culture, tradition, and enchantment for an unforgettable holiday odyssey. Begin your adventure in Prague, explore the grandeur of Vienna, and revel in the charm of Budapest. This combination gives you the chance to visit three of the most relevant cities and some of the best Christmas markets in Europe. You can conveniently fly into Prague and depart from Budapest, making the most of your journey through Central Europe.
Prague, Czech Republic: Bohemian Christmas Elegance
Step into a Bohemian Christmas wonderland in Prague. The city's historic Old Town Square and Wenceslas Square come alive with festive splendor. Gaze upon glistening lights, savor the aroma of hot mulled wine, and sate your palate with traditional Czech delights. Prague's Christmas market captivates with its old-world charm and unique handicrafts in their traditional market stalls.
Vienna, Austria: Imperial Christmas Majesty
Vienna, the imperial city, embraces Christmas with regal flair and it is a must if you want to visit the best Christmas Markets in Europe. Stroll through the city's enchanting Christmas markets, each with its distinctive allure. Enjoy the warmth of festive lights, savor aromatic Austrian treats, and explore the imperial history of the Austrian capital. Vienna's Christmas markets offer a blend of grandeur and tradition.
Budapest, Hungary: Hungarian Delights and Danube Views
Experience the magic of Christmas along the banks of the Danube in Budapest. The city blends Hungarian traditions with international holiday cheer. Admire the Danube views illuminated by glittering lights, indulge in savory Hungarian cuisine, and discover unique handcrafted treasures. Budapest's Christmas markets are a harmonious fusion of culture and festivity.
---
Frequently Asked Questions
Which one is the best Christmas Market in Europe?
Determining the best Christmas market in Europe can be quite subjective, as there are numerous charming and unique festive markets all across the continent.
While the top Christmas markets across Germany or in Vienna, Prague, Budapest, Strasbourg, and Valkenburg are indeed wonderful choices, don't forget to consider other intriguing options. Cities like Barcelona, Lisbon, and Athens offer Mediterranean twists on the holiday spirit. And if you're in search of the Arctic enchantment, Rovaniemi in Finland is a magical destination worth exploring. Ultimately, the best Christmas market for you is the one that resonates most with your preferences and holiday spirit!
Which one is the largest Christmas Market in Europe?
The largest Christmas market in Europe is typically considered to be the Strasbourg Christmas Market, also known as the Christkindelsmärik. It spans several locations throughout Strasbourg, France, and is renowned for its size and the sheer number of visitors it attracts each year.
What is the best way to see Europe's Christmas markets?
If you are flying from the USA or Canada to see Europe's Christmas markets, it's still possible to plan a multi-city itinerary. You can book non-stop Condor flights to Frankfurt from New York, Seattle, Los Angeles or Toronto, and connecting flights from several US and Canadian cities to Frankfurt and beyond into major European cities that are known for their Christmas markets, such as Vienna or Prague, and then use trains, buses, or short-haul flights to travel between cities and explore the various Christmas markets.
Many European countries have well-connected transportation systems that make it relatively easy to move between cities. Additionally, you can consider guided tours or river cruises specifically designed to visit multiple Christmas markets in different European countries, making the logistics more convenient for international travelers.
---