Condor & Partners
Subcharter Flights
Here you can find information on Condor flights operated by our partner airlines and the seating plans for the aircraft used.
For timetable-related reasons, Condor occasionally uses aircraft leased from its partner airlines, including their crew, on certain routes. This enables Condor to continue to offer its guests additional flights to their holiday destinations during peak season and in periods of high demand.
When selecting our partner airlines, we pay high attention to quality and reliability. All of the aircraft used are maintained and serviced in accordance with European quality and safety standards.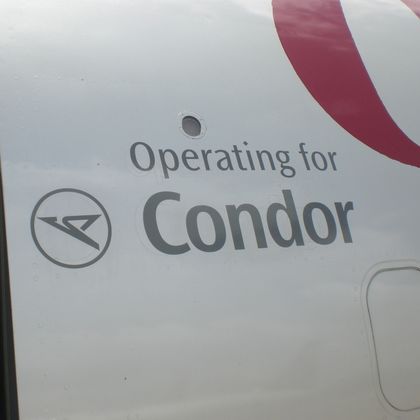 An Overview of all Subcharter Airlines
Air Baltic

The Air Baltic B737-300 will operate on selected routes to Greece, Italy and Croatia from both Frankfurt and Munich in summer 2018. The Air Baltic aircraft will be used on flights to destinations such as Volos and Dubrovnik on Saturdays and flights to Zakynthos and Split on Sundays.
Its 142 seats offer you the same high level of comfort as our very own Condor aircraft. Premium Class seats are also available on Air Baltic aircraft. We are, however, unfortunately unable to offer you XL seats or an inflight entertainment programme on flights operated by Air Baltic.
Air Transat
In winter season 2017/18 the Canadian Air Transat is operating flights on behalf of Condor from Dusseldorf to Barbados, Cancún, La Romana, Montego Bay and Punta Cana. The aircraft has 12 seats in Premium Class and 333 seats in Economy Class.
XL seats with more legroom are available. The inflight entertainment system on board features seatback screens in all classes.

Thomas Cook Airlines UK

In winter 2017/18 Thomas Cook Airlines UK is operating for Condor selected flights with a B757-300 from Frankfurt to Tenerife, Gran Canaria, Fuerteventura and Palma de Mallorca. The aircraft used is identical with the Condor B757-300.
Premium Class and XL seats are available. The inflight entertainment programme will be provided on the aircraft's overhead monitors.