Germany's best Christmas Markets
Christmas time is approaching, and nothing starts the season better than a visit to one of the many European Christmas markets. We are sure you will find the destination that suits you best. Here are some of our favorites. What's yours? Just choose and book a flight with our best deals.
Nuremberg (November 25 to December 25, 2022)

The Christkindlesmarkt of Nuremberg dates back to 1628 and was first mentioned in writing as "Kindles-Marck". It is one of Germany's oldest and also most famous Christmas markets. The market is held in the city's largest square (Hauptmarkt) and offers handcrafted goods and various culinary treats such as the famous Nürnberger Rostbratwurst (extra small sausage) or the Nürnberger Lebkuchen (gingerbread).
Good to know: Only one hour drive from Nuremberg, you'll find the two immaculately-preserved medieval Bavarian towns of Rothenburg ob der Tauber and Dinkelsbühl. Both towns are magical all year round with their imposing town walls, steep-roofed gable houses and cobbled streets. They become even more magical during Christmas time. What are you waiting for?
Book your flight to Nuremberg
Frankfurt (November 21 to December 22, 2022)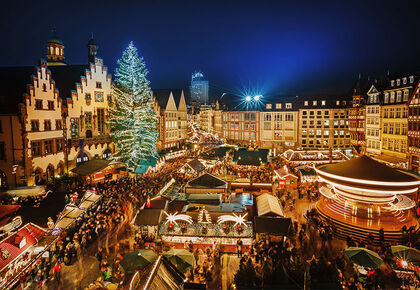 The Frankfurt Christmas market dates back to 1393 and is spread across the Römerberg square, which is surrounded by traditional half-timbered houses. In the past, the Christkindchesmarkt was open only to Frankfurt residents. The best down-to-earth handicrafts were offered, along with toys, sweets and Christmas gifts. Toys were mainly simple wooden balls, cloth dolls and wooden stick and rocking horses. Up until 1880, it was common for Frankfurt parents to buy toys for their children exclusively at the Christmas market.
Now the market is especially famous for its local culinary treats such as hot apple wine and Bethmännchen (traditional marzipan and almond biscuits). Over 200 festively decorated stalls sell handcrafted products and holiday gifts. A giant Christmas tree and choirs singing heavenly carols add to the atmosphere of the festive season and of course, the big Christmas tree will be in front of the Römer again this year.
Book your flight to Frankfurt/Main
Hamburg (November 21 to December 23, 2022)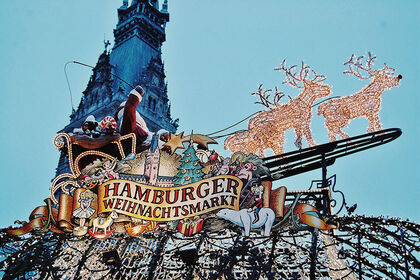 Surely there is not a city in Germany with such a variety of Christmas Markets as Hamburg. You can visit the historic Christmas market located in front of Hamburg's stunning town hall with artful handicrafts and culinary specialties. Did you know that there are many great Christmas markets in Hamburg to choose from? The Wandsbeker Winterzauber (starting already from 4th November) for example and many more in Eimsbüttel, St. Petri, Eppendorf, HafenCity, Jungfernstieg and Bergedorf.
However if you are looking for more of an unconventional holiday market experience, why don't you pay a visit to Santa Pauli, located on Hamburg's famous Reeperbahn, or Winter Pride, the LGBTQ community's Christmas market? The Winter Pride in Hamburg-St.Georg is unbiased and is the largest gay and lesbian Christmas market in Northern Germany.
Book your flight to Hamburg
Erfurt (November 22 to December 22, 2022)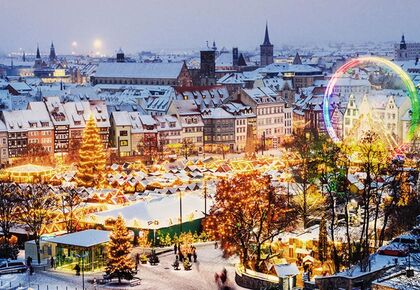 Martin Luther himself once said that Erfurt is "in the ideal location… the perfect place for a city". About two hours by train from Frankfurt, all of Erfurt's well-preserved medieval city center turns into a Christmas wonder land, attracting two million visitors yearly. The entire city center is aglow with lights and Christmas melodies and the scent of mulled wine and gingerbread fills the air.
Did you know that the Christmas market in Erfurt was voted one of the top 5 most beautiful Christmas markets in Europe in 2019? In Germany the market is even in first place! More than 200 vendors offer their holiday goods and delicious treats throughout the old town. Stroll over cobble stone streets and enjoy local favorites such as the Thuringian Bratwurst or the Erfurt Schnittchen (a Stollen like cake). Discover glass ornaments and other handcrafted products from vendors all over Germany at this beautiful traditional Christmas market.
Book your flight to Frankfurt
Dresden (November 23 to December 24, 2022)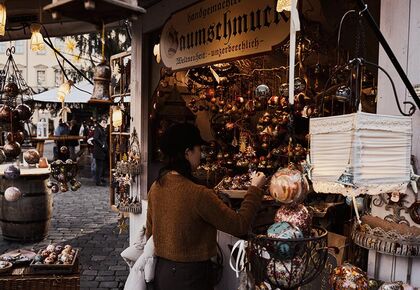 We believe you will have a great experience in the Christmas city of Dresden - from the old town to the festively decorated winery and centuries-old craft traditions which delight people everywhere in Dresden and the Elbland.
If you are a big fan of traditional Stollen cake (rich dried fruit and marzipan enhanced cake), then the Dresden Striezelmarkt is the right place to be. Millions of guests come here every year. The holiday market of this wonderfully rebuilt city dates back to 1434, making it one of the oldest in existence. It boasts the world's tallest Nutcracker and the tallest Christmas pyramid.

The highlight is the Stollen Festival on the second Saturday in Advent. A giant Stollen will be paraded through the streets, cut and distributed among the crowd for a small token (the proceeds will go to charity).
Book your flight to Dresden
Cologne (November 21 to December 23, 2022)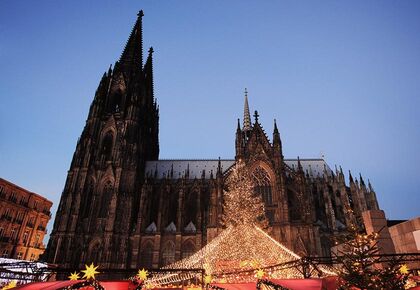 A true Christmas experience awaits you in Cologne. A huge Christmas tree is set up in the middle of the Roncalli square which is more than 25 meters high. Next to it, the illuminated tents glow with over 70,000 LEDs. The "Am Dom" Christmas market has the most stunning backdrop of all German Christmas markets, since it is located directly in front of the Cologne Cathedral.
Is that all? Of course not. Cologne offers so many unique Christmas markets to discover so be enchanted by: the Market of the Heinzel in the Old Town on the town hall square with its ice skating rink and ferris wheel, the Market of Angels on Neumarkt, the Harbour Christmas Market, the Christmas Market on Rudolfplatz with the Santa Claus Village with very cozy half-timbered houses next to buildings from the middle ages, the trendy Christmas Market in Stadtgarten, the Advent Market on Chlodwigplatz, Glühwein im Veedel, the smallest Christmas Market in the city, and the Heavenue Gay Christmas Market. Here is the chance to add one more holiday market to your list of favourite Christmas markets.
Book your flight to Cologne
Berlin (November 21 to December 26, 2022)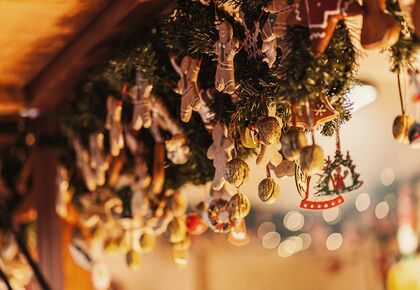 If you want to visit the most diverse and colorful Christmas markets, you should fly to Berlin. With more than 60 Christmas markets, Berlin has something for everyone. The main market takes place at the Gedächtniskirche (Memorial Church) and is popular for its handmade products and its daily live plays that will surely get you into the Christmas spirit.
The city offers all kinds of options: from the Winter World at Potsdamer Platz, the queer Christmas Avenue (LGBTQ Christmas Market) or the Winter Magic, all- inclusive Christmas Market on the Spree (drinks and food are included in the entrance fee), to the Heissa Holzmarkt or the Berlin Dog Christmas Market (exclusively for dogs and their owners).
Sounds crazy? In Berlin, every Christmas wish comes true.
Book your flight to Berlin
Other magical Christmas markets in Europe

Vienna (November 19 to December 26, 2022)
Experience the joy of this magical moment with the pretty and picturesque streets of Vienna as your backdrop. Christmas season in Vienna can be compared with a fairy-tale, snowy streets glow as light spills out from vast palaces, and icicles dangle off grandiose Habsburg buildings. The city becomes a unique place with an atmosphere that irradiates Christmas.
In Vienna it's a true tradition that has endured through the years and myriad Christmas markets spread out along the narrow streets of the old town, offering stalls overflowing with traditional wooden toys and artisanal handicrafts such as handmade soaps. To complete your experience, add a steaming mug of hot mulled wine and you've got a city full of festive atmosphere.
Basel (November 24 to December 23, 2022)
Basel's Christmas market is the biggest and most beautiful in Switzerland, assembling 160 meticulously decorated stalls selling a wide array of culinary wonders from gob-stopping sausages, and authentic Basel Lackerli (a local twist on gingerbread) to hot punch, festive fondue, and rib-sticking raclette to beat the winter chill.
The market is split into two different sections at Barfuserplatz and Munsterplatz, and the former offers handmade, wooden toys, nativity scenes, and jewellery, while Munsterplatz's fairytale forest is filled with fun festive activities for kids, from bauble-making workshops to gingerbread decorating. Treat yourself with the best of Basel culinary delights.