Premium Class
Long-haul flights
Welcome to Premium Class. Enjoy extra service and comfort on our long-haul flights and arrive relaxed at your destination.
Added Service in Premium Class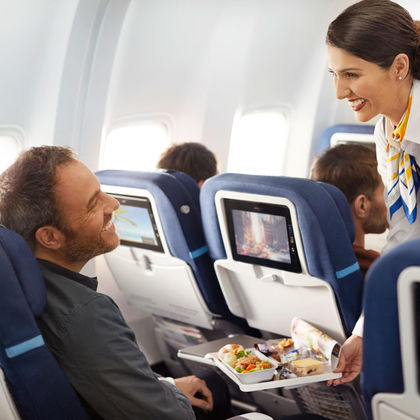 Our Premium Menus: Simply delicious!
Our exquisite Premium Menus
On board, you will be treated to a delicious Premium Menu (two meals on most longhaul flights) and a large selection of complimentary non-alcoholic and alcoholic beverages.
We are also happy to serve you meals from our Premium menus in the form of special variations for children, vegetarians or vegans or as lactose or gluten-free meals.
Extra Amenities in Premium Class on Longhaul Flights
Footrests (except first row) & individually adjustable headrests
Blankets and extra-wide pillows
Hand baggage allowance increased to 10 kg
Free baggage allowance increased to 25 kg; for USA and Canada flights to/from zone 5: 1 x 32 kg (exception: feeder flights)
Headsets & wide selection of magazines
"Wellbeing Set" with a selection of useful accessories for your stay on board
Free seat reservation
Separate check-in at all German and many international airports
Free late night and Online Check-in options
1250 award miles per route for Miles & More members
Priority Check-in, Priority Security Check, Priority Boarding, Priority Baggage