Business Class
Lounges
At many German and international airports, Business Class travellers have access to an exclusive area.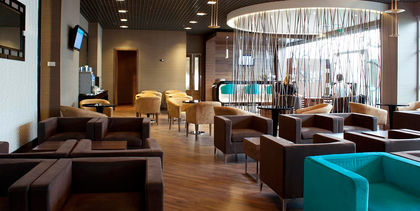 Your peace of mind is at the front of our mind even before you board your flight. That's why we offer our Business Class guests another little extra. When you present your lounge invitation, which you'll get at the check-in desk before the departure of your Condor flight, you'll have access to many lounges worldwide.
(But please be aware that we're not able to offer a lounge at all foreign airports.)
Will you be arriving at your Condor departure airport on a connecting flight? No problem! By presenting your boarding cards for both the connecting flight and Condor flight, you'll still get access to the lounges.
| | |
| --- | --- |
| Alaska Airlines Board Room | South Terminal, after the security checkpoint, near Gate C1 |
| | |
| --- | --- |
| Club 1761 | VC Bird International Airport, main terminal, level 2, door on left, past the restaurant entrance |
| | |
| --- | --- |
| The Club BWI | Terminal D, after the security checkpoint. |
| | |
| --- | --- |
| Airlines Executive Lounge | Departure Gate area, level 1, entrance via stairs between Gates 12 and 13 |
| | |
| --- | --- |
| Servisair Chinook Lounge | Departure Hall D, after the security checkpoint |
| | |
| --- | --- |
| Hugo Junkers Lounge | Terminal B - behind the security control |
| Open Sky Lounge | Terminal C - past security and passport control |
| | |
| --- | --- |
| Lufthansa Business Lounge | Terminal 1, Departure Hall A, after the security checkpoint |
| Lufthansa Business Lounge West | Terminal 1, Departure Hall B, after the security checkpoint, near Gates B24-28 |
| Lufthansa Business Lounge Ost | Terminal 1, Departure Hall B, after the security checkpoint, near Gates B44-48 |
| Lufthansa Business Lounge | Terminal 1, Departure Hall C, after the security checkpoint, only for customers from Gates C14-17 |
| Luxx Lounge | Terminal 1, between Departure Hall B and C, gallery level, next to the travel market (outside the transit area) |
| | |
| --- | --- |
| VIP Lounge | Terminal 2, after check-in and passport control |
| | |
| --- | --- |
| Salon Vipe | Departure gate, past passport control and customs checkpoint |
| | |
| --- | --- |
| BidAir Premier Lounge | International terminal, after passport control, on the 3rd floor, left side |
| | |
| --- | --- |
| Plaza Premium Lounge | Mezzanine Floor (Level 2), Satellite Terminal, Kuala Lumpur International Airport |
| | |
| --- | --- |
| Salon Premier VIP | First floor, after the security checkpoint, on the left side as soon as you enter the Departure Hall, signposted with "Condor Lounge" |
| | |
| --- | --- |
| THE CLUB AT LAS | Terminal 3, past the security checkpoint, opposite Gate E2 |
| | |
| --- | --- |
| La Terrasse Lounge | In the departure area – past the security checkpoint |
| | |
| --- | --- |
| Business Lounge | Passengers are accompanied to the lounge |
| | |
| --- | --- |
| Club Manteca | Ground floor, after the security checkpoint, on the right at the end of the hall |
| | |
| --- | --- |
| Airport Lounge World | Terminal 1, module B, level 06, past the security checkpoint |
| | |
| --- | --- |
| Lignum Club airport lounge | Second level, behind the security check |
| | |
| --- | --- |
| Business Lounge | Behind security control, Concourse E, across from Gate E1 |
| | |
| --- | --- |
| VIP Lounge | Ground floor, past passport control |
| | |
| --- | --- |
| Sala VIP Lounge | After the security checkpoint, next to Gate 16 |
| | |
| --- | --- |
| V.I.P. Lounge | Ground floor, after the security checkpoint, right next to Gates 2 and 3 |
| | |
| --- | --- |
| Business Lounge | Terminal C, third level - behind the security check |
| | |
| --- | --- |
| First Class and Business Class Lounge | Immediately past the security checkpoint, on the left in front of the shops. Go up the staircase to the lounge entrance. |
| | |
| --- | --- |
| VIP Lounge | After the security checkpoint, turn right towards Gate A, then follow the signs for the VIP Lounge |
| | |
| --- | --- |
| Port of SEA Club International Lounge (monday/thursday) | After the security checkpoint, South Satellite Hall, between Gates S8 and S9 |
| Club Cascade (wednesday/saturday) | Main terminal in Departure Hall A, opposite Gate A11 |
| | |
| --- | --- |
| Business Lounge | behind the security check |
| | |
| --- | --- |
| Iyanola Lounge | Departure level, on the left side after the security checkpoint |
| | |
| --- | --- |
| KLM Crown Lounge | Terminal 3, opposite Gate C32, take the lift to the AT floor |
| | |
| --- | --- |
| Plaza Premium Lounge | International Departure Hall, after the security checkpoint, near Gate 64 |
| | |
| --- | --- |
| VIP Lounge | Main terminal level 1, past the security checkpoint |
| | |
| --- | --- |
| Amushe Lounge | behind the security control, on the left hand side in the main departure hall |
| | |
| --- | --- |
| VIP lounge | Second floor of the airport in the departure hall, right before the Barista Café |
| | |
| --- | --- |
| The Club MSY Lounge (expected to open in June 2019) | 3rd floor of main terminal between Concourses B and A, closest to gate A1 on Concourse A |
| | |
| --- | --- |
| MERA VIP Lounge | After the security checkpoint on the first floor, take the stairs/lift downstairs across Gate 53 |