Even More Convenience, Even More Relaxation
Reserve Overhead Bin Now!
Board your flight with no stress whatsoever with the certainty that there is guaranteed space reserved for your hand baggage: you can now secure your personal overhead bin on board for the majority of short-haul, medium-haul, and long-haul Economy Class flights, up to 48 hours prior to departure.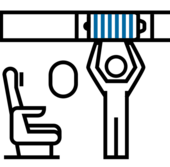 Your personal overhead bin
With prices starting at US$18 / CAN$23, you can make the most of guaranteed storage space for the hand baggage permitted by your rate. Simply add your reservation up to 48 hours before departure online under "My Booking" or when checking in online, select and add your space on the seat map displayed when choosing a seat. One overhead bin can be booked per passenger (aged two and up). This will be displayed in your reservation and on your boarding pass.
What will fit in my overhead bin?
1 item of hand baggage measuring 55 x 40 x 20 cm and a small bag measuring 40 x 30 x 10 cm. You can find out more about the permitted hand baggage here.
Can I bring more baggage with me if I book an overhead bin?
No. Reserving an overhead bin does not increase the amount of hand baggage you are allowed to bring. Please check the permitted dimensions and weight restrictions for your rate.
Where can I find my reserved overhead bin?
If overhead bins are available for reservation on your flight, you can view them online under "My Booking" up to 48 hours before departure or simply reserve them during the Online Check-in. If you want to ensure that your overhead bin is located close to your seat, we recommend that you reserve your overhead bin when reserving your seat.
How many overhead bins am I allowed to reserve?
Each guest (other than toddlers aged under 2) is permitted to reserve one personal overhead bin.
Am I still allowed to bring hand baggage with me on Condor flights for free?
Yes, you can still bring hand baggage on board free of charge without having an overhead bin reservation.
Can I also book an overhead bin in Business Class and Premium Economy Class?
Guests in Business Class, Premium Economy Class, or passengers sitting near emergency exits or partitions always have an overhead bin available for their belongings.
I will be traveling with one of Condor's partner airlines. Can I reserve an overhead bin on this flight as well?
Unfortunately, at the moment, we are unable to provide overhead bin reservations for flights operated by our partner airlines.
How it works:
After you have reserved your seat, you will be asked whether you want to reserve an overhead bin. Each compartment on board the aircraft is marked accordingly. If you have not reserved a seat, we cannot guarantee that your overhead bin will be located near your seat.
Both the reserved overhead bin and your seat are shown on your booking confirmation and boarding pass.
Reserve your personal overhead bin now