Our Fleet
Boeing 767-300ER
Here, you can find all of the details and information about the Condor Boeing 767 as well as the seat map for this aircraft type.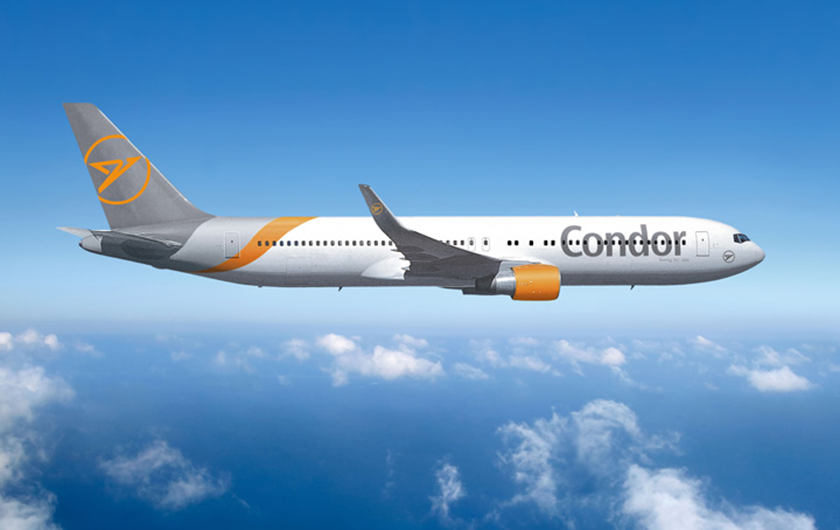 The Boeing 767-300ER airplanes are mainly used for Condor's long-haul flights. 18 or 30 seats in Business Class and 35 seats in Premium Economy Class offer you an even more relaxed flying experience.

Depending on the route, season and demand, B767 airplanes may be equipped with a smaller or larger number of Business Class seats.

Technical Data for Boeing 767-300ER – Version 1
Manufacturer
Crew

1 captain, 1-2 co-pilots, 1 purser, 6-7 flight attendants

Seats

258/259 seats, 18 of them in Business Class and 35 in Premium Economy Class
Bookable XL-Seats with extra leg room 22 DEG und 23 AC/HK

Speeds

Take-off 280 km/h, during flight 850 km/h, landing 250 km/h

Max flying altitude
Range
Engines

Pratt & Whitney PW 4060 or General Electric CF6-80C2B6F

Fuel capacity
Payload
Length
Height
Wingspan
Width of cabin
Video monitors

Personal monitors at each seat

Technical Data for Boeing 767-300ER – Version 2
Manufacturer
Crew

1 captain, 1-2 co-pilots, 1 purser, 6-7 flight attendants

Seats

256/257 seats, 18 of them in Business Class and 35 in Premium Economy Class
Bookable XL-Seats with extra leg room 22 DEG und 23 AC/HK

Speeds

Take-off 280 km/h, during flight 850 km/h, landing 250 km/h

Max flying altitude
Range
Engines

Pratt & Whitney PW 4060 or General Electric CF6-80C2B6F

Fuel capacity
Payload
Length
Height
Wingspan
Width of cabin
Video monitors

Personal monitors at each seat

Technical Data for Boeing 767-300ER – Version 3
Manufacturer
Crew

1 captain, 1-2 co-pilots, 1 purser, 6-7 flight attendants

Seats

245 seats, 30 of them in Business Class and 35 in Premium Economy Class
Bookable XL-Seats with extra leg room 22 DEG und 23 AC/HK

Speeds

Take-off 280 km/h, during flight 850 km/h, landing 250 km/h

Max flying altitude
Range
Engines

Pratt & Whitney PW 4060 or General Electric CF6-80C2B6F

Fuel capacity
Payload
Length
Height
Wingspan
Width of cabin
Video monitors

Personal monitors at each seat