At the airport
Carefree travel: Hygiene & Protection in Times of Corona
Special times require special measures. Condor has been providing safe and reliable flights to your holiday destinations for nearly 65 years and is continuing to do so now, even in times of corona. We not only place high value on your health but also on ensuring that you feel safe and comfortable from your booking right through to your return flight after your holiday. We have therefore decided to take extensive safety precautions to ensure the hygiene and protection of our passengers and crew. So you can not only book with a good feeling, but also be sure that your protection is taken care of from the moment you enter the terminal until you arrive at your destination.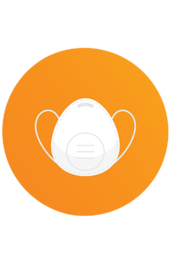 Your health is important to us: protective measures on your journey
What kind of face masks are permitted?

Please bring your own face mask with you. Alongside reusable fabric masks, all other types of face coverings, for example simple disposable masks or scarves, are permitted. Face shields, however, are not allowed.

---

Will masks be handed out?

No, please bring your own face mask with you.

---

What will happen if I don't wear a mask?

You will not be allowed to board without wearing a face mask.

---

Am I allowed to take off my mask on the aeroplane?

Masks worn on the aeroplane can only be taken off in emergency situations and during the food/drink service.

---

Do crew members have to wear face masks?

Yes, face masks are obligatory for both passengers and crew members.

---

How high is the risk of catching Covid-19 on the aeroplane?

The risk of catching Covid-19 on the aeroplane is very low. Condor has introduced a multitude of measures to protect all passengers and our employees both on the ground and in the air.

Each of our aircraft is additionally fitted with special air filters that meet the standards of those used to clean the air in clinical facilities such as hospitals. These filters ensure that the air is cleaned and contaminants such as bacteria or viruses are filtered out. The air inside the aircraft cabin circulates from the top to the bottom and not horizontally.

The likelihood of an infection being transmitted via the airflow in an aircraft is therefore just as low as in an operating theatre in a German hospital. We also ask all passengers to follow individual hygiene measures such as frequent hand washing or avoiding touching their face.

---

Will middle seats be left empty?

According to the experts, this is not necessary because your face mask provides sufficient health protection. If passengers numbers allow, we will, however, try to allocate seats as far away from other passengers as possible. Nevertheless, catching an infection on board is still highly unlikely.

---

Which filters are used in the aircraft?

Our aircraft use filter technologies that remove extremely small airborne particles, including virus particles, from the air. These filters are also used in operating theatres. Given that the air flows from the top to the bottom and not sideways or horizontally, the transmission of an infection via the airflow in an aircraft is considered to be extremely unlikely.

---

Are disinfectants available in the toilets?

The toilets contain soap dispensers. Thorough and rigorous hand washing is a simple and effective measure to protect yourself against catching an infection. You should also avoid touching your face.

---

What are the standards for cabin cleaning?

Condor aircraft are generally cleaned in accordance with the highest hygiene standards after each flight. The aircraft cabin is cleaned using strictly stipulated procedures that comply with the requirements of the authorities. This applies to both individual seating areas with tables and to the lavatories.

---

How do you deal with passengers who display symptoms before or during a flight?

Passengers who display symptoms before departure may be denied boarding. For your own health and that of all of your fellow passengers, please only travel if you are feeling healthy and have no symptoms of illness whatsoever.

Our cabin crews have been trained to implement strict rules and procedures for suspected cases on board.