Nice on the outside, amazing on the inside!
The new Airbus A330neo cabin design
Soon it will be time for our brand-new 2-litre aircraft, freshly painted in the colour "Island" in the new Condor look, to take off and bring passengers to their holiday destinations extremely efficiently and with unbelievable levels of comfort and convenience.
---
More space and an even better feel-good atmosphere
In addition to the latest technology and maximised efficiency, the A330neo also attracts attention with its successful cabin design. As the quietest cabin of its kind, the whisper cabin impresses passengers with its spacious feeling. When optimising all 310 Business Class, Premium Economy Class and Economy Class seats, achieving a more comfortable seating architecture was the top priority. What's more, significantly larger overhead compartments allow you to store your hand luggage quickly and safely.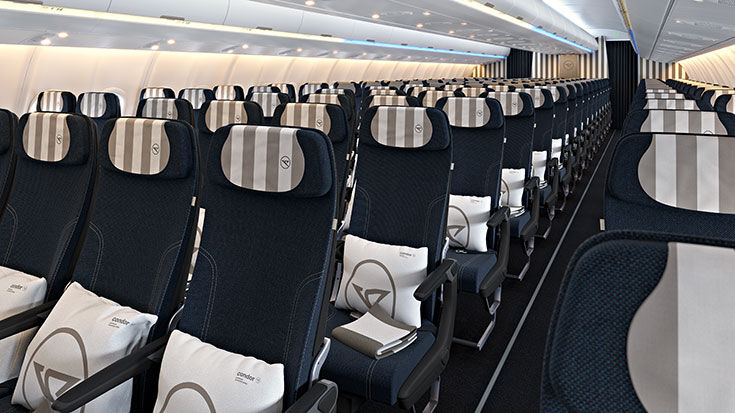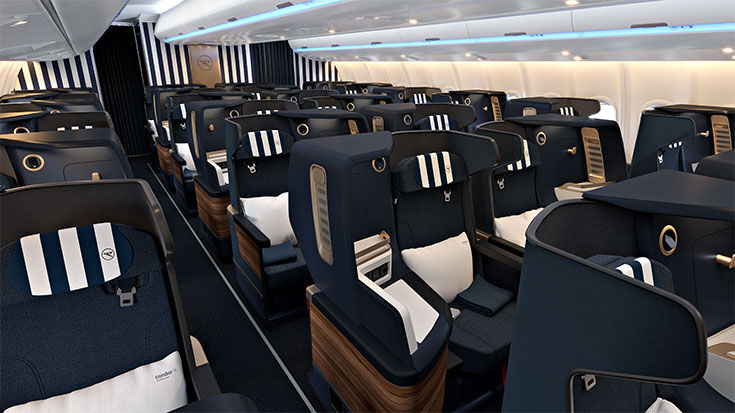 More features and an even more attractive ambience
Illuminated handrails and five mood lights that can be set to a variety of class-specific modes create a pleasant ambience during the flight. The USB A/C ports and sockets at each seat give you the best possible flexibility. Experience the latest generation of Inflight Entertainment, presented to you in the highest quality on your in-seat 4K monitor. You can also make the most of a separate holder for mobile devices and a Bluetooth function for using your own wireless headphones.
With maximum comfort and plenty of space for privacy, our high-flyer offers the right option for every one of our passengers: a generous sense of space in Economy Class, pure relaxation in Premium Economy Class and exquisite comfort in the brand new Business Class.
The three classes in detail
Economy Class: a generous sense of space
With a seat pitch of 76 cm, the Economy Class creates a generous sense of space. This is supported by hand luggage compartments that are 66 percent larger, 4-way adjustable headrests and 8.5° tilting backrests. In addition to a USB A/C connection and socket for each seat, there is also a separate holder for mobile devices. You can listen to the latest generation of Inflight Entertainment on either our on-board headphones or your own wireless headphones via the Bluetooth function and watch it on your 13.3'' in-seat 4K monitor.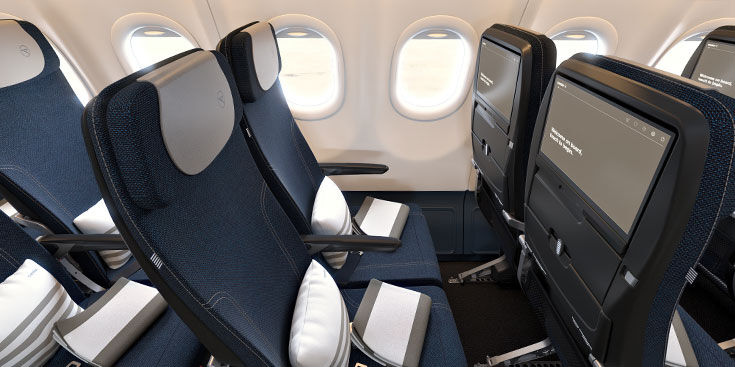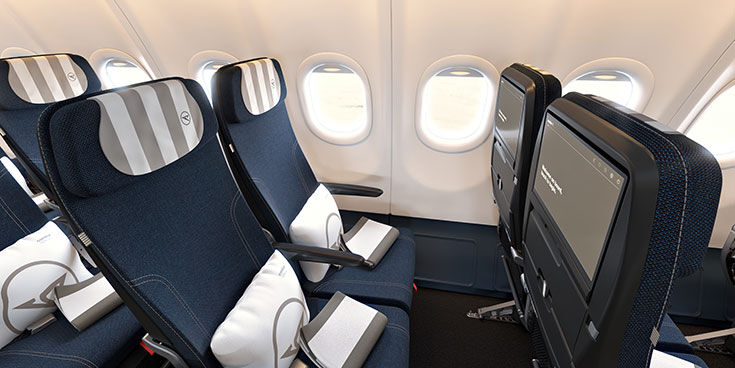 Premium Economy Class: pure relaxation
It gets even better: enjoy the increased legroom of Premium Economy Class with a seat pitch of 89 cm - almost 6 inch more seat pitch than in Economy Class. Adjust your personally adjustable footrest and the six-way adjustable headrest, then lean back and relax at an angle of up to 12° in the backrest fitted with memory foam.
As you would expect, the Premium Economy Class also offers you the practical holder for your mobile devices, the new USB A/C connections and the Bluetooth function that enables you to use your own wireless headphones, not forgetting the 13.3" in-seat 4K monitor, which offers you the latest generation of Inflight Entertainment.
Business Class: exquisite comfort
The colour concept of the entire cabin, which is marina blue throughout, compliments the dark wood décor and leather, combining the lounge-like atmosphere with maximum comfort above the clouds.

Each seat provides direct access to the aisle. You can therefore indulge in the new 180° marvel undisturbed and with even more privacy. You can also transform your seat into a 199 cm-long dream at the touch of a button.

What's more, the six-way adjustable headrest and an abundance of multimedia content provided by the Inflight Entertainment ensure additional relaxation. When using the entertainment, you can choose between the Condor Noise Cancelling Headphones or your own wireless Bluetooth headphones. Select what you want to watch on your 17.3" 4K monitor via touch screen or remote control.
In addition to on-board Wi-Fi, all the necessary connection options such as USB A/C and sockets can be found directly at your seat. The small, stylish cocktail table and the generous storage area for your hand baggage round off the perfect flight experience.
---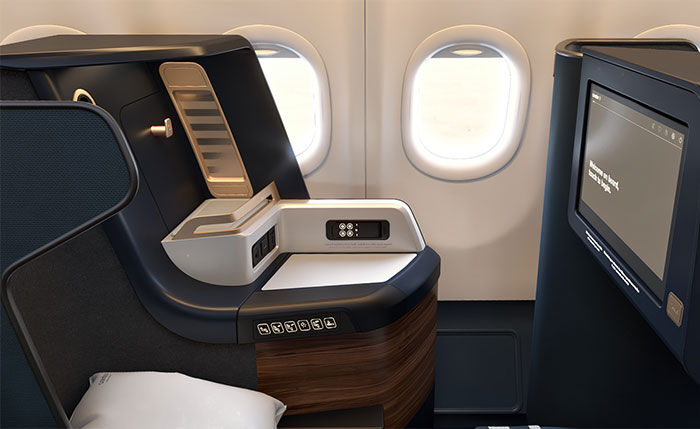 Prime Seat: the best seat on the plane
Treat yourself to the best Business Class ever in the front row with the Prime Seat!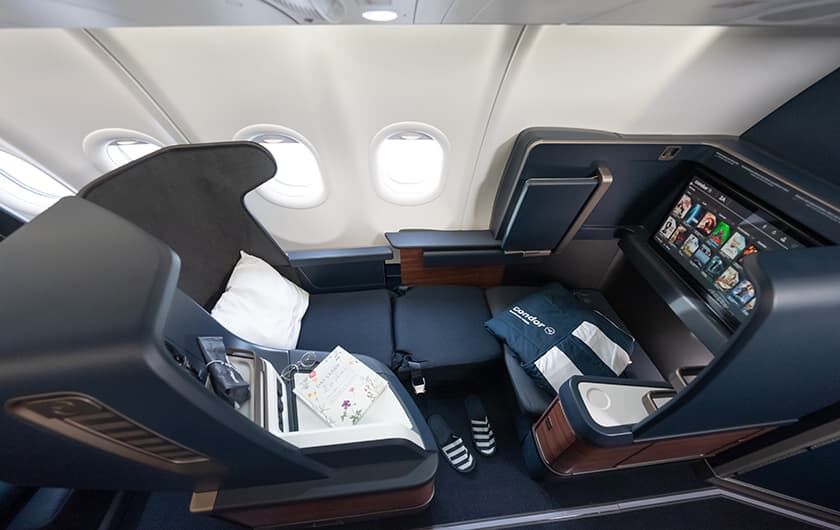 Enjoy all the comforts of Business Class and even more. The best seat up above the clouds can be found in the front rows of the Business Class: the Prime Seat. The larger bed and wider legroom offer you even more space to stretch your legs. Cuddly pyjamas are perfect for snuggling up and enjoying an extra-comfortable flight. You can also make the most of a seat opposite yours for travelling companions with a seatbelt and a table in the middle.
Sit back and enjoy a premium film experience in 4K quality on a screen measuring more than 60 cm diagonally. What's more, you can additionally take your pick from your own snack basket full of sweet and savoury snacks, which will remain at your seat for the entire flight. Even more inside: you will also receive an exclusive Prime Travel Kit. The internet package for sending unlimited text messages is free of charge for you to use. You can therefore stay connected even up above the clouds and chat online from take-off to landing.
Overview of cabin features
Whisper cabin: the quietest cabin in the world (in flight size)
Three-class configuration
310 seats: Economy Class (216), Premium Economy Class (64) and Business Class (26 seats + 4 Prime Seats)
Generous sense of space
Optimised seat architecture in all classes
Considerably more space in personal storage compartments
Net storage space with an extra bottle holder in Economy Class & Premium Economy Class
Cocktail table, generous storage area, coat hooks, indirect light in the footwell and storage in Business Class
---
In-seat 4K monitors
Bluetooth function to use your own wireless headphones
Latest generation of Inflight Entertainment with connectivity on board
Gripping multimedia content of the highest quality
Latest USB A/C (in all classes) connections, as well as a socket (Business and Premium Economy Class only)
Separate holder for mobile devices
Class-specific adjustable mood light (service light, sunrise/sunset, relax, rainbow, Green Spirit)
Seats for disabled passengers in all booking classes