On Board
Condor Shopping
Learn more about our on board shopping offer.
Shopping On Board
Shopping above the clouds. Enjoy shopping at the Condor Bordshop on your flight, featuring a wide assortment of products. Choose from premium fragrances, fashion accessories, trendy jewellery, elegant watches, children's toys and items for aviation fans. And if you are craving something sweet, the Condor Bordshop has delicious treats to suit any taste.
Check out all the products in advance in the Condor Bordshop catalogue.
If you have questions or would like to raise a complaint, please contact us by e-mail: condor@pngweb.de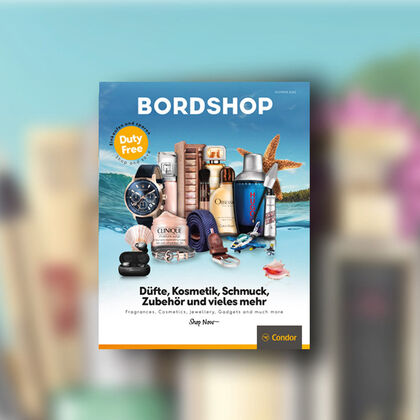 e-receipts*
Thank you for your onboard purchase Here you can retrieve the electronic receipt of your on-board purchase. We recommend the use of Google Chrome browser.