On shorthaul and mediumhaul flights (Zones 1-2), depending on the flight duration, we show entertaining TV series, documentaries and children's programmes on ceiling monitors in the cabin. The entertainment programme is available in both German and English.
Or enjoy listening to one of our many different music channels: Whether the latest chart hits, pop, rock, classical or jazz – there is something for everyone on our flights.

Check it out for yourself and take a look at our current selection of video and audio entertainment.

Unfortunately, we cannot offer you our inflight entertainment on every aircraft.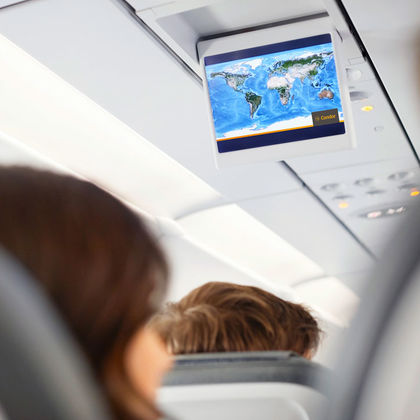 Great Entertainment from Take-off to Landing
Condor Flights operated by Partner Airlines
On selected short or medium-haul flights with one of our Partner Airlines, you'll have access to the new Airfi mobile entertainment system.
Enjoy a range of movies, TV shows, music, magazines, games and much more on your smartphone, tablet or laptop.
The entertainment package is available for just 4 € per user and 15 € for a family bundle.
Please note that there is no internet access on board the aircraft. This service is a mobile entertainment option with streaming from an onboard server.
On our longhaul flights (Zones 3 to 5) with the Condor Boeing 767 fleet, a personal monitor is available at each seat in all classes, so that you can put together your individual entertainment program.

Passengers in Business Class and Premium Class can use our extensive Premium Entertainment programme at no extra charge.

Economy Class passengers can watch a small selection of movies and TV shows for free. To enjoy the full Premium Entertainment programme, you can purchase an access code on board for only € 9.00.

Our premium entertainment is already available for € 7.99. Simply book directly with your flight booking, afterwards via My booking or via our customer hotline.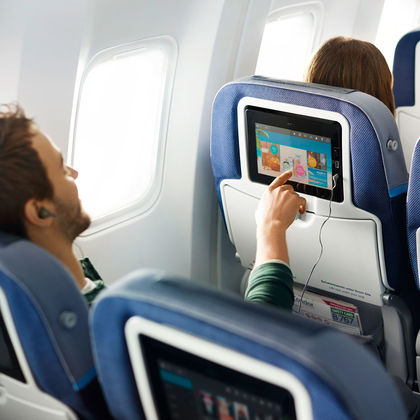 Your Individual Premium Entertainment on Longhaul Flights
Your benefits on longhaul flights at a glance
Economy Class
9-inch monitor
USB port
Premium Entertainment starting at €7.99
Headsets available for € 3.50
Premium Class
9-inch monitor
USB port
Premium Entertainment, including
Headset, including
Business Class
15-inch monitor
115-volt power outlet
Premium Entertainment, including
Headset, including
Our Condor inflight magazine "Holiday" contains interesting and entertaining information about travel, lifestyle and culture.
Condor Inflight Magazine (e-Paper, English magazine starts on page 101)
In addition, it provides information about our destinations, route network and everything you need to know about Condor.