Special Assistance
Pregnancy, Injuries & Medical Conditions
In the case of pregnancy, injury and illness, medical clearance confirming that you are fit to fly may be required. If this is the case, please contact us so that we can send you a form, the so-called MEDIF. Please ask your attending physician to fill out this form.
Here are a few examples of conditions that need to be cleared before you travel:
You have a fresh injury or have undergone recent surgery.
You have a contagious disease.
You require additional oxygen.
Please send us the MEDIF completed by your doctor three months in advance at the earliest and 48 hours before your planned departure at the latest. In the case of more harmless illnesses such as colds, we do not require medical clearance confirming that you are fit to fly. We do, however, recommend that you discuss whether or not you are fit to travel with your attending physician.
Once we have checked your documents, we will send you written confirmation if we have determined that you are fit to fly.
Please plan sufficient time for your day of departure. In the case of shorthaul flights, we recommend that you arrive at the airport at least two hours before departure and in the case of longhaul flights, you should arrive at least three hours before your flight is due to leave.
Flying with a plaster cast
If you have recently experienced a recent fracture you are only able to fly if the cast is a split or backslap type and the following requirements are met:
You must be able to use a passenger seat with the seat back in an upright position in your booked class.
24 hours after initial injury for a short haul flight with a flight duration of up to two hours
48 hours after initial injury longer than 2 hour for flights with a flight duration longer than two hours
Please understand that we must comply with these time-based requirements under all circumstances.
Air trapped inside a plaster cast which has been fitted less than the times given above may expand at cabin cruising altitude. This, combined with the swelling of the limb following a fracture, may cause severe pain and might damage the limb further.
You can take crutches or a walking stick on board the aircraft.


Travelling during a pregnancy
For the wellbeing of both mother and baby, please read the following carefully.
1st to 28th week: If you're travelling up to the end of the 28th week into your pregnancy (at the time of your return flight) no additional documentation is required to travel unless you have experienced complications. This also applies to multiple pregnancies.
29th to 36th week: If you are travelling between the 29th and end of the 36th week, a medical certificate will be required. This must confirm the expected date of delivery and confirm fitness to fly (doctors letter must have been written no earlier than 10 days before the outbound date of travel). For multiple pregnancies this applies to between 29th and end of 32nd week.
From the 37th week: If you are travelling from the 37th week (at the time of your inbound flight) and for multiple pregnancies from the 33rd week, you will be unable to travel.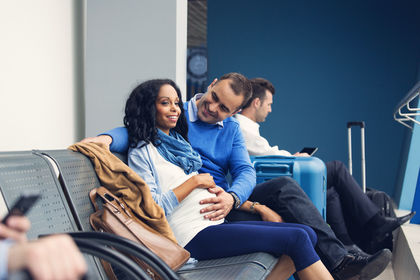 If you suffer from a (nut and/or peanut) allergy, we recommend that you take the following measures in order to minimise the risk of potential contact (with nuts and peanuts) on board our aircraft and to be prepared for possible contact (with nuts and peanuts):
Wear a medi-alert bracelet.
If you require an allergy/nut-free meal, please bring your own food with you and ensure that it must not be refrigerated or warmed up on board.
If you require prescribed anaphylaxis medication (e.g. ready-to-use epinephrine/Epipens), please carry a doctor's certificate with you confirming that it is necessary for you to take this medication on board the aircraft. In case of emergency, you (or a relative or travel companion) must be able to administer the medication prescribed by your doctor.
For operational reasons, we are unfortunately unable to guarantee a fully allergy/nut-free environment in the aircraft cabin or the airport. We are also unable to prevent other passengers from bringing and consuming their own food (containing nuts/peanuts) on board.
If you have concerns with regard to your fitness to fly, we recommend that you discuss your travel plans and this information with your doctor.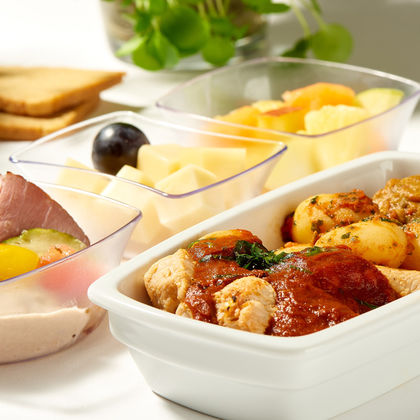 Special menus for food intolerances
You can choose from special variants of our Premium Menus. Here, you can find diabetic, gluten-free, lactose-free and other special menus.
Extra seat due to a medical reason or physical condition
Do you require an additional seat due to a physical and/or medical impairment? If so, please contact us before you book your flight.