Premium Economy Class
Longhaul
Enjoy extra service and comfort on our longhaul routes and arrive relaxed at your destination.
» Please be aware that at present, only cashless payments are accepted on board. «
Added Service in Premium Economy Class
Hand baggage

1 hand baggage item (size: 55 x 40 x 20 cm)
1 small bag (size: 40 x 30 x 10 cm)
Total weight: max. 10 kg

Hold baggage

25 kg
Flights to USA/Canada/Puerto Rico: 1 baggage item (max. 32 kg)

Inflight catering

Taste the World Premium Menu
Hot & cold snacks
Non alcoholic & alcoholic beverages

Seat comfort

Considerably more legroom
Footrest (except first row Premium Economy Class)
Backrest with greater seat recline
Adjustable headrest

Entertainment
eJournals

2 downloads (from 48 hours before departure)

Well being on board

Comfy blanket & extra-wide pillows
Travel Kit with welcome gift & useful accessories
Headset

Check-in

Dedicated check-in counters at many airports worldwide
Late night check-in at many German airports
Online check-in

Priority Package*

Priority Security Check: use the Priority Lane
Priority Boarding: be the first to board
Priority Baggage: be the first to claim your baggage

Rebooking
Name correction
Name change
Cancellation without Flex Option

Refund of the air fare not possible

Cancellation with Flex Option

€ 150.00 per person/route

Toddlers under the age of 2

No separate seat; service charge***

Children under the age of 5

Must be accompanied by an adult
*Not available at every airport.
**Rebooking:
Until 24h before scheduled departure: 150,00 € per person/flight + fare difference
From 24h before scheduled departure: 100% of the air fare + fare difference
After departure, if flight was not taken: not possible

***Toddlers under the age of 2:
A service charge applies to toddlers aged under two. This charge depends on your destination and will be shown in your shopping basket when you book your flight. If you book your flight in a currency other than euros, the prices also depend on the current exchange rates.
Infants under the age of 2 are not entitled to a separate seat. Should the infant reach the age of 2 before the return flight or on the date of return, a booking as a full-paying child (2-11 years) with a seat is mandatory for safety reasons.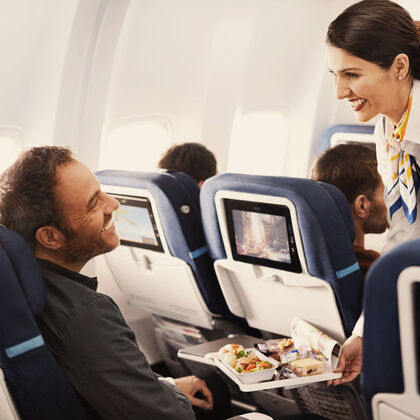 Our Premium Menus: Simply delicious!
Our exquisite Premium Menus
On board, you will be treated to a delicious Premium Menu (two meals on most longhaul flights) and a large selection of complimentary non-alcoholic and alcoholic beverages.
We are also happy to serve you meals from our Premium menus in the form of special variations for children, vegetarians or vegans or as lactose or gluten-free meals.
A change of plans due to corona? Flexibility with Condor!
The Flex option offers you more flexible rebooking and cancellation terms for all routes:
Rebooking: We can't do anything to change Covid-19, but you can change your flight details: With our Flex Option, you can rebook up to three times without paying a fee on all short- and mediumhaul routes for just 10 Euros, up to 24 hours before departure. Route changes are subject to retention of the original flight zone. If the fare for the new flight is higher, the fare difference must be paid.

Name change: If the fare for the new flight is higher, the fare difference must be paid.
Cancellation: € 150.00 (per person and route)