All flights from North America to Krakow
Welcome to Poland
Poland has a truly rich and fascinating history. Although the country has faced its share of hardships in modern history, it has persevered to retain its culture, beauty and charm. Booking a Condor flight to Krakow allows you to discover not only this city, but also the whole country. Come see the beautiful landscape and fascinating history for yourself with a cheap flight to Krakow.
For centuries, Krakow served as the seat of the Polish monarchy and the capital of the country. Much of the architecture and history of Krakow's golden age is preserved within the city. A flight to Krakow enables you to meander its charming streets, explore its fascinating museums and enjoy its vibrant nightlife. Condor aims to get you to Europe's most interesting cities with flights to Krakow, Amsterdam and Barcelona that won't break your budget.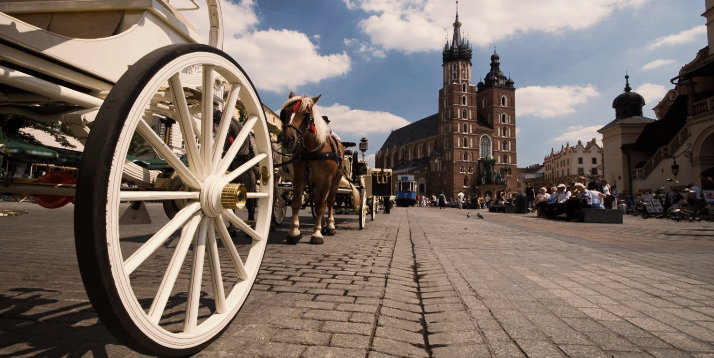 Krakow has much to offer in terms of culture, architecture and history
Flight facts
A flight to Krakow is a great option for those looking for a vacation that combines history, culture and natural beauty. This European metropolis was one of the first to be included on the list of UNESCO World Heritage sites, having its entire Old Town placed on the list. That means a flight to Krakow is a great choice for an intellectual and exciting vacation destination.
Flights to Krakow from Condor have varying flight times depending on which airport you fly from. Departing from the east coast, the flight to Krakow takes just under 9 hours. If you're leaving from a west coast airport, like San Francisco, the flight lasts about 11.5 hours. Getting to your accommodations after your flight to Krakow is a hassle-free process, as direct trains from the airport bring you to the city center in only 15 minutes.
Krakow Climate
JAN

FEB

MAR

APR

MAY

JUN

JUL

AUG

SEP

OCT

NOV

DEC
Top sights in Poland
Krakow's Old Town
Krakow's Old Town is packed with beautiful and historic buildings. The whole area was one of the first places to be named a UNESCO World Heritage site in 1978. Known in Polish as the Stiaro Miasto, this district invites visitors to take a leisurely stroll and explore.
Wawel Castle
Within the Old Town, you'll find the picturesque Wawel Castle. Built in the 14th century, the castle's architecture includes a mixture of Romanesque and Gothic styles. The castle's museum houses a vast collection of artwork as well as information about the castle's history.
Kazimierz district
Krakow had a thriving and active Jewish community throughout history. The most famous in Krakow was the Kazimierz district. After World War II, great lengths were taken to preserve the original buildings and the area is now full of restaurants, bars and shops that pay homage to its past.
Planty Park
Even within the heart of the city, you can find plenty of beautiful greenery in the form of various parks around town. One of the most popular is the Planty Park, which encircles the Old Town. The park's beautiful flora beckon visitors to find some peace and quiet within the bustling metropolis.
Krakow Cloth Hall
The Krakow Cloth Hall is one of the city's most iconic buildings. Originally used as an indoor merchant's market, the first floor of the Cloth Hall still houses stalls with local vendors selling a variety of goods. The upper floor is now a museum with an impressive collection of 19th century Polish painting and art.
Other destinations like Krakow from North America
Other destinations like Krakow from Germany/Austria/Switzerland