Cheap flights to Paris/Charles de Gaulle from US$ 299.99*
Flights from North America to Paris/Charles de Gaulle
What to See in Paris - Our Top 6 must see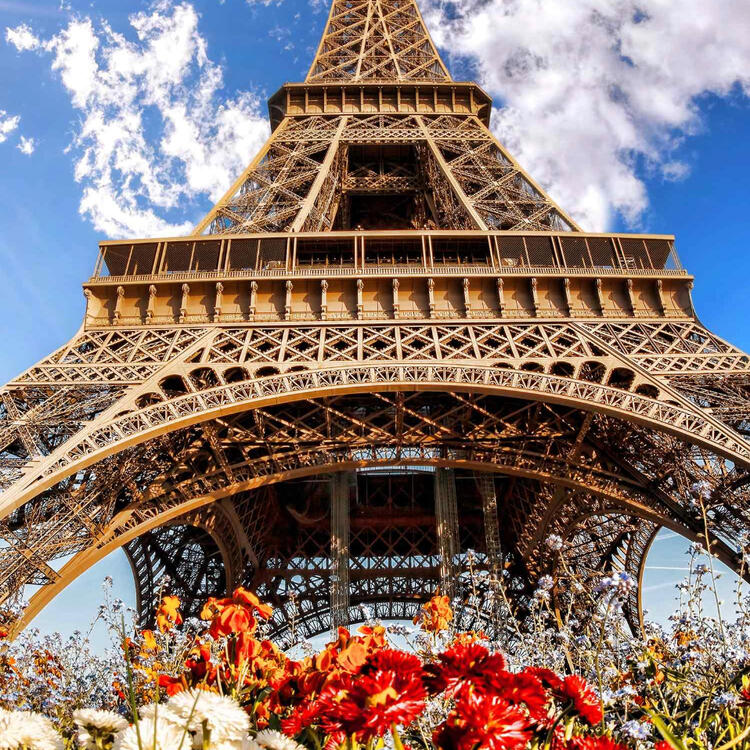 Eiffel Tower
Ascend the iconic Eiffel Tower, a wrought-iron masterpiece that graces the Paris skyline. Built in 1889 for the Exposition Universelle (World's Fair), it is an enduring symbol of France and human engineering prowess. Ride the elevators or climb the stairs to its upper levels for breathtaking panoramic views of the city and its landmarks. The Eiffel Tower's intricate latticework and illuminated beauty at night make it a must-see.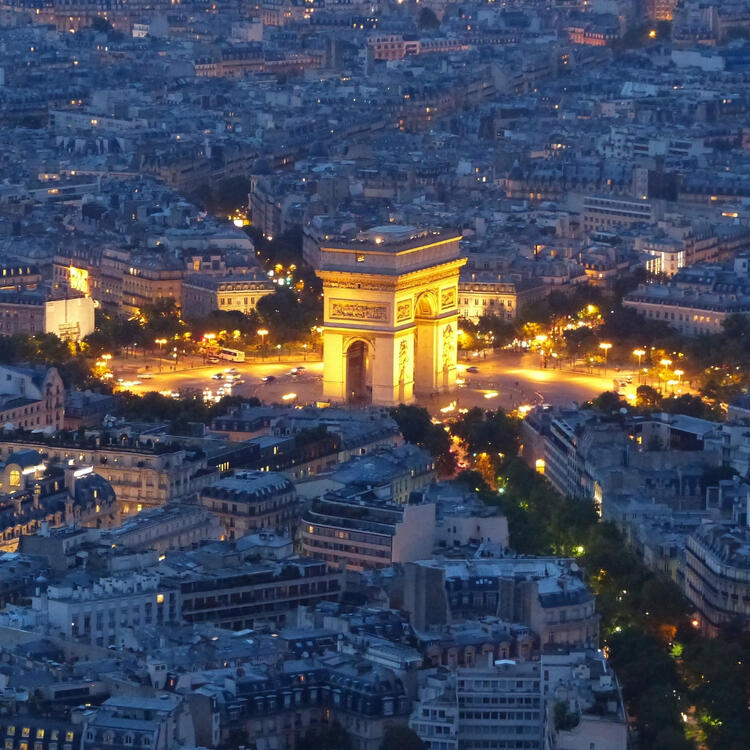 Arc de Triomphe
The grandeur of the Arc de Triomphe is unparalleled. Commissioned by Napoleon after his victories, this monumental arch stands triumphantly at the western end of the Champs-Élysées. It honors those who fought and died for France in the French Revolutionary and Napoleonic Wars. Climb to the top for a spectacular view of the city's star-shaped layout and the busy roundabout below, Place Charles de Gaulle, which connects 12 major avenues.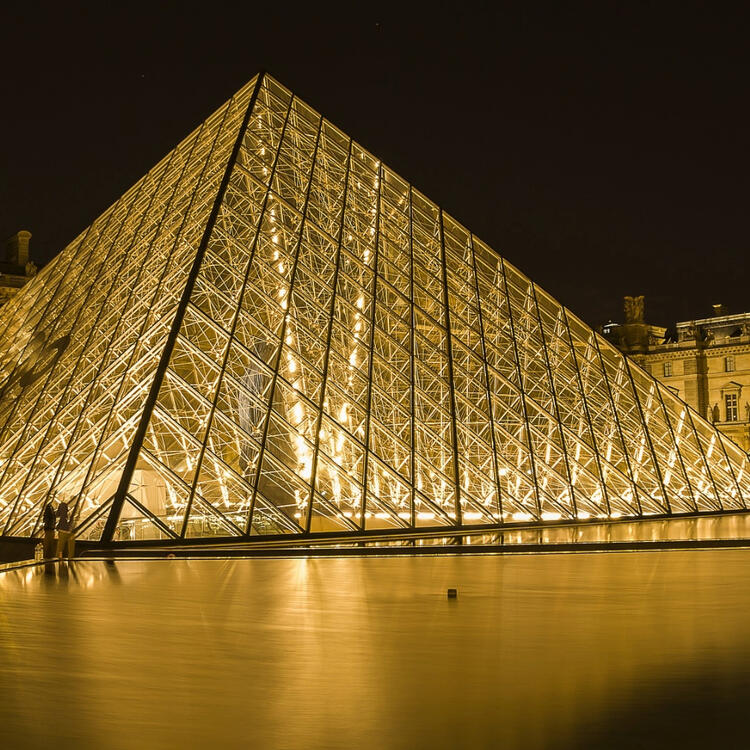 The Louvre
The Louvre is a world-renowned treasure trove of art and history. Housed in the opulent confines of a former royal palace, this sprawling museum boasts an astonishing collection, including the enigmatic Mona Lisa and the magnificent Venus de Milo. Art lovers can spend hours exploring its galleries, each corner revealing a masterpiece or historical artifact. Beyond the art, the Louvre's architecture is a work of art in itself, making it an integral part of Paris' cultural tapestry.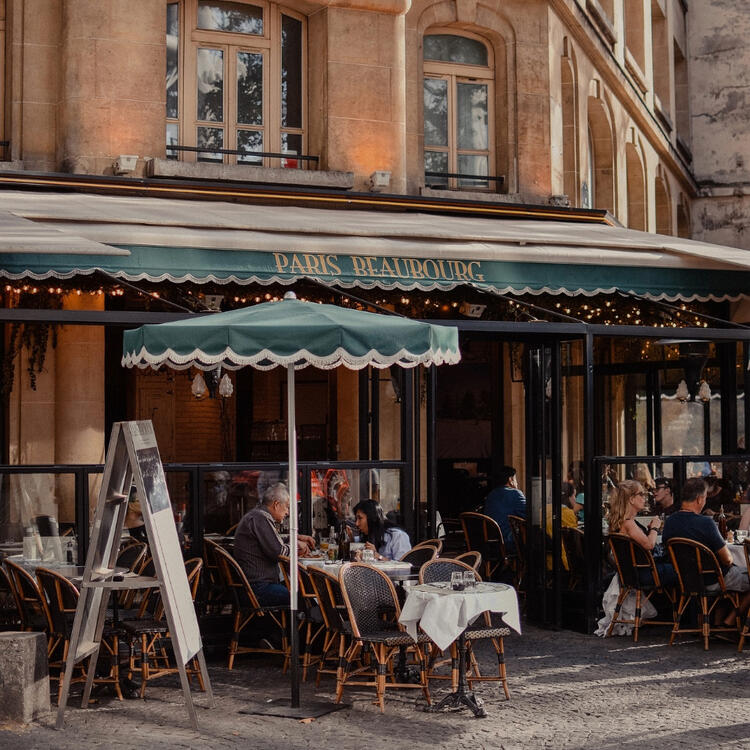 French cuisine
Paris is a culinary mecca where every meal is a celebration. From charming corner bistros to Michelin-starred restaurants, the city offers a culinary adventure like no other. Dine on classics like buttery croissants, rich escargot and savory coq au vin, all accompanied by exquisite wines. Don't forget to indulge in delicious pastries like macarons and éclairs, or simply enjoy people-watching from a sidewalk café with a café au lait in hand.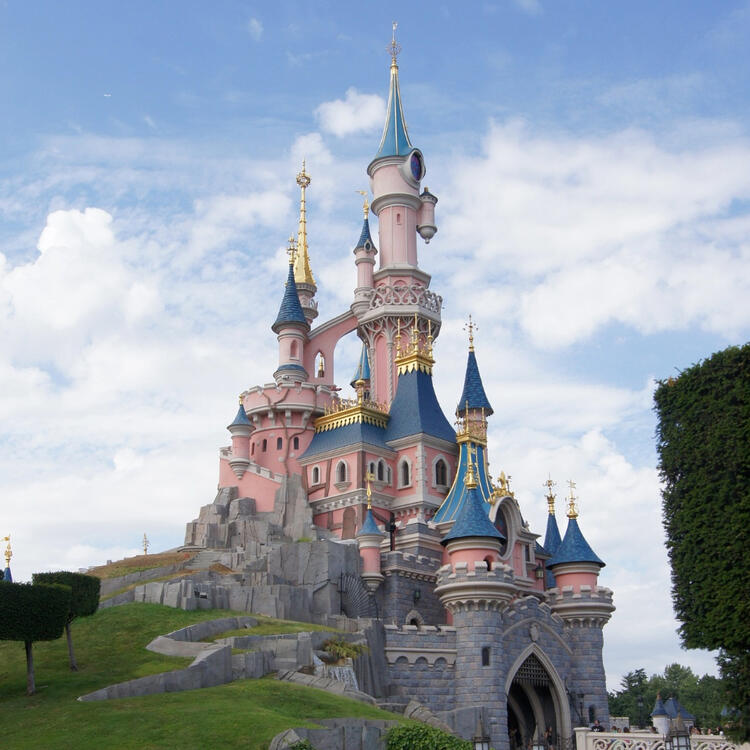 Disneyland Paris
Experience the magic of Disney with a touch of European flair at Disneyland. This magical theme park features all the beloved Disney characters, thrilling rides and captivating shows in a uniquely Parisian setting. Stroll down Main Street, U.S.A., take a whimsical journey through Sleeping Beauty's Castle, and be transported to other worlds in Adventureland and Fantasyland. It's a delightful adventure for visitors of all ages.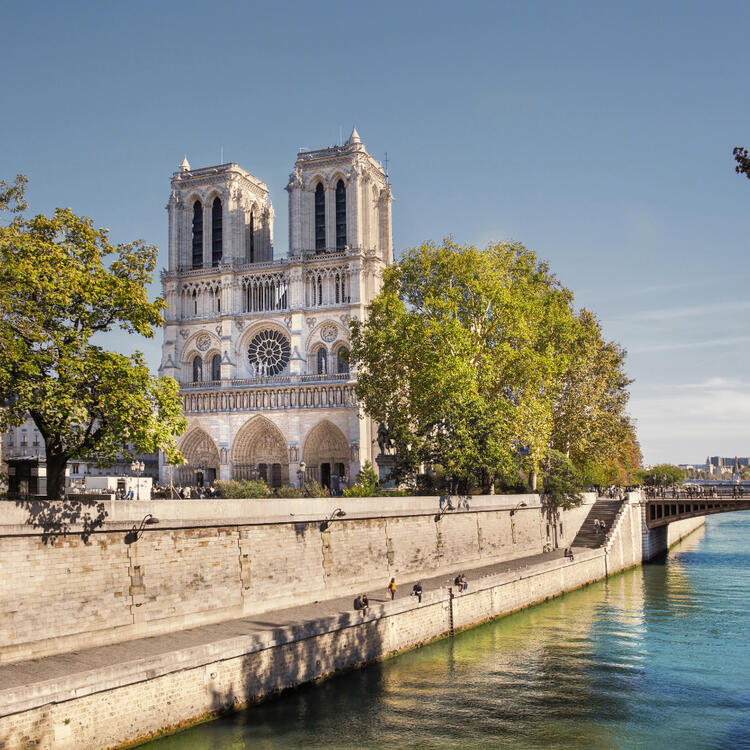 Notre Dame
A Gothic masterpiece, Notre Dame Cathedral is a timeless symbol of faith and architectural splendor. Its intricate facade is adorned with statues and exquisite rose windows, while the interior houses stunning stained glass and religious relics. Climb to the top for a close-up view of the famous gargoyles and a panoramic view of the Seine River and the city beyond. Despite the devastating fire in 2019, Notre Dame remains an awe-inspiring testament to human achievement and resilience.
weather Paris/Charles de Gaulle
JAN

FEB

MAR

APR

MAY

JUN

JUL

AUG

SEP

OCT

NOV

DEC
Welcome to Paris - Your Gateway to a Magical Journey
Known as the City of Light, Paris is a captivating destination that attracts travellers all year round. With its storied past, iconic landmarks and vibrant culture, Paris brings dreams to life. From renowned museums to charming cafes, this enchanting city offers a wealth of experiences. Visitors can explore famous landmarks such as the Eiffel Tower, Notre-Dame Cathedral and the Arc de Triomphe, all of which have helped shape the city's identity. Walking through Paris is like stepping back in time, discovering hidden gems and iconic buildings that have stood for centuries.
The best times to visit Paris are spring (April to June) and autumn (September to October), when the weather is mild, and crowds are manageable. Even in the height of summer, Paris has an undeniable charm. The city comes alive with outdoor performances, festivals and markets that offer a glimpse of local culture. Experience the heart of Paris with a leisurely boat ride along the river Seine. Take in breathtaking views of famous landmarks such as the Eiffel Tower and cruise under historic bridges. Don't miss Montmartre, a district perched on a picturesque hill and home to the awe-inspiring Basilica of the Sacre-Coeur (Basilica of the Sacred Heart. Explore the charming streets where bohemian artists once roamed and discover a vibrant artistic history that will add magic to your Paris adventure.
Paris Events:
Paris, a city that never sleeps, hosts several famous annual events that attract tourists from around the world. Bastille Day on July 14th features a grand military parade and fireworks celebrating the French Revolution Fête de la Musique (World Music Day) on June 21 offers free concerts showcasing diverse musical styles from around the world. Art lovers shouldn't miss Nuit Blanche (White Night) in October, an all-night art festival with exhibitions and performances throughout the city. Fashionistas flock to Paris Fashion Week twice a year to see the latest trends. Experience Paris' magical Christmas season with festive lights, markets, and iconic landmarks like the Champs-Elysees, which hosts a giant Christmas market each year.
Now it's your turn to experience the magic of Paris! Book your cheap flight to Paris today with Condor and embark on a journey you'll remember forever. Make your dreams come true in the city of dreams. Condor offers you the best offers and the best prices for your dream vacation.
Information about your Flight to Paris Charles de Gaulle Airport
Fly with Condor - Our departure airports in North America
With Condor, yours best airline to fly to Europe, you can begin your journey to Paris from several North American departure points. Our extensive network includes many flights from major airports such as New York (JFK), Baltimore-Washington (BWI), Seattle (SEA), Los Angeles (LAX) and more. We ensure a smooth and hassle-free journey to Paris/Charles de Gaulle (CDG) with a stopover in Frankfurt.
---
Paris Flight Durations:
Approximate flight times from major U.S. cities to Paris can vary depending on specific flight routes: However, here are approximate flight times from New York, Seattle, and Miami to Paris:
✈ New York to Paris: The flight from John F. Kennedy International (JFK) in New York to Charles de Gaulle (CDG) in Paris typically takes about 12 hours.

✈ Seattle to Paris: Flight time from Seattle-Tacoma International (SEA) to Paris Charles de Gaulle (CDG) is approximately 14 hours.

✈ Baltimore-Washington to Paris: The approximate flight time from Baltimore/Washington International Thurgood Marshall (BWI) to Paris Charles de Gaulle (CDG) is 13 hours.
---
Transportation from Paris Charles de Gaulle Airport to the City:
When you arrive at Paris Airport (CDG), you have a number of convenient transportation options to choose from. Hop on a train for a quick and efficient way to get around the city, or take a taxi for a more personalized experience. If you prefer a hassle-free transfer, airport shuttles are readily available and can take you directly to major hotels or the bustling city center. With these reliable transportation options at your disposal, your trip to Paris will be smooth and stress-free.
Getting around Paris
Exploring this enchanting city on foot allows you to fully immerse yourself in its historic charm. As you wander its picturesque streets, you'll discover hidden gems and stumble upon quaint cafes. But if you'd rather cover more ground, you'll find an extensive network of public transportation options, including an efficient subway system and conveniently located buses. For added convenience, taxis and ride-sharing services like Uber are readily available, ensuring that your transportation needs are easily met as you navigate the city.onders of Paris.
---
Travel to Paris - Visa Information
U.S. citizens traveling to France for less than 90 days do not require a visa, but a valid passport is required. A visa may be required for longer stays. Contact your nearest embassy or consulate for more information.
---
Book your flight to Paris today witth Condor Best Deals!
Embark on a luxurious journey to Paris aboard our state-of-the-art A330neo aircraft. Whether you're seated in Economy Class or Business Class, our interiors are designed with your comfort in mind. The A330neo has the world's quietest cabin in its class, ensuring a peaceful flight. Enjoy spacious seats with plenty of legroom for added comfort. Each passenger enjoys a personal 4K monitor for an exceptional in-flight entertainment experience. Stay connected with high-speed Internet and a variety of entertainment options. Our system supports Bluetooth for easy pairing with your wireless headphones. Your flight to Paris promises to be as enchanting as the city itself, from takeoff to landing.
Paris Travel Questions and Answers
1.
How far is Disneyland Paris from Charles de Gaulle?
Disneyland is conveniently located approximately 40 kilometers east of CDG Airport. It's a 45-minute to one-hour drive by car, depending on traffic. The train ride from the airport to Disneyland Paris takes about 8 to 10 minutes on the fastest services, and it's a direct route on SNCF's high-speed TGV trains.
2.
What currency is used in Paris?
The official currency in France and Paris is the Euro (€). Most major credit cards are widely accepted, but it's always a good idea to have some cash on hand for small purchases and tips. Currency exchange is available at banks, post offices and bureaux de change throughout the city.
3.
How far is Charles de Gaulle Airport from downtown Paris?
Charles de Gaulle (CDG) is located approximately 25 miles (40 kilometers) northeast of Paris. The airport is well connected to the city center by a variety of transportation options, including trains, buses and taxis, allowing travelers to efficiently reach the center of Paris.
4.
How many days will I need to see Paris?
The number of days you need to see Paris depends on your interests. A short visit of 2-3 days covers the main sights. For a more comprehensive trip, spend 4-5 days exploring museums and nearby attractions. With 7+ days, you can experience Paris at your leisure and take day trips. It's all about tailoring your stay to your interests and priorities.
5.
How do I get to Versailles from Paris?
You can reach Versailles from Paris by train from Gare Montparnasse or Gare Saint-Lazare. The journey takes about 35 minutes and trains run frequently throughout the day. Alternatively, you can join organized tours that provide transportation from central Paris to Versailles and include a guided tour of the palace and gardens.
6.
When is Paris Fashion Week?
Paris Fashion Week takes place twice a year, once in September and once in February. The exact dates vary slightly each year, so be sure to check the official Paris Fashion Week website for the latest information. It's a highly anticipated event for fashion lovers worldwide, showcasing the latest trends from renowned designers and brands.
7.
What is the best time of day to visit the Eiffel Tower?
For shorter lines and a more peaceful experience, it is recommended to visit the Eiffel Tower early in the morning or late in the evening. However, the views are spectacular at any time of day. For a special experience, consider visiting at night when the tower is beautifully lit.
8.
Are the shops in Paris open on Sundays?
Many shops in Paris are closed on Sundays, in keeping with the French tradition of resting on this day. However, certain tourist areas such as the Marais and the Champs Elysées have shops that remain open.
9.
Do I need to speak French to visit Paris?
While it's not necessary to speak French to visit Paris, it's nice to be able to use basic greetings and phrases. Many Parisians speak English, especially in the tourist areas, so you should be able to get by just fine.
10.
Will I need a travel adapter for Paris?
Yes, France uses the European plug type C and E (two round pins). If you're traveling from the U.S. or other countries that use different plugs, you'll need a travel adapter to charge your electronics. Adapters can be purchased before your trip or at convenience stores in Paris. Some hotels may also provide adapters.
Other destinations like Paris/Charles de Gaulle from North America