Flight passengers with a nut and/or peanut allergy
If you suffer from a nut and/or peanut allergy, we recommend taking the following steps to minimise potential exposure to nuts and peanuts on board our aircraft, and to prepare for the possibility of exposure to them:
Wear a medical alert bracelet.
If you need a nut-free meal, please bring your own food with you, which does not have to be refrigerated or reheated on board.
If you have been advised to carry prescribed anaphylactic medication (such as ready-to-use epinephrine/EpiPens), you must obtain and bring a certificate from your physician certifying that it is necessary for you to have this with you on-board the aircraft. In case of emergency or should treatment be required, you (or a family member/travelling companion) should be able to administer the medication prescribed by your physician.
For operational reasons, we unfortunately cannot guarantee a nut-free environment for our passengers either in our aircraft cabins or at the airport. Neither can we exclude the possibility that fellow passengers may bring their own nut or peanut products on board and eat them there.
If you are concerned about your fitness to fly, we recommend that you discuss your travel plans and this information with your physician. To enable us to provide you with the best-possible support and assistance during your flight with Condor, please inform us about your nut allergy in advance (no later than 72 hours before departure).
Gluten-free, Lactose-free and Other Special Menus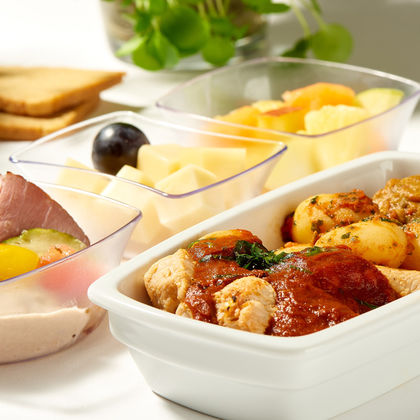 You can choose from special variants of our Premium Menus. Here, you can find diabetic, gluten-free, lactose-free and other special menus.
If you have a different allergy and are unsure of your fitness to fly, we also recommend that you discuss this with your physician and to contact our Special Reservations service.