Cargo
Your freight, your schedule - charter our aircrafts
Would you like a little more? For all those who want to transport large quantities of goods, we charter exclusive transport flights.
Do you want to charter your own flight? No problem!
We understand that no single shipment is identical, so we are now opening up the opportunity to charter our aircraft for exclusive cargo transports. Reliable process handling and a timely delivery to your desired airport included. If you are interested and you need more information please contact us by using the request form below.
Our fleet
Whatever your needs, we have the answer. Our long and medium haul aircraft can be allocated to specific routes, making us a very reliable cargo carrier for destinations where capacity is needed.
Condor Boeing 767-300ER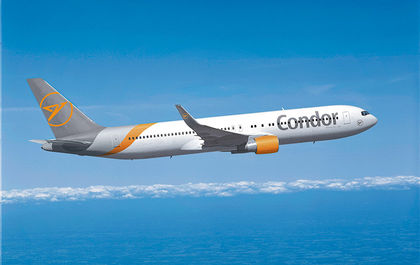 Range: Up to 10.550 km / 6,555 miles
Total cargo capacity*: 35,000-40.000 kg / 77,160 – 88,185 lbs
Total cargo volume**: 180-200 m³ / 6,356 – 7,062 ft³ (incl. 80-90 m³ / 2,825 – 3,178 ft³ cabin storage)

Cargo door dimensions (w x h):
Cabin: 107 cm x 183 cm / 42" x 74"
Forward: 340 cm x 175 cm / 133.8" x 68.9"
Rear: 178 cm x 175 cm / 70" x 68.9"
Bulk: 97 cm x 114 cm / 38" x 44.9"
Containers accepted: DQF, FNA, PMC
Bulk load per piece max weight: 159 kg / 350 lbs
---
* final weight depends on routing
** maximum load depends on box dimensions
Condor Airbus A320-200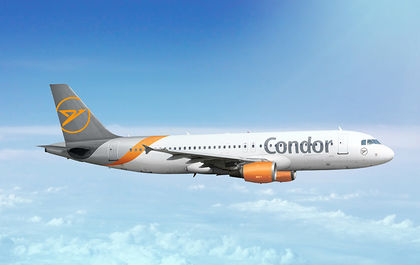 Range: Up to 6.000 km / 3.730 miles
Total cargo capacity*: 14,000 kg / 30,864 lbs
Total cargo volume**: 0 m³ / 1,765 ft³ (incl. 15 m³ / 529 ft³ cabin storage)

Cargo door dimensions (w x h):
Cabin: 183 cm x 81 cm / 72" x 31.8"
Forward: 182 cm x 124 cm / 71.5" x 48.8"
Rear: 182 cm x 123 cm / 71.5" x 48.4" x 68.9"
Containers accepted: DQF, FNA, PMC
Bulk load per piece max weight: 159 kg / 350 lbs
---
* final weight depends on routing
** maximum load depends on box dimensions
Condor Boeing 757-300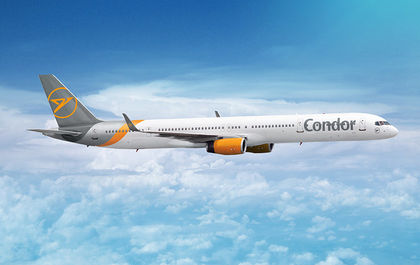 Range: Up to 5.400 km / 3,350 miles
Total cargo capacity*: 15,858 kg / 34,960 lbs
Total cargo volume**: 80-100 m³ / 2,825 - 3,531 ft³ (incl. 30-50 m³ / 1,059 – 1,765 ft³ cabin storage***)

Cargo door dimensions (w x h):
Cabin: 183 cm x 84 cm / 72 x 33"
Forward: 140 cm x 108 cm / 55" x 42.5"
Rear: 140 cm x 114 cm / 55" x 44.8"
Containers accepted: DQF, FNA, PMC
Bulk load per piece max weight: 159 kg / 350 lbs
---
* final weight depends on routing
** maximum load depends on box dimensions
*** selected aircraft only