Information
Dear Guest. Unfortunately it is no longer possible to order duty-free goods from Airshoppen for delivery on Condor flights from 1st May 2019 onwards. This is due to our decision to temporarily suspend Airshoppen while we
make improvements to the concept for our guests. You can, of course, still find great offers from our onboard selection.
Extras
Order your Duty-Free in advance
...and simply have it delivered on-board!
Condor Airshoppen offers over 1000 international Duty-Free branded items, which you can order for your flight in advance from the comfort of your home. Save up to 60% compared with normal German airport and retail prices – with a best-price guarantee.
Delivery of goods ordered can be made on either your outward or return flight – directly to your seat, without any stress.
Shop now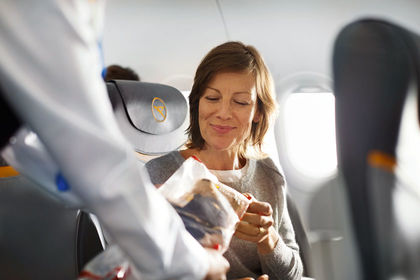 1. Order online
Log onto airshoppen.de with your booking number and order up to 6 days before departure.
2. Pay
You can pay either directly online using your credit-card or EC card, or on-board at time of delivery.
3. Delivery
Your order will be delivered to your seat on either your outward or your return flight, at your choice.
*Redeemable until 30.04.2019 on all Condor flights (except to/from Italy).