Condor destinations in Australia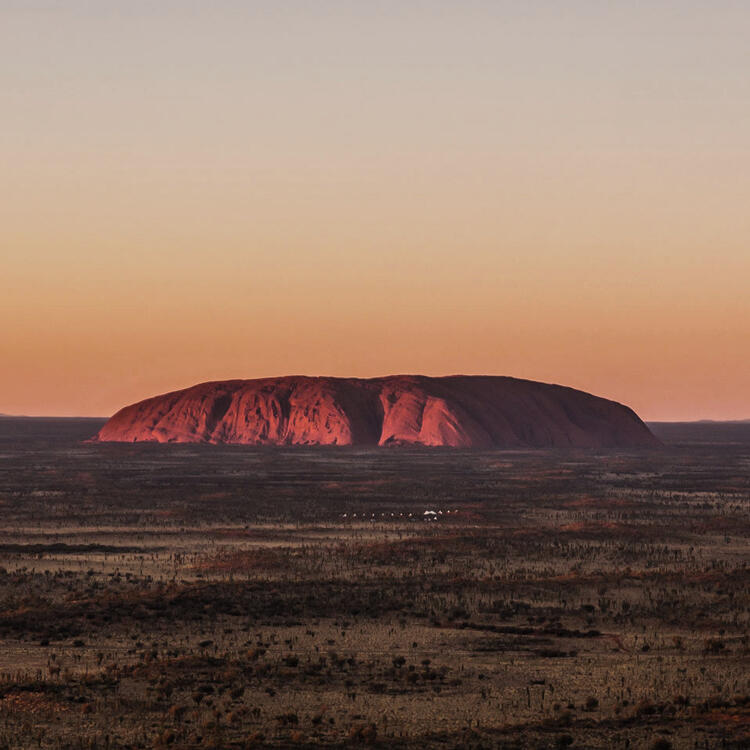 Ayers Rock
Needless to say, Ayers Rock, or 'Uluru' as it is known by the Aboriginals, is one of Australia's great landmarks. This inselberg, 350 metres high and just 3 km long, set right in the middle of the Australian outback, should on no account be missed. It's a spectacular sight, especially at sunset.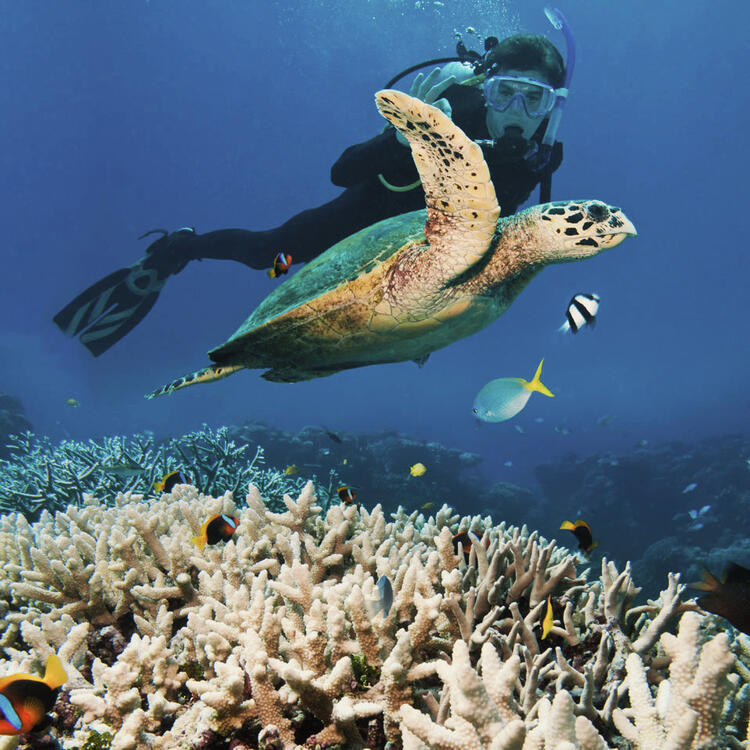 Great Barrier Reef
The Great Barrier Reef is a paradise for divers, snorkelers and sailors! The world's largest coral reef extends over about 2,300 km, and contains 2,900 reefs and some 1,000 islands. Here you'll find turtles, sharks, whales and an array of colourful sea life.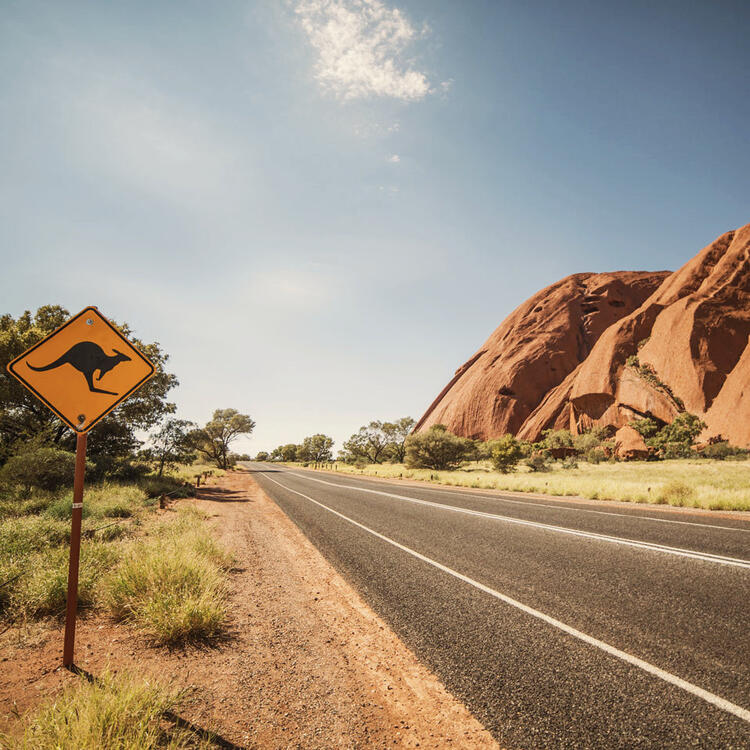 Outback
In Australia, anywhere that is not near the coast is considered as the outback, which means a good three-quarters of the continent. Visit one of the world's most acient rain-forests in the northern outback, or Coober Pedy in the desert-like outback, where people live underground to escape the heat.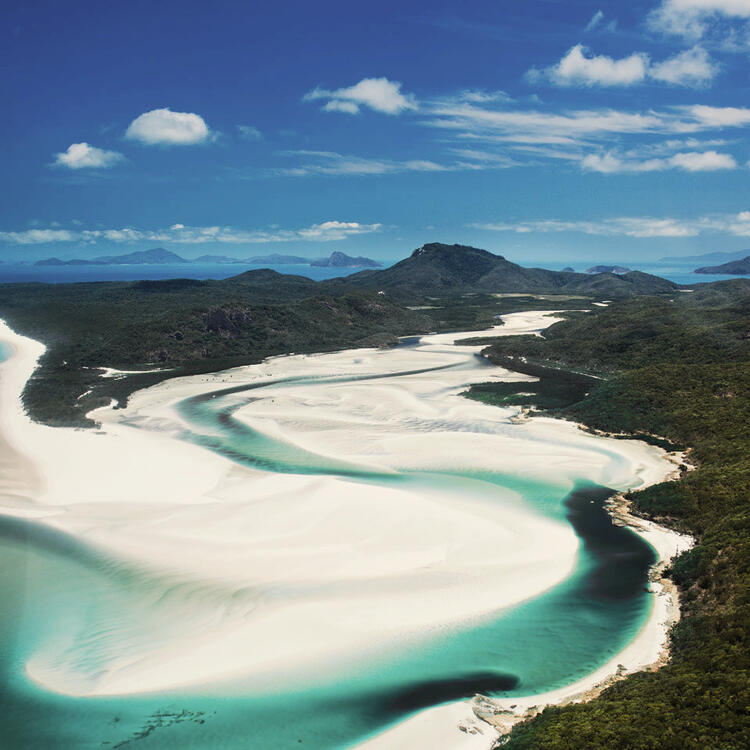 Whitsunday Islands
You'll be thrilled by the remote islands, blissfully white sandy beaches and brilliantly-coloured coral reefs of the Whitsunday Islands. While on dry land, you can meet kangaroos and wallabies, and can encounter dolphins and whales on a boat trip through the beautiful coves. The perfect place to relax and experience Australia's diverse flora and fauna.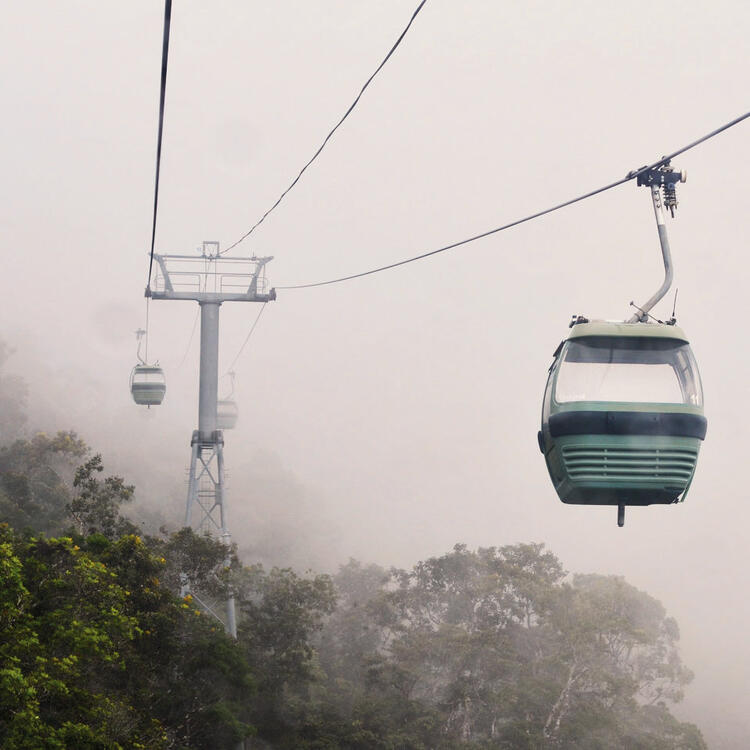 Skyrail
The 7.5 km funicular will take you from Cairns to Kuranda through the Barron Gorge National Park, carrying you just a few metres above the forest canopy. You can get out at either station and wander through the tropical rain-forest using surfaced paths. The trip lasts about 1.5 hours. You'll be amazed by spectacular waterfalls and the broad green landscape.
Welcome to Australia
Fly to Australia with Condor and Malaysian Airlines at a nice price, and discover this fascinating continent on the other side of the world! Visit the world-famous Uluru in the outback, or snorkel in the Great Barrier Reef, the world's largest coral reef. Australia's cities such as Sydney, Melbourne and Perth are certainly well worth a visit.
If you prefer something a bit quieter, you can just chill out on one of its beautiful beaches such as the legendary Bondi Beach. Book one of our cheap flights to Australia now.
Flight facts
Condor and Malaysian Airlines offer numerous flights to Australia with a transfer in Kuala Lumpur. From Kuala Lumpur you can fly onward, for example, to Sydney or Canberra. Malaysian Airlines can also fly you the Melbourne or Adelaide in the south-east.
Perth, the principal city of Western Australia, with its green city centre, is also served by Malaysian Airlines. All flights from Germany to Kuala Lumpur are operated by Condor. Flights to Perth or Sydney are operated by our partner airline, Malaysian Airlines. They offer exactly the same standard of comfort as a Condor aircraft.