Affordable one-way flights to Pittsburgh
Other destinations like Pittsburgh
Top sights in Pittsburgh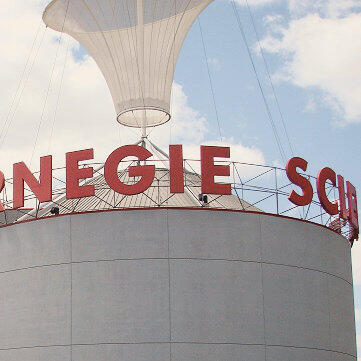 Explore the Carnegie Science Center
Boasting four floors of interactive exhibits that kids and adults alike will love, the Carnegie Science Center should be high on your list. From robotics to miniature railroads, a planetarium and even a 24-foot climbing wall, there's hours' worth of fun here.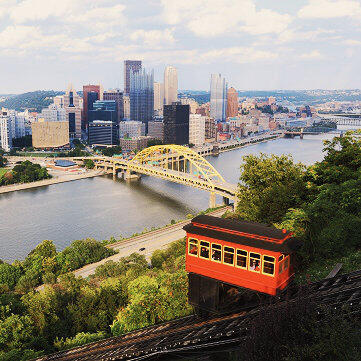 Ride the funicular
Pittsburgh is home to the popular Duquesne Incline, one of the world's oldest uphill railroads. Jump aboard and head up to Mt. Washington where you'll find the Pittsburgh history museum, plenty of shops and restaurants, and some of the best views across the whole of Pennsylvania.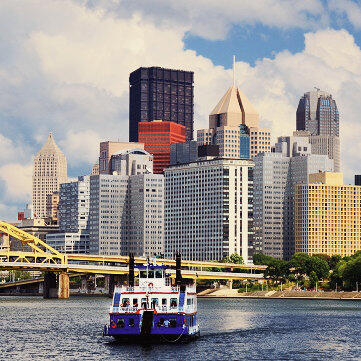 Take a cruise
Pittsburgh may not be near the sea but there's plenty of aquatic adventures to be had still. Take a cruise onto the Monongahela River. There's everything from short sightseeing trips to wine tasting, pirate adventures for the kids, or even dinner and dancing if you're feeling fancy.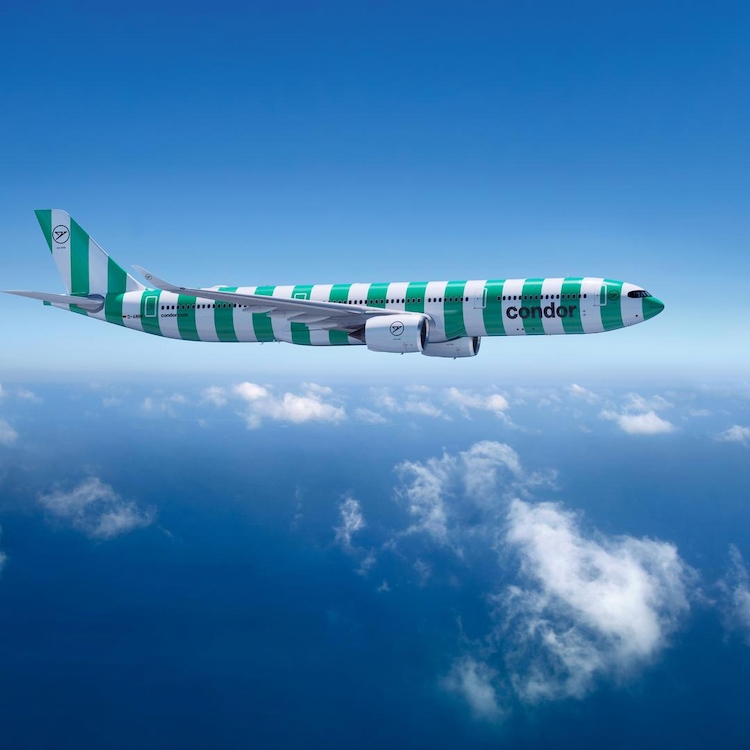 Cross Sixth Street Bridge
This vibrant yellow bridge is one of Pittsburgh's most iconic structures and one of 446 bridges here. Visit on gameday at the PNC or Heinz Field stadiums and the whole bridge is shut to let the crowds of excitable spectators cross – an experience not to be missed!
Welcome to Pittsburgh
From fantastic museums to world-class sporting teams, sprawling parks to quirky coffee shops, Pittsburgh is a city with a real authentic feel to it. If you're a sports lover, Pittsburgh is the place to go and the famous NFL team, the Pittsburgh Steelers, really "steel" the limelight in terms of popularity – this city really love their football team! If you want to watch a game, the Heinz Field is where to head. Football isn't everyone's cup of tea, so if you're more of a culture vulture, Pittsburgh's museums are some of the best in America.
From the incredible Carnegie Science Center, to the iconic Andy Warhol Museum, or if you're with the kids, they'll love the Children's Museum of Pittsburgh, where it's all about hands-on learning. With all the hustle and bustle of the city, Pittsburgh's parks, or the incredible National Aviary, are some great places to get away from it all, but before long you'll be ready to get straight back into the lively swing of Pittsburgh life.
Flight facts
Pittsburgh, the home of NFL champions and world-class museums. Pittsburgh may not be top of everyone's holiday destination list just yet, but we're hoping to change your mind on that! This vibrant city is a fantastic place to spend your holiday and with cheap flights to Pittsburgh now happening on a daily basis from a number of European cities, it would be a crime not to check it out! Condor's flights to Pittsburgh are not only easy to book, but our flight team are notoriously friendly and aim to get your trip to Pennsylvania state off to a flying start.
Your flight to Pittsburgh will land at Pittsburgh International Airport which is located in Findlay, just a 20-minute drive from the city. There are plenty of taxis and the hassle-free "Super Shuttle" or 28X Airport Flyer buses from Findlay which will get you into the heart of the city in no time, ready to explore this charming destination – now all you have to do is book!