Cheap flights to New York (NYC) JFK from € 199.99*
All flights from Europe to New York (NYC) JFK
Top attractions in New York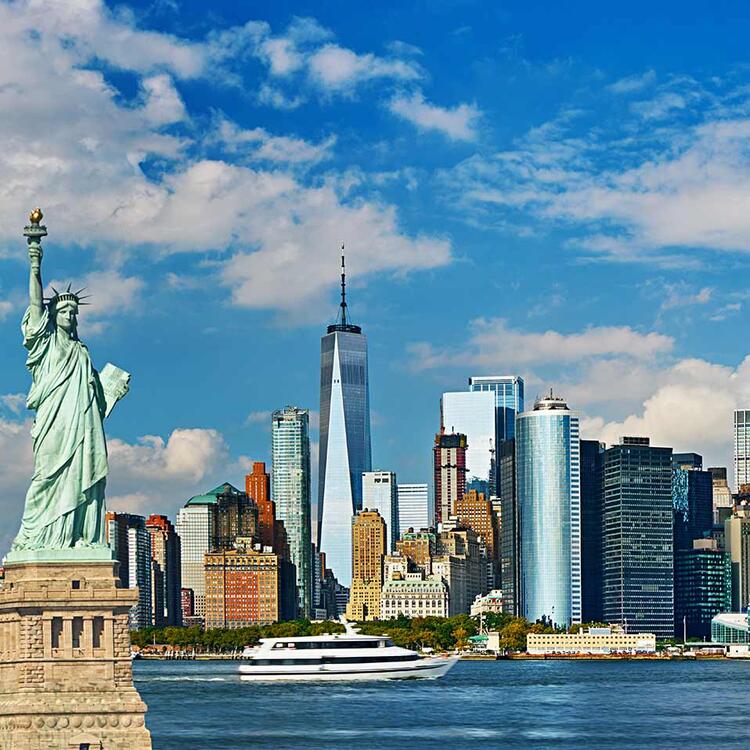 Discover New York City from the water
One of the most attractive water routes is available for the price of a public transport ticket: the Staten Island Ferry, which acts as a shuttle service from Manhattan to Staten Island and back. A three-hour tour with the "Circle Line" provides even more fascinating views but requires you to buy tickets.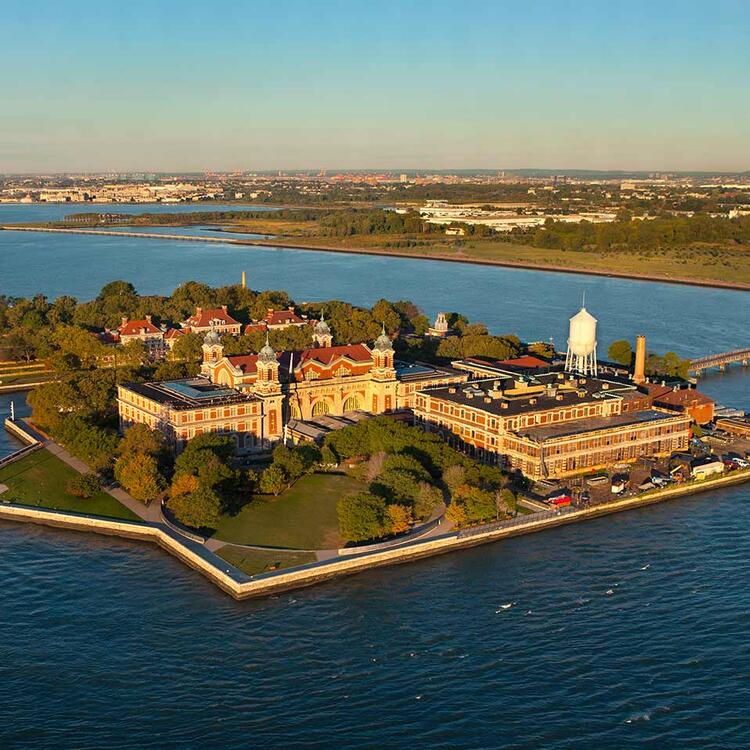 The Statue of Liberty and Ellis Island
Two of New York's main attractions are the Statue of Liberty and Ellis Island, off the coast of Manhattan Island, both of which can be accessed via boat. Both the steel body of "Miss Liberty" and Ellis Island are well worth a visit. The latter was home to the immigration authority for many decades and has been a museum dedicated to the history of immigration since 1990.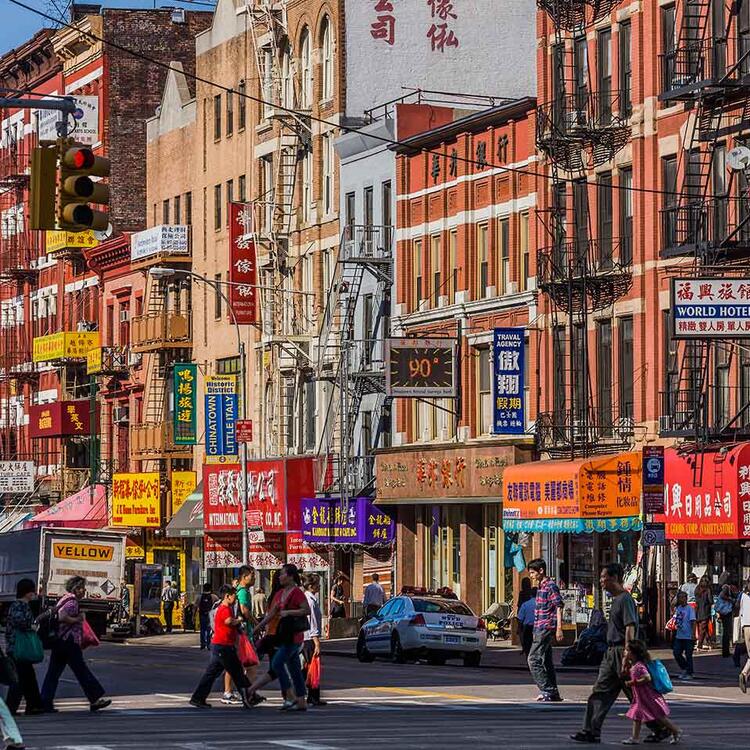 Chinatown
Chinatown is another must-see highlight. Along Canal Street in South Manhattan, you can immerse yourself in one of the largest Chinese communities in North America. The neighbourhood is home to Chinese shops and eateries as far as the eye can see – full of exotic treats and amazing things to discover.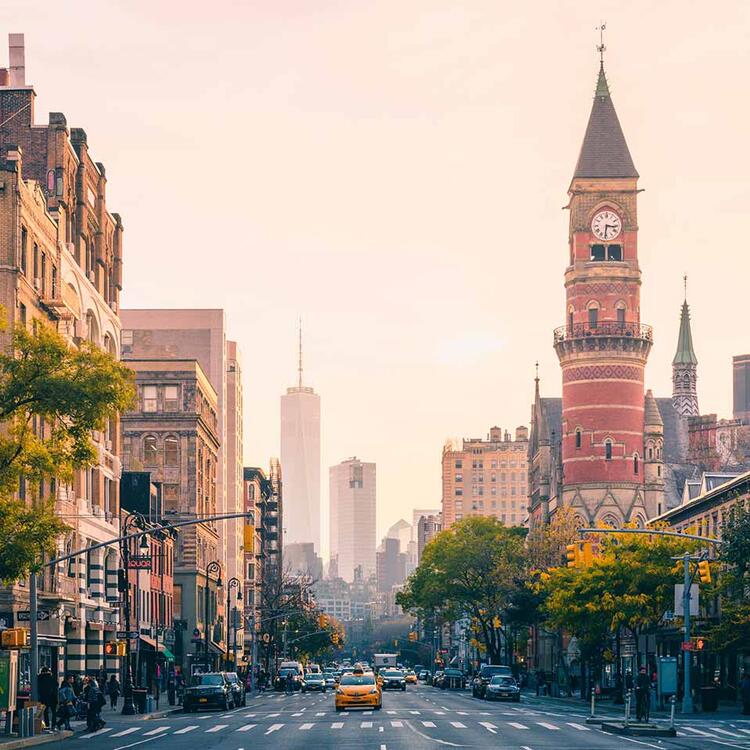 Greenwich Village
This attractive artists' and bohemian neighbourhood is the cool place to be and is located between 14th Street, Houston Street, the Hudson River and Broadway. It is home to a fascinating variety of bars, cafés, restaurants, music venues and alternative theatres.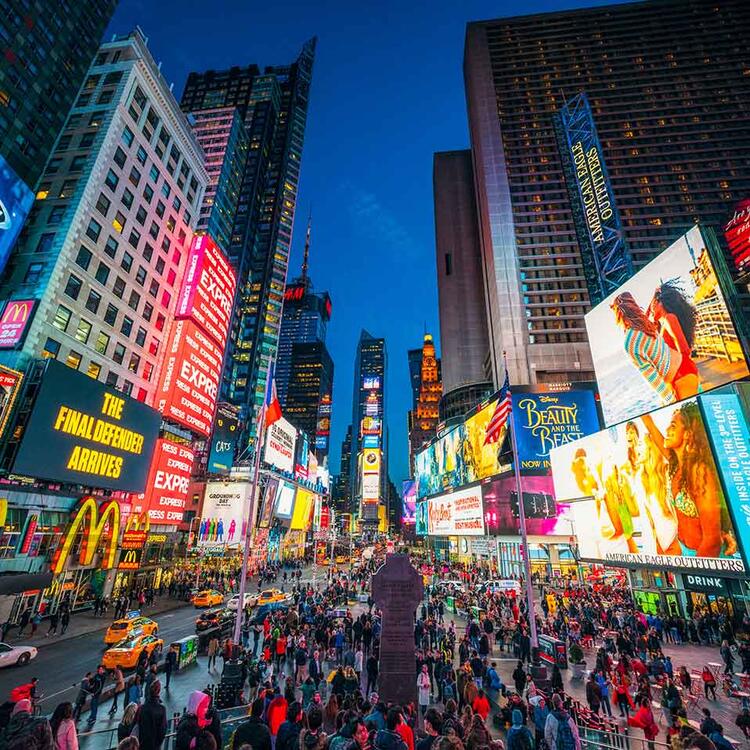 Broadway
New York is the city that never sleeps, and most of its night-life attractions can be found in the Theater District surrounding Times Square. A flight to New York is a worthwhile experience for this impressive cornucopia of shows, musicals and plays alone! Experience Chicago, Hamilton and other award-winning Broadway shows! You will often find special offers for Broadway tickets at the evening box offices.
weather New York (NYC) JFK
JAN

FEB

MAR

APR

MAY

JUN

JUL

AUG

SEP

OCT

NOV

DEC
Flights to New York (JFK)
New York City is the ultimate metropolis, a world of its own that is more lively, colourful and cosmopolitan that virtually any other city on the planet. This is the city where cultures from all locations and corners of the globe come together, trends are born, stars are made and new forms of art are constantly developed. What's more, it is home to a multitude of sights and attractions that are well worth a visit – and more than just once! When you arrive in New York, the famous Manhattan skyline is the first thing you will notice and is a unparalleled work of art in itself, sure to make your time in this unique city an unforgettable experience.
If you want to admire the panoramic view of New York City, you can choose from several different observation decks: the highest viewing point (380 metres) can be found in the One World Trade Center, while other classic locations include the Empire State Building and the RCA Building in Midtown Manhattan. Don't forget to explore Manhattan's numerous shopping boulevards either! After all, shopping in New York is a wonderful experience all year round, not just in the run-up to Christmas. This international city also ticks all the boxes for culture-lovers. One of the most famous art museums in the worlds, the Metropolitan Museum of Art, is located directly next to Central Park and welcomes visitors with a collection of highly significant works of art from all over the globe. Have you always dreamed of going on a trip to New York? Book your cheap flights to New York now!
Flight facts
Book your cheap Condor flight and fly to New York's airport, JFK, via Frankfurt am Main (FRA) Airport. The flight from Frankfurt am Main takes from eight to ten hours. You will arrive in New York City in the early afternoon, leaving you plenty of time to explore the city on the first day of your trip.
The easiest and most convenient way to get from JFK Airport to Manhattan is via the AirTrain and subway (underground), but you can also use buses and the typical New York taxis, known as "yellow cabs".
Other destinations like New York (NYC) JFK