Affordable one-way flights to Baltimore-Washington
Welcome to the USA
Condor will get you to the most exciting destinations worldwide. This includes the capital of the United States, Washington D.C.! Discover the stunning capital when you book a cheap flight with Condor to Baltimore-Washington. Spend an afternoon on the Washington Mall, visit the Vietnam War Memorial, or see the Lincoln Memorial. Visit the home of so many of America's pivotal moments when you book a cheap flight to Baltimore Washington with Condor.
Explore beautiful Baltimore, Maryland on your next vacation. This historic city is a cultural wealth of sites to see, museums to visit, and incredible seafood! Book a cheap flight to Baltimore-Washington with Condor and enjoy a fresht-caught crab dinner on Baltimore's famous inner harbor. Visit the National Aquarium, one of the world's largest collections of sea creatures, and explore historic Mount Vernon neighborhood. Book a cheap flight to Baltimore today on Condor Airlines!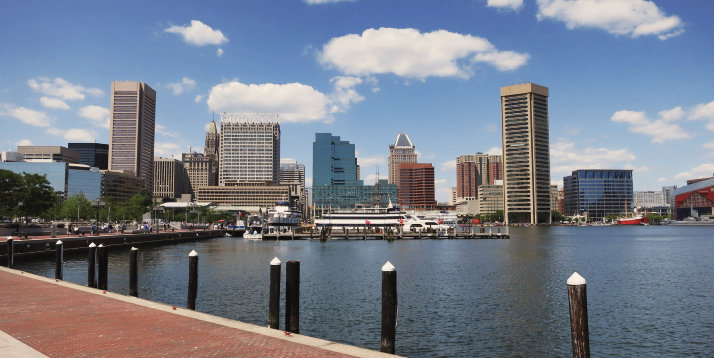 Feel like going shopping?
Flight facts
Flights to Baltimore Washington fly in from all over the world through Condor. Flights from Spain are a mere 6 hours, and flights from Eastern Europe range from 8-10 hours direct. Condor flies from many different airports into Baltimore Washington; in Spain alone flights leave daily from Bilbao, Madrid, and Barcelona. Book a cheap flight to Baltimore Washington Airport today through Condor Airlines and start planning your next adventure.
Baltimore Washington International Airport is located 20 minutes by car from downtown Baltimore and an hour from downtown Washington D.C. Trains leave hourly for DC, however a taxi is most likely the faster and more comfortable option. Once settled in Baltimore or Washington, both cities have fantastic public transport that will take you anywhere you'd like to go! Explore beautiful Washington DC when you book a cheap flight with Condor.
All flights from Europe to Baltimore-Washington
Baltimore-Washington Climate
JAN

FEB

MAR

APR

MAY

JUN

JUL

AUG

SEP

OCT

NOV

DEC
Top sights in the USA
National Mall
Discover the beautiful long park between the Lincoln Memorial and the United States Capitol building. This rectangular park is surrounded by so many of Washingon's most important landmarks: The White House, The Smithsonian Museums, the Lincoln Memorial, and the Washington Monument, to name a few.
Smithsonian National Museum of American History
Learn all about American History at the Smithsonian National Museum of American History. From The North Carolina lunch counter made famous during the Civil Rights Movement to the full replica of Julia Child's kitchen, the National Museum is not to be missed.
Vietnam War Memorial
Visit the important and breathtaking war memorial, commemorating those lost and missing from the war in Vietnam. This wall was built in 1982, and is open for visitors to come and learn more about the war, as well as mourning loved ones. This important and beautiful site is a must-see.
Inner Harbor
Located in Baltimore's downtown district, the stunning inner harbor is not to be missed. Enjoy a seaside dinner of freshly caught local crab and watch the sun set over the masts of local yachts and fishing boats. Additionally, explore the National Aquarium.
National Aquarium
Visit the National Aquarium, Maryland's most popular tourist destination! Located on the far end of the Inner Harbor downtown, the National Aquarium is one of the largest aquariums in the country. Learn about the large Atlantic coral reef, with over 500 species native to the area!
Other destinations like Baltimore-Washington