Affordable one-way flights to Phuket
Other destinations like Phuket
Welcome to Thailand
A melting pot of indigenous Thais, ethnic Malays, Chinese, and sea gypsies Phuket offers a unique and vibrant lifestyle. The city offers a variety of activities and entertainment options including scuba diving, snorkelling and swimming. Experience exotic activities like safari, elephant rides and all-terrain vehicle trips. Rich heritage of the island is palpable through the old town, temples and Sino-colonial architecture.
Condor makes your trip exciting with cheap flights to Phuket. You don't have to be an heir to enjoy Phuket's bucket list. Whatever your heart desires, it has deep-sea diving, shimmering beaches, high-end dining and amazing nightlife with innumerable restaurants, bars, cabarets, discos and the popular full moon parties. Enclosed by the Andaman Sea, witness sea creatures in the Phuket Aquarium. Do you enjoy boxing? Watch Thai boxing!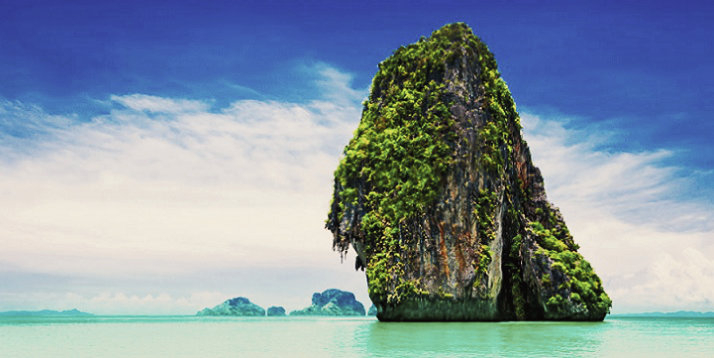 Relax on the beach with a view of beautiful coasts near Phuket
Flight facts
Flight time from Frankfurt to Phuket is almost 12 hours and flights from Germany will take between 11 to 13 hours. Your flight to Phuket lands into the sunny international airport. Take a cab and zip across to your destination. It takes about an hour to reach the city centre. More budget-conscious can take the shared mini vans that cost 180 bahts.
Enjoy the vibrant colours of the island as you drive out of Phuket airport in a taxi. The compact International Airport sits on the northern part of the island and the staff here is very helpful. A smooth transfer can be ensured by pre booking a cab. After your flight to Phuket it takes a couple of hours to hit the beautiful beach. We at Condor make sure that you have a great flight!
Phuket Climate
JAN

FEB

MAR

APR

MAY

JUN

JUL

AUG

SEP

OCT

NOV

DEC
Top sights in Thailand
Soi Bangla Nightlife (Patong Beach)
Soi Bangla on the Patong Beach peaks as the sun sets. It is the liveliest party zone in Patong where traffic closes. Known for special nightlife, it entertains visitors with music and drinks! The volume hits high as the moon rises. You can explore the beautiful beach and various pubs when you take a flight to Phuket!
Phi Phi islands
The superstar Phi Phi Island beckons travellers from far and wide. The natural beauty of the island will not disappoint and it is a large part of its allure. As you approach Phi Phi it rises from the sea like a citadel. No hustle and bustle or schedules to follow here!
Baan Chinpracha
A superb example of Sino-Colonial style, Baan Chinpracha sits at Krabi Road. It has become famous as the location in many local and Hollywood films. If you want to see a Sino-Colonial mansion, this is the only one open to public.
Bang Neow Shrine
A serene beautiful place of worship The Bang Neow Shrine was built in 1904. Part of another shrine in the Old Town it was moved several times. It is strangely long and features many doors as it has 10 shrines. Make your trip memorable with cheap flights to Phuket!
Phuket Amulet Market
Buddha image and amulet market sits in a narrow alley just off Rassada Road. It is a specific market that attracts Buddhists from all over. Amulets were initially made in Thailand temples and distributed to Buddhists.