Affordable one-way flights to Kilimanjaro
Sorry we can't offer your flight to Kilimanjaro from your chosen departure airport but you may want to try another flying from another departure airport:
Welcome to Tanzania
Experience the once-in-a-lifetime thrill of climbing Mount Kilimanjaro! This trek, while technically not a climb like Mount Everest, is not to be underestimated. Each of the seven routes to the ascent offers different aspects and different skill levels, depending on travellers' needs. If you feel you are physically able and can scale a high altitude mountan, then look into climbing Kilimanjaro! Don't delay, book a cheap flight to Kilimanjaro today through Condor.
Take on Mount Kilimanjaro, the accomplishment of a lifetime! Each of the seven routes offers a different experience. The Marangu route is recommended for beginners, as it is the least challenging and is also the shortest route in terms of days on the mountain. Other routes include the Rongal, Lemosho, Machame, and Shira routes. Don't delay, start looking for cheap flights to Kilimanjaro today through Condor airlines.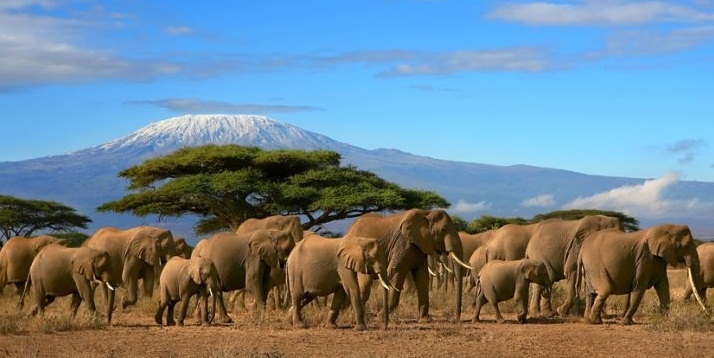 Climb to the top of Kilimanjaro or go on a safari
Flight facts
Book any number of flights from mainland Europe to Kilimanjaro. Flights from mainland Germany last around 11 hours, on average. Most flights transfer through Frankfurt International airport, as well as others. Condor teams with trusted partners such as Lufthansa, ensuring a safe and seamless journey for you to Mount Kilimanjaro. Kilimanjaro International Airport is a short taxi ride to the Viewing Lodge, the beginning of your Kilimanjaro adventure. Book a cheap flight to Kilimanjaro today with Condor.
Start planning your Kilimanjaro adventure today! Once you've booked a flight, there are many other factors to consider. Many tour organizations have emerged in the last few years with guides to assist climbers up the mountain. Research is crucial here, especially for less experienced climbers and first-time trekkers. With the right guide, your adventure up Mount Kilimanjaro is sure to be a success. Don't delay, start looking for cheap flights today to Kilimanjaro today with Condor.
All flights from Europe to Kilimanjaro
Kilimanjaro weather
JAN

FEB

MAR

APR

MAY

JUN

JUL

AUG

SEP

OCT

NOV

DEC
Top sights in Tanzania
Lemosho Route
Of the various routes up Kilimanjaro, the Lemosho route is the newest. This route is not heavily used, and has beautiful scenery up the entire path. It approaches the mountain from the west and is a relatively flat hike.
Machame Route
The Machame route approaches the mountain from the southwest and gives climbers a view of the Shira plateau. You can also scramble up the lava tower, climb the Great Barranco wall, and hike underneath Kilimanjaro's southern icefield. All paths descend off the mountain in the same way, through the Mweka route.
Marangu Route
The Marangu route is the easiest and least expensive route available to the summit of Kilimanjaro. It is possible to make this climb and descent in as little as 5 days. Nicknamed the Coca-cola route, this path approaches the mountain from the southeast and is a direct route to the summit.
Rongal Route
The Rongal route approaches Kilimanjaro from the north, near the border with Kenya. It is the only route to do so. The Rongal route is not extremely crowded, and is preferred by those seeking a remote hike. You will pass through some heavily wooded wilderness areas during the ascent.
Shira Route
The Shira route is an improvement on the older Lemosho route. Climbers start at an extremely high elevation (vehicles transport you to a starting elevation of 3,600 meters), and as such this route is only recommended to those who have experience in higher altitudes and feel comfortable acclimating quickly.
Other destinations like Kilimanjaro