Welcome to Morocco
Are you looking for a relaxing holiday full of sun and sea? Book a flight to Agadir! Besides fishing and mining, tourism is one of the most important industries of the city. Agadir is located directly on the Atlantic Ocean and its known for its beautiful sandy beaches. The markets, full of local spices, allure the senses, and the impressive bird park is home to many exotic species. Cheap flights from Europe are easy to find with Condor.
The city of Agadir is comprised of a busy port and a number of fine beach resorts. Agadir was completely rebuilt after a devastating earthquake in 1960 and has since become Morocco's prime tourist destination. The beach-front promenade is lined with shops, bars, and restaurants, making it a relaxing spot for locals and visitors alike. If you are on the hunt for a cheap flight to Morocco, consider a flight to Agadir where the sun shines 300 days a year!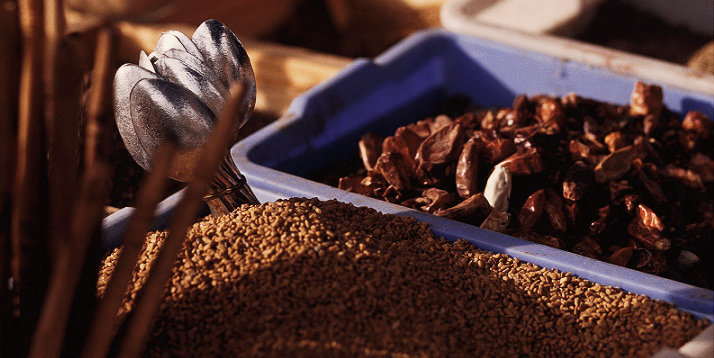 Discover various spices at the Agadir Bazaar
Flight facts
Agadir is serviced by Almassira International Airport, located about 25 kilometres from the city centre. Direct flights from various German airports arrive daily the whole year through. For example, you can book a cheap flight to Agadir from Düsseldorf, Frankfurt, Leipzig/Halle, or Munich and be in Agadir in as little as 4 hours. Book flights to Agadir and start your holiday off right.
After your cheap Condor flight lands, you have a few options for arriving at your accommodation. Most hotels and resorts offer shuttle services. Should you need to, though, you can always take a taxi from the airport or opt to rent a car for the duration of your stay. THe latter option gives you full flexibily and mobility. There are several agencies available at the airport.
Agadir Climate
JAN

FEB

MAR

APR

MAY

JUN

JUL

AUG

SEP

OCT

NOV

DEC
Top sights in Morocco
The Promenade of Agadir
This well maintained promenade is the perfect place for a leisure walk during the day or sunset stroll. The newly built marina is lovely and there are various shops and restaurants that line the promenade. You also have a wonderful view of the Kasbah and the dunes.
Beach of Agadir
This is a wonderful sandy beach with crystal clear waters. It is kept impeccably clean and safe by local authorities. Due to its location, it is more sheltered from wind than other beaches in the area, making it ideal for relaxation and water sports activities.
The Kasbah
The hilltop kasbah of Agadir is found 7 kilometres from the city centre and is the definitive symbol of Agadir. Unlike most other buildings here, it managed to survive the 1960 earthquake more or less intact. The views of the port, marina, and the city are fantastic.
Medina of Agadir
The Medina of Agadir is a unique spot located about 4 kilometres from the city centre. It was constructed in 1992 in a traditional Berber style. It serves as a home to cultural museums, artisan workshops, and quaint cafes. A definite must see!
Golf du Soleil
If you are a golf lover, you will definitely want to hit up the Golf du Soleil course. The course is suitable for players of all levels and offers up some stunning views. Be sure to book your tee time beforehand as slots tend to fill up fast!