Affordable one-way flights to Mykonos
Welcome to Greece
The rich history and culture of Greece has long been an allure for a wide variety of travellers. In combination with its pristine blue waters, immaculate beaches, steep cliffs and lush olive groves, Greece is as beautiful as it is fascinating. A flight to Mykonos from Condor is a great way to explore one of Greece's many enchanting islands firsthand. Book your next holiday with us for a budget-friendly, hassle-free experience!
Mykonos is situated about 90 miles east of Athens in the glistening waters of the Aegean Sea. This island attracts tourists from around the world with its traditional Greek flair. If you're considering booking a holiday in Greece, a cheap flight to Mykonos may be the best choice. Condor offers inexpensive flights to Mykonos and other nearby islands offering you a variety of options for your next holiday.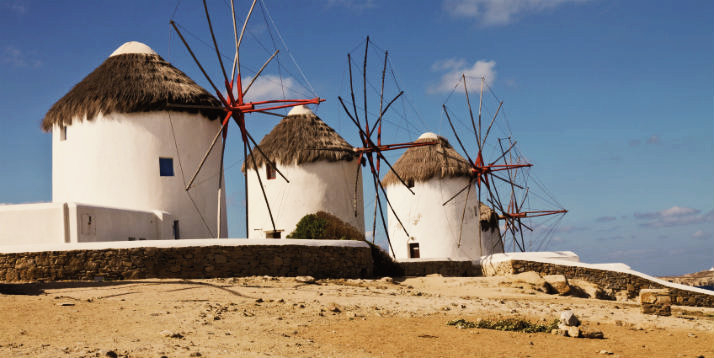 Discover Greek windmills, the symbol of Mykonos
Upcoming flights to Mykonos
Flight facts
Direct flights to Mykonos can range in duration based on your point of departure. For example a flight to Mykonos from centrally-located German airports like Frankfurt, Düsseldorf or Munich take approximately three hours. The high season in Mykonos runs from June to September, generally offering a greater variety of flights to the island. Find a cheap flight to Mykonos on Condor for your utmost convenience and ease.
If you book an off-season holiday in Mykonos, flights to Athens may be a better choice for you. From this metropolis, you can either take a 25-minute flight to the island or choose from a variety of high-speed boats which routinely deliver passengers to Mykonos. A cheap flight from Condor is the first step to a both relaxing and exciting adventure in the magical Greek Isles.
All flights from Europe to Mykonos
Mykonos Climate
JAN

FEB

MAR

APR

MAY

JUN

JUL

AUG

SEP

OCT

NOV

DEC
Top sights in Greece
Mykonos
The majority of the island's residents live in the largest town, also called Mykonos, or by the generic term in Greek for town, Chora. After your flight to Mykonos, take a taxi to the city centre, approximately 2.5 miles away, and explore the beautiful architecture and charming culture of this romantic island.
Petros
A trip to Mykonos wouldn't be complete without a visit to the island's mascot Petros. According to local legend, Petros the Pelican took refuge from a storm on the island and became a local celebrity. Although the original Petros has passed on, the locals elected Petros the Second to honour his legacy.
Beautiful beaches
As an island, Mykonos naturally has a number of lovely beaches beckoning you to kick back and relax. Whether you choose the Platis Gailos near the main city centre or the more remote Lia Beach, you're sure to find the relaxation you need at any of the islands stunning sandy stretches.
Aegean Maritime Museum
If you're looking to explore the island's history after your Condor flight to Mykonos, check out the Aegean Maritime Museum. This impressive museum is dedicated to the long and fascinating history of sailing and shipping in the Greek Isles. You can get an overview of Greek shipbuilding history from ancient times to modern day.
Little Venice
For couples booking a cheap flight to Mykonos, the sector of the city known as Little Venice is most interesting. This charming quarter boasts some of the best sunset panoramas on the whole island and is also home to a number of charming cafes, bars and restaurants. It's also home to many artists thanks to its coastal vistas.
Other destinations like Mykonos