Affordable one-way flights to Kalamata
Welcome to Greece
We at Condor help you get to your holiday destination at affordable rates. Cheap flights to the most beautiful holiday destinations in Greece are just a click away. Whether booking a cheap flight to Kalamata or perhaps to Athens or any other destination on the main island, we can help you find cheap flights at the best rates available. Cheap flights from Condor get you where you want to go!
Booking a cheap flight to beautiful Kalamata puts you at the southern tip of the Peloponnesse Peninsula on the Greek main island. The pace of life here is slow, the views are beautiful, and the history fascinating. There are plenty of museums to visit, shops to explore, and restaurants serving up traditional fare. The mountains are not far, nor are several resort beach facilities. Kalamata has got something for everyone, so book your cheap flight to Kalamata with Condor today.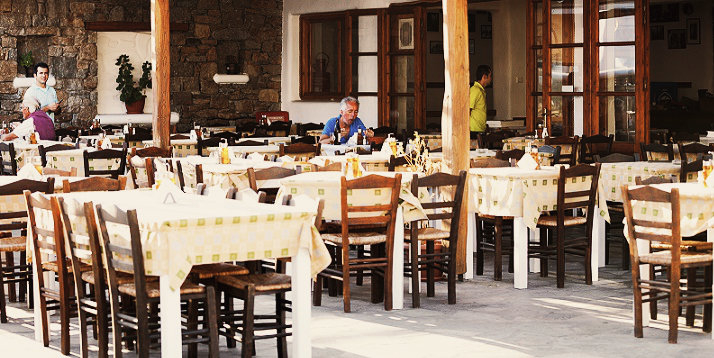 Try the famous Kalamata olives in one of many great restaurants
Upcoming flights to Kalamata
Flight facts
We have got direct, cheap flights to Kalamata from most major airports in Germany, including Munich, Dusseldorf, and Stuttgart. A flight from Munich takes less than four hours; depart after breakfast and enjoy lunch in Kalamata! Cheap flights out of the UK are also available, many of then direct. You can, for example, book a cheap flight from London Gatwick or Manchester directly to Kalamata. Convenience at an affordable price: that is Condor!
The Kalamata International Airport is located about 10 kilometres from the city centre. There is a bus that runs between the airport and the city that is affordable and convenient. Perhaps the more comfortable way to reach your accommodation is with a taxi; you can find plenty at the airport. Should you want to hire a car, there are a number of agencies to choose from upon arrival.
All flights from Europe to Kalamata
Kalamata Climate
JAN

FEB

MAR

APR

MAY

JUN

JUL

AUG

SEP

OCT

NOV

DEC
Top sights in Greece
Castle of Isabeau
This beautiful castle has become the symbol of the city. The orginal structure dates back to the 13th century with additions made by the Venetians and Turks. The views of the city from Isabeau are a must-see. The castle is often used as an open-air venue for theatre, music, and dance shows.
The Kalamata Old Town
Located at the foot of the Castle of Isabeau is the Old Town. Here you can find the fascinating Archaeological Museum, City Hall, as well as the Greek Museum of Modern Art. There are also numerous taverns, traditional restaurants, and shops.
Nearby Beaches
The beaches of Greece are legendary and you will be close to some beautiful ones when you opt to book a cheap flight to Kalamata. Worth mentioning are the sandy beaches in Verga, located 8 kilometres to the east, and in Mikri Mandineia, found 10 kilometres to the southwest.
Mystras
Located near another popular tourist destination, the ancient town of Sparta, the ruins of Mystras offer up gorgeous views and beautiful landscapes. Mystras served as the 14th and 15th century capital of the Peloponnesus, but has been abandoned since 1832.
Delphi
What trip to Greece would be complete without a visit to the lengendary oracle of Delphi? This site has been sacred for centuries and is today the most visited site in Greece. Delphi is situated upon a hill, providing fantastic views.
Other destinations like Kalamata