Welcome to Ukraine
Kiev the proud capital of Ukraine is a must see when visiting the country. Explore numerous museums, religious sites, ancient ruins and contemporary buildings in the heart of the Ukrainian culture. First impression of Kiev surprises most people with its charming natural beauty and architecture. The golden domes light up the green banks of Dnipro. Check online to find cheap flights to Kiev with Condor today.
Flights to Kiev bring you to the city that has survived natural and manmade calamities to develop into an amazing city. World Heritage Sites enhance the city also the cradle of all things Russian. It has emerged with a wealthy lifestyle weaving in various ideologies. An old region it offers several architectural marvels to explore and enjoy. Your visit is complete when you take a cheap flight to Kiev with Condor.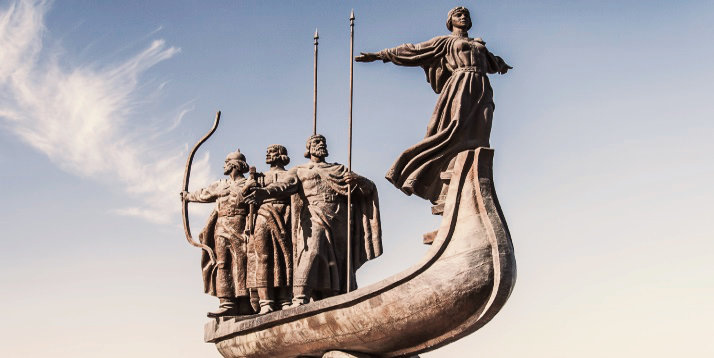 Numerous fine statues sit at the Independence Square in Kiev.
Flight facts
Condor offers flights to Kiev for travelers with different budgets. Over 15 centuries old Kiev has come a long way from a nomadic tribe settlement into one of the largest world cities. Its cathedrals, monuments and architectural ensembles mesmerize you with their charm, harmony and historical authenticity steeped in old glorious era. Comfortable and cheap flights to Kiev are assured when you fly with us.
When your flight to Kiev lands into the Boryspil International Airport the easiest way to reach the city centre is the Sky Bus. It will take about an hour to reach the city. You can book a taxi in advance or find one at the airport but be careful as there are many unlicensed touts. There is a good selection of cheap flights to Kiev from west or east coast of the US with Condor.
Top sights in Kiev
St. Sophia Cathedral
One of oldest monuments in Kiev, St. Sophia of Kiev was founded in the 11th century. This majestic cathedral is a UNESCO site that was earlier used for royal ceremonies, intellectual work and education. You can see stunning mosaics and unique old frescoes.
St. Michael's Monastery
St. Michael's Monastery comprises of a cathedral, the Economic Gates, bell tower and the St. John the Divine Refectory. This 12th century monastery enjoys a dramatic history. It was destroyed in the 1930s but reopened in 1998.
Holodomor Memorial Museum
Sitting close to the monastery it commemorates the numerous victims of Holodomor, the Great Famine. It aims to bring to attention the most tragic times of national history and is an integral part of the cityscape. It can be seen from various part of Kiev.
Independence Square
Also called the Maidan Nezalezhnosti it is the main and most spectacular city square. It is the venue for numerous events including concerts, parades, festivals and other activities. There are several fountains, an artificial waterfall and Independence Column. There is much to see here.
National Museum of Chernobyl
Just at the Kontraktova plochtcha, it is built to showcase the worst chemical disaster of the 20th century. It is divided into five sections offering over 7,000 exhibits along with maps, secret documents, personal items and photographs.