All flights from North America to Saint Petersburg
Welcome to St. Petersburg!
Condor flies you to the cultural centers all across Europe. We can help you find cheap flights to the most beautiful holiday destinations across Europe including the fascinating and romantic city of St. Petersburg. Few cities can match the unique history and beauty of St. Petersburg. This beautiful city has become a must see when traveling to Russia. And Condor can get you cheap flights!
St. Petersburg is a center for the arts and music not only in Russia but also across Europe. Stroll the romantic narrow streets of the historic city, or bask in the grandeur of this architectural wonder. Enjoy the beauty of a concert by the St. Petersburg philharmonic in the wonderful Bolshoi Zal concert hall. Few cities can compare with the unique beauty and romance that St. Petersburg offers. And Condor offers you cheap flights to this great city!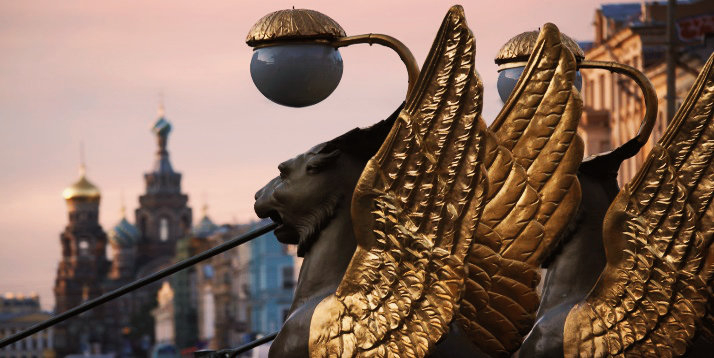 The beautiful and romantic city of St. Petersburg: Book your flight with Condor now!
Flight facts
The flight to St. Petersburg is quite short, being only 3 hours from Frankfurt. As a frequent destination, there are several Condor flights to St. Petersburg that will suit your travel needs and desires. Condor's direct flights make traveling to St. Petersburg easy and comfortable. Condor offers you regular cheap flights, making your holiday to St. Petersburg more enjoyable and leaving you relaxed and stress free.
Pulkovo International Airport in St. Petersburg is quite moderate in size and very manageable. Once you arrive, there are several simple ways to get into the city. Buses run frequently and are cheap and easy to use. Or perhaps treat yourself and take a comfortable taxi to your destination in the city. It takes about 40 minutes to drive from the airport into the romantic city center.
Saint Petersburg Climate
JAN

FEB

MAR

APR

MAY

JUN

JUL

AUG

SEP

OCT

NOV

DEC
Top attractions in St. Petersburg
Church of Our Savior on Spilled Blood
One of the top sights to see in St. Petersburg is the Church of Our Savior on Spilled Blood, more commonly known as Spas na Kravi. This beautiful church is an iconic landmark of St. Petersburg. With its recognizable golden gilded onion dome, it is hard to miss this wonder.
The Peterhof Palace and garden
The Peterhof Palace and garden are a must see in St. Petersburg. Once the formal home and garden of Peter the Great, this beautiful palace holds a wealth of history and wonder. Walk in the footsteps of Peter the Great as you make your way through the gardens.
State Hermitage Museum
Visit St. Petersburg's most famous art museum, the State Hermitage Museum and Winter palace. This massive palace houses an overwhelming amount of breath taking art. Enjoy the rich Russian culture and history within the walls of the beautiful royal palace.
Palace Square and Dvortsovaya Ploshcad
A hard to miss attraction is the Palace Square or Dvortsovaya Ploshcad. With its unique and often contrasting architecture, this massive square is a true wonder of the city. A sight with so much history, you will find yourself transported back to the past.
Mikhailovsky Opera and Ballet hall
Russia has a rich musical history. That is why the Mikhailovsky Opera and Ballet hall is a must see. Enjoy the wonderful music of Russian composers performed in the most beautiful theater Russia, and perhaps Europe has to offer.
Other destinations like Saint Petersburg from North America
Other destinations like Saint Petersburg from Germany/Austria/Switzerland