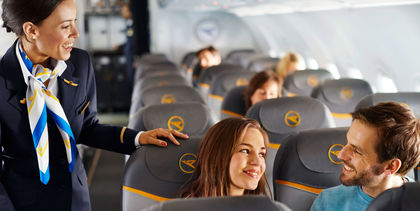 With Condor, your holiday starts right on board
Enjoy the exceptional comfort of our new, ergonomic leather seats. Our flight attendants will make sure that you feel comfortable and relaxed on board our flights.
To travel even more comfortably, reserve one of our popular XL-Seats with extra spacious legroom right when you book your flight. Even after booking your flight, you still can reserve your XL-Seat up to 48 hours prior to departure via Extras.
Would you also like to enjoy a culinary delight on your flight? Then treat yourself to one of our Premium Menus or Special Menus. You can book them up to 24 hours prior to departure via Extras.

Our varied entertainment programme featuring a selection of TV series, documentaries and children's shows, and music will truly make the time fly by. Making sure you arrive relaxed at your destination.
Great Inflight Entertainment On Board
Your Flight in Economy Class
Seat Comfort
Comfortable leather seats


Entertainment
TV series, documentaries & music
Beverages
Large selection of beverages starting at just € 2.50


Online Check-in
Starting 24 hours prior to departure
Hot Meals
Can be booked in advance or on board


Miles & More
Earn 125 award miles or more
*You can book your upgrade by phone up to 24 hours prior to departure.
**(€ 0.20 per call from a German landline, max. € 0.60 per call from a German cell phone network)