Affordable one-way flights to Djerba
Welcome to Tunesia
Imagine a city with a stunning fairy-tale like backdrop, modern European standards, and traces of African warmth and culture. That image is reality on the Tunesian island of Djerba. Condor offers cheap flights that bring visitors to Djerba in just a few hours. Relax on gorgeous sandy beaches, indulge yourself in delicious traditional food, find awe in the unique architecture- in short, enjoy yourself! Condor has cheap flights to Djerba to suit all budgets. Find your ticket now.
A flight to Djerba opens the door to one of the most fascinating spots in the region. The island has long been a cultural melting pot. From the charming capital city of Houmt Souq on the northern coast with its ancient camel caravan inns to the Jewish villiage of Erriadh, and the artisan villiage of Guellella: it all comes together in Djerba. Condor flights to Djerba bring you to a holiday destination worth remembering.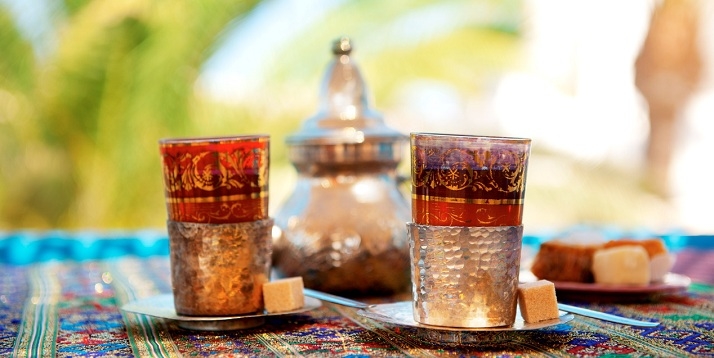 Have a tea with a merchant at the bazaar
Flight facts
A flight to Djerba takes less time than you may think. Condor's direct flights from Frankfurt International Airport only take 3 hours! We also have flights to Djerba from Düsseldorf, Leipzig, and Munich. If your point of departure is from another airport, you most likely will have to transfer at one of these. Book your cheap flight to Djerba and get ready for a holiday of a lifetime.
Our flights arrive at the the Djerba Zarzis International Airport. It is located in the north-western part of the island, approximately 9 kilometres from the capital city of Houmt Souk. Taxis are plentiful both at the airport and in the towns, and the island's attractions are best reached with a short and easy taxi ride. Alternatively, you could rent a car during your stay for ultimate flexibility.
All flights from Europe to Djerba
Djerba weather
JAN

FEB

MAR

APR

MAY

JUN

JUL

AUG

SEP

OCT

NOV

DEC
Top sights in Tunisia
Houmt Souk
The capital city has got a great variety of shops, accommodations, and restaurants. You should most definitely check out the famous bazaar in the harbour where a range of local specialties can be purchased. Also be sure to take a look at the impressive pirate fortress Bordj-el-Kebir.
El-Ghriba
The oldest synagogue in North Africa is found near the town of Erriadh, about 7 kilometres south of Houmt Souq. The interior is a unique mix of blue tile work and dark wooden furniture. The inner sanctuary is said to house one of the oldest Torahs in the world.
Fish Market Auction
The daily fish auction found in the Marche Central offers you the chance to see what life is really like in the area. The fish industry is Djerba's second-biggest so auctions can get pretty competitive. A spice market as well as a nice produce market can be found nearby. All markets are open from sunrise to sunset.
Houmt Souq Marina and Port
The town's busy fishing port is a fascinating place to visit early in the morning. Each day local fishermen come here to sell their catch. The new marina located here is an impressive collection of shops, cafés, and restaurants.
Guellala
This picturesque village located on the southern side of the island is known for its traditional pottery. There are many artisan workshops you can visit and many of the artists are happy to show you how it is done. This is a great place to stroll and pick up some souvenirs.