Cheap flights to Cairo / Sphinx / Giza from € 159.99*
All flights from Europe to Cairo / Sphinx / Giza
Tourist Attraction near Giza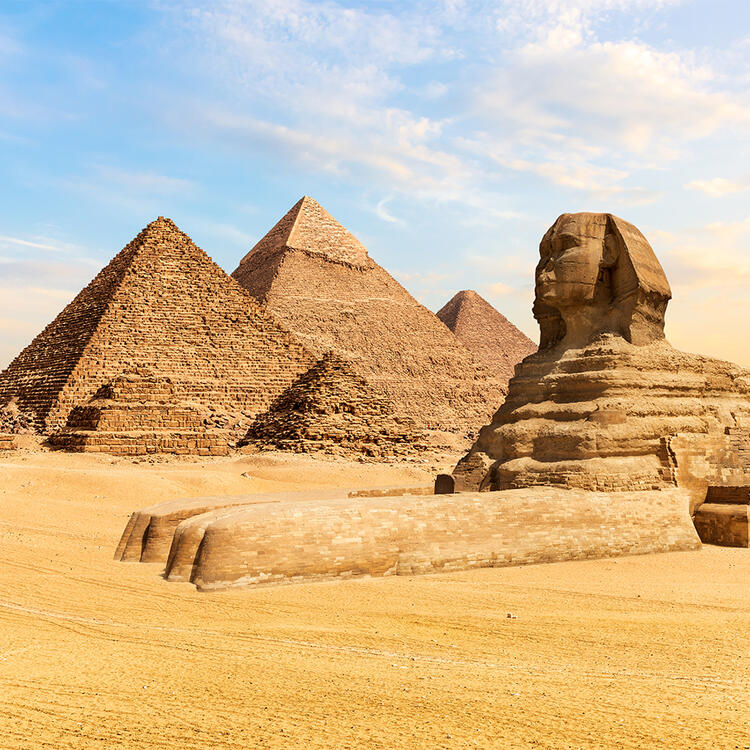 Pyramids of Giza and The Great Sphinx
The Pyramids of Giza are rightly one of the most famous sights in Egypt. They are among the oldest surviving structures in the world, and they continue to be a major tourist attraction. In 1979, UNESCO designated the Pyramids of Giza as a World Heritage Site. They were built about 4,500 years ago and are to date still the tallest structure in Egypt. The Great Sphinx is located right next to the pyramids of Giza and is equally impressive. It is a large statue of a lion with a human head, and one of the most famous landmarks in Egypt. There is some debate over this, but most experts agree that the face of the Sphinx bears a strong resemblance to pharaoh Khafre's portraits.
Egyptian art and culture
The Egyptian Museum in central Cairo is a must-see for anyone visiting the country. This world-famous museum is home to an incredible collection of ancient Egyptian artifacts, including the iconic burial mask of Tutankhamun. The Museum of Islamic Art is also well worth a visit. This museum is located in central Cairo and houses a vast collection of Islamic art and artifacts from all over the world.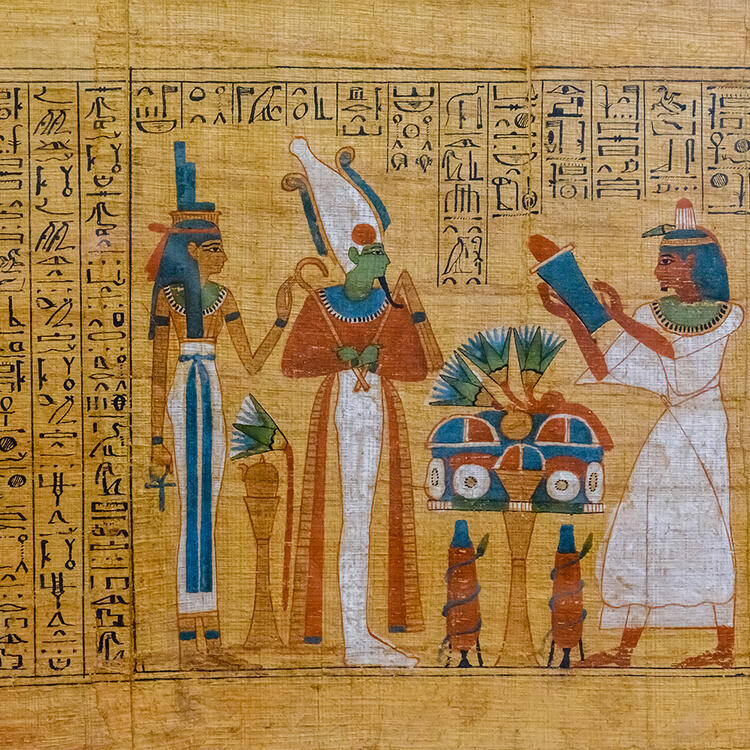 The Egyptian Papyrus Museum
The Egyptian Papyrus Museum is a small museum located in Giza that is worth a visit for anyone interested in ancient Egyptian art. It houses a collection of papyrus scrolls and paintings, as well as papyrus souvenirs for sale. Admission is only 10 Egyptian pounds, so it's a great place to visit if you're on a budget.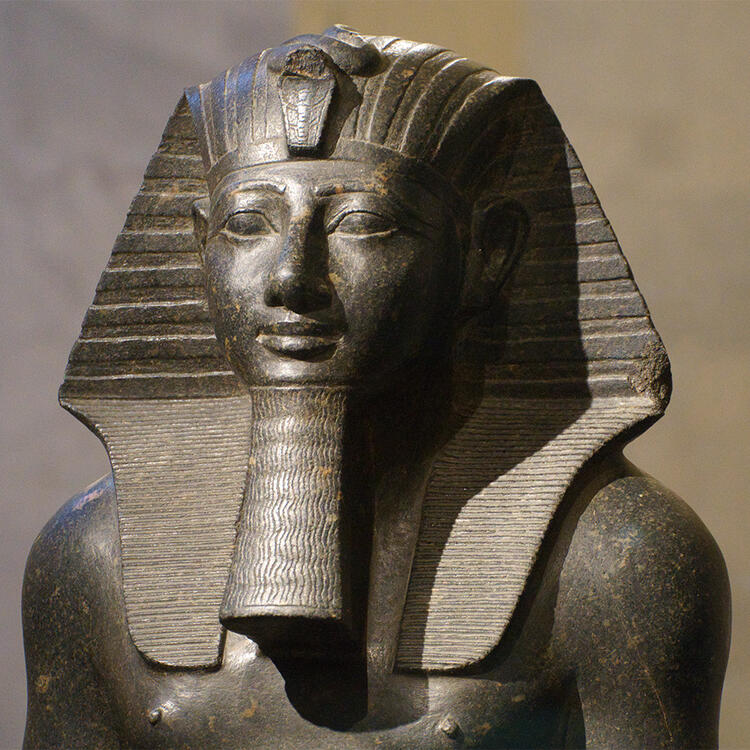 The Grand Egyptian Museum (GEM)
The Grand Egyptian Museum (GEM) is new and currently under construction. When it opens, it will be the largest museum in the world dedicated to ancient Egyptian history and art. The museum is scheduled to open in 2023, and it will be home to more than 100,000 artifacts from all periods of ancient Egyptian history.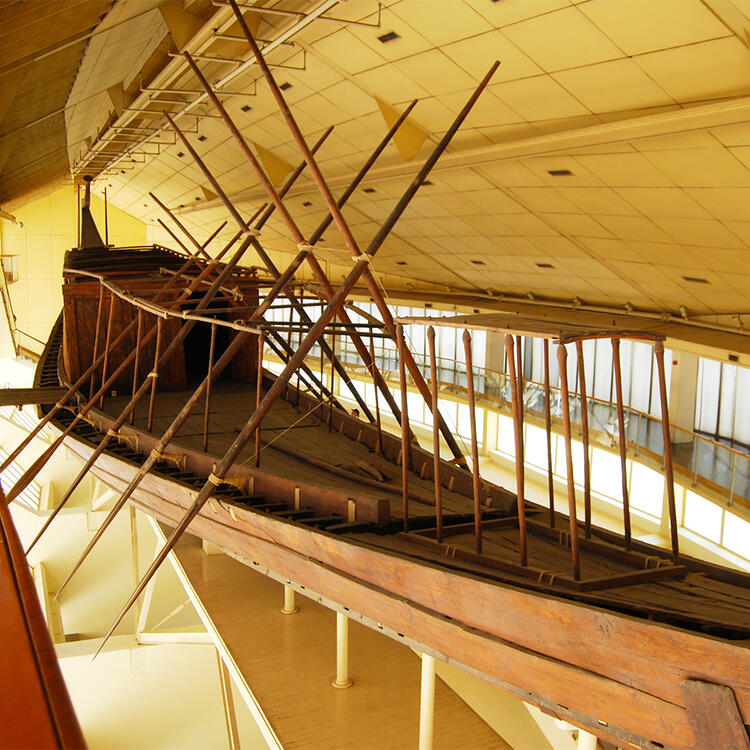 The Solar Boat Museum
The Khufu Ship Museum is a small museum located next to the Great Pyramid of Giza. It houses a replica of Khufu's ship, which was discovered buried near the pyramid in 1954. The ship is around 43 meters long and 6 meters wide, and it is thought to have been used as a funerary vessel for the pharaoh Khufu. A great value for tourists visiting Giza.
Flight deals to Cairo - Discover The Great Pyramids of Giza and much more
With cheap flights to Giza (SPX), Condor makes it easy for you to explore Egypt, a land full of mystery and fascination. From the Pyramids of Giza to the old town of Cairo or the Sphinx, all the iconic landmarks are within easy reach of Giza Sphinx International Airport. But beyond these famous sites, there is so much more to see and do in Egypt. The country is full of vibrant markets, stunning temples, and awe-inspiring landscapes. So why not take advantage of our cheap flights to Cairo and explore this amazing corner of the world? A flight to Giza is the start of an exciting vacation, whether you want to take a leisurely cruise on the Nile or an exciting diving trip in the Red Sea. History buffs will love exploring the ancient Egyptian sites, while beach lovers can relax on some of the world's most beautiful sandy shores. No matter what you're looking for, Cairo is a great place to start your Egyptian adventure from which to explore the rest of this fascinating country. The ancient city of Alexandria, with its Roman ruins and Mediterranean atmosphere, is only a short drive away. And for those who want to venture even further, Luxor and its magnificent temples are well worth the journey.
Another great destination to consider is Hurghada, on the Red Sea coast. This lively town is home to some of the best diving spots in Egypt, and its coral reefs and marine life are a real attraction. If you're looking for something a little more relaxing, then Sharm el Sheikh may be the place for you. This resort town on the Sinai Peninsula is well known for its stunning beaches and clear waters. There's also plenty of opportunity for diving, snorkeling, and other water sports. The best time of year to visit Egypt really depends on what you want to do. The high season for tourism in Egypt is from October to April, when the weather is most pleasant. If you want to avoid the crowds and enjoy the sights at your own pace, then the winter months (October to February) may be a better option and the cheapest prices. However, Egypt is a year-round destination that has something to offer visitors of all interests and budgets. Book your flights to Cairo today and discover what Egypt has to offer!
Information about your flight to Cairo/Giza
Starting from March 2023, Condor will fly twice a week (Mondays and Thursdays) directly from Frankfurt (FRA) to Cairo/Giza (SPX). This will make it easy for tourists to explore the country and its many tourist attractions. Condor also offers connecting flights from many other cities in Germany and International Airports. Our Flights to Egypt are night flights, so travelers can start their first day of vacation well-rested. A flight from Frankfurt to Giza takes about four to five hours. From Giza Airport (SPX), you can easily reach the surrounding attractions and resorts. Sphinx International Airport is located approximately 20 kilometers from the city center of Cairo. It is also close to the Pyramids of Giza, making it a convenient destination for tourists and the perfect starting point for your Egypt trip. It is quite a small airport, but it has all the facilities you need including a few shops and restaurants. There is also a currency exchange desk if you need to change your money. The best way to get from Sphinx International Airport (SPX) to downtown Cairo is by taxi or rental car. The airport is quite small, and plenty of taxis are available to take you into town. The journey should take around 30 minutes, and the fare
should be around 50-60 Egyptian pounds. If you're looking to explore more of Egypt beyond the Cairo area, renting a car is a great option. There are a few car rental agencies located at Sphinx International Airport, so it's easy to get started. Just be sure to have your driver's license and passport handy, as both are required when renting a car in Egypt. With a rental car you'll have the freedom to explore at your own pace and see all the sights that interest you. Just be sure to drive carefully and obey the local traffic laws – they can be quite different from what you're used to! If you're a tourist, you'll need to apply for an eVisa before you travel to Egypt . The eVisa application process is simple and straightforward; you can apply online. The eVisa is valid for a single entry and allows you to stay in Egypt for up to 30 days. It's important to note that the eVisa is not a visa-on-arrival, so you must have it approved before you travel. With cheap flights to Giza/Cairo, Condor takes you straight to the heart of this fascinating country. So don't wait – start planning your Egyptian vacation today!
Other destinations like Cairo / Sphinx / Giza