Affordable one-way flights to Salvador da Bahia
Other destinations like Salvador da Bahia
Welcome to Brazil
São Salvador de Bahia de Todos os Santos, or Salvador de Bahia, is an ideal place to spend your next holiday. With its sandy beaches, stunning architecture, delicious cuisine, and many cultural offerings, a flight to Salvador de Bahia is the right first step for people of all interests. Your flight to Salvador de Bahia can also be your gateway to exploring other parts of this exciting South American country.
Your flight to Salvador de Bahia requires making a connection in Fortaleza, another popular coastal city on Brazil's northeastern coast. Spend a few days exploring the local culture and folk music of Fortaleza before taking your connecting flight to Salvador de Bahia. You can also book flights to other popular destinations in Brazil via Condor, for example the bustling, vibrant metropolises of Sao Paolo and Rio de Janeiro.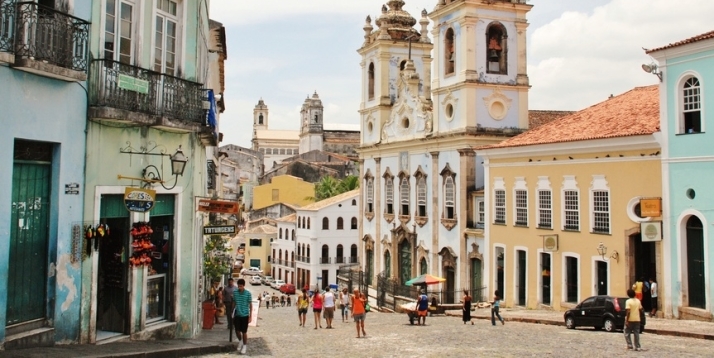 Discover the inner city on foot: the Lacera lift connects the upper and lower cities.
Flight facts
In order to get to Salvador de Bahia with Condor, you will need to fly from Frankfurt to Fortaleza. Of course you can connect to Frankfurt from another major European airport such as Berlin or London. From Fortaleza, your flight to Salvador de Bahia only takes about an hour and a half.
The last thing you want to do after a long flight to Salvador de Bahia from Europe is to navigate the streets of a new, unfamiliar city. Why not treat yourself to a taxi? The drive only takes about 40 minutes from the airport to downtown Salvador de Bahia, and from there you can get settled into your accommodations before heading out to enjoy your holiday.
Salvador da Bahia weather
JAN

FEB

MAR

APR

MAY

JUN

JUL

AUG

SEP

OCT

NOV

DEC
Top attractions in Brazil
Salvador de Bahia
This city is known for its colonial past, but it is also known as Brazil's "capital of happiness" thanks to the myriad outdoor parties that have come to characterize the city. Add to that the city's beaches, and you have yourself an unforgettable holiday with a little bit of everything.
Rio de Janeiro
Known for its extravagant Carnival, this lively city will not let you down. Christ the Redeemer towers over the city, watching over its inhabitants as they dance the night away or get a nice tan at Ipanima Beach or Copacabana Beach. From museums to football and dancing, Rio has it all.
The Iguazu Falls
This stunning falls are a beauty to behold and are well worth the added travel time required to get to them. Spanning the border between Brazil and Argentina, the mighty Iguazu Falls pump out over 7,000 cubic meters per second.
Fortaleza
This coastal city is the perfect combination of beach life and urban life. Its location on the northeastern coast of Brazil ensured Fortaleza an important role in the country's past, and the many museums and preserved buildings provide insight into that past. Fortaleza also has a vibrant nightlife for those who like to dance the night away.
The mighty Amazon River and the rainforests that run alongside it comprise one of the planet's most important ecosystems. With so many exotic specimens of flora and fauna, it is no surprise that many people yearn to see the lush forests and raging waters firsthand.