Affordable one-way flights to Recife
Other destinations like Recife
Welcome to Brazil
Recife, Brazil has the distinction of being one of Brazil's most popular tourist destinations, and we can help get you there in style and at bargain rates. Our cheap flights to Recife are the first step toward soaking up the sun on Recife's sandy beaches and exploring the delicious cuisine and spicy culture of Brazil. You can also combine your flight to Recife with flights to other parts of this beautiful South American country.
Our flight to Recife requires a transfer in Fortaleza, another popular tourist destination. Consider spending a few days in Fortaleza before continuing on your flight to Recife, as the city has much to offer in terms of culture and entertainment. Fortaleza is also a beach town, so you can spend your days on the beach and your evenings living it up before going on to explore Recife and other parts of Brazil.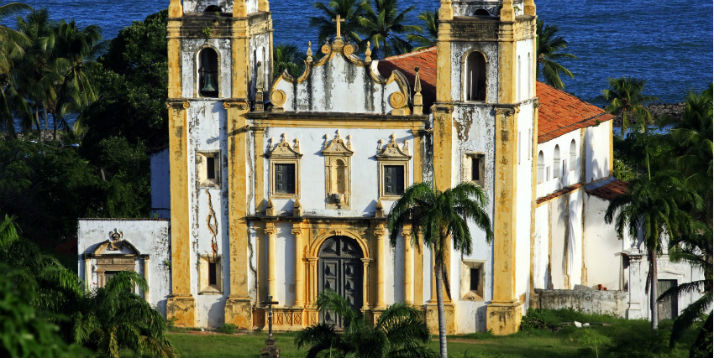 Recife has a lot to offer culturally
Flight facts
When you book your flight to Recife via Condor, you first need to take a ten-hour flight from Frankfurt to Fortaleza. Your connecting flight to Recife from Fortaleza takes just under 90 minutes once you take off, so you will be unpacked and hanging out at the beach in no time. You can also connect to Frankfurt from other major cities, such as Berlin or London.
The best way to get to your accommodations once your flight to Recife has landed is to take a taxi. Taking a taxi is inexpensive, and getting from the airport to downtown Recife only takes about 25 minutes. And after a long flight to Recife, you deserve to have someone get you to your holiday home rather than having to navigate a new city on your own. It is, after all, holiday!
Recife weather
JAN

FEB

MAR

APR

MAY

JUN

JUL

AUG

SEP

OCT

NOV

DEC
Top sights in Brazil
Recife
The combination of natural and manmade beauty in Recife is simply stunning. With its majestic skyline, sandy beaches, blue waters, and striking sunsets, Recife is nothing short of paradise. Walking through the old city centre is also a wonderful way to discover the history of Recife.
Olinda
Work began in 1930 to preserve the historic town of Olinda, and it is easy to see why. The beautiful old buildings tell the tale of Olinda's and Brazil's history, and the spectacular beach views provide the perfect backdrop for this step back into the past.
Jericoacoara
This idyllic little corner of the globe is located in Brazil's Ceará region in the northwest of the country. Its location on the peninsula means you can watch the sun rise over the ocean, and the many freshwater lagoons and lakes provide an alternative for those who want to get out of the saltwater.
Salvador da Bahia
This colonial city is another place of historic interest that gives insight into Brazil's complex and intriguing past. Salvador da Bahia is the birthplace of Capoeira, and Carnival gets just as lively here as it does in Rio!
Sao Paolo
Over its century-long existence Sao Paolo has become one of the most culturally influential cities in a country that plays a significant role in the region. Dive into local culture and visit the numerous museums, or explore the diverse offerings of Sao Paolo's nightlife.