Affordable one-way flights to Fortaleza
Other destinations like Fortaleza
Welcome to Brazil
Brazil has long been a popular tourist destination, and our flights to Fortaleza are an ideal way to begin your Brazilian holiday. Located on the country's northeastern coast, Fortaleza is an exciting city right on the beach—the best of both worlds for those who enjoy beach and urban holidays. You can also use your flight to Fortaleza as a connecting flight to other parts of Brazil.
One of our cheap flights to Fortaleza can be your stepping stone to cities such as Rio de Janeiro or Sao Paolo, the two cultural giants in this influential South American country, or discover the colonial city of Salvador de Bahia. No matter what parts of Brazil you want to explore, booking a flight to Fortaleza with Condor is the right way toward an unforgettable holiday in Brazil.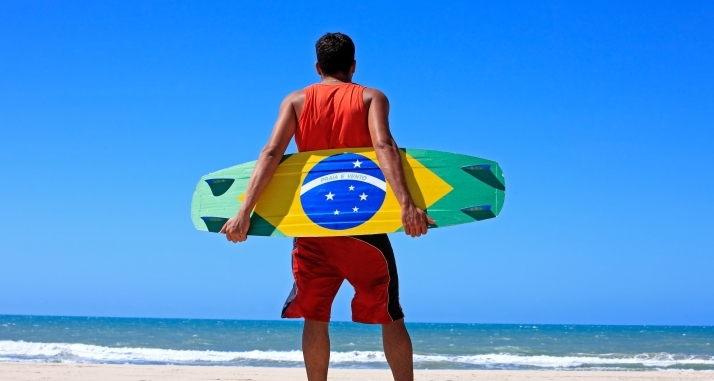 Go surfing and wind kiting close to Fortaleza
Flight facts
A flight to Fortaleza from Germany takes about ten hours. We offer direct flights to Fortaleza via Frankfurt. If you are planning on visiting various destinations in Brazil, keep in mind that some domestic flights in Brazil can take up to four hours. We also offer connecting flights to other popular destinations in Brazil—with Condor by your side, you can spend less time worrying about how you are getting there and more time enjoying yourself.
Treat yourself to a taxi once your flight to Fortaleza has touched down. Navigating the city via public transport or rental car can be difficult, so save yourself the hassle and let a taxi get you to your accommodations. The airport taxis are slightly more expensive than city taxis, but the rate is still very reasonable, and it only takes about 25 minutes to get downtown.
Fortaleza weather
JAN

FEB

MAR

APR

MAY

JUN

JUL

AUG

SEP

OCT

NOV

DEC
Top sights in Brazil
Fortaleza
Fortaleza is popular amongst beachgoers and urban tourists alike. Spend a few days soaking up the sun on sandy beaches, but also make sure to explore the many cultural landmarks in the city, such as the cathedral or the Palacio da Luz.
Sao Paolo
This cultural and economic giant is a thriving metropolis with lots to see and do. It hosts several events throughout the year and is home to many museums and points of interest. Football fans should head to a stadium to check out a match.
The Iguazu Falls
Located on the border between Brazil and Argentina, these majestic falls leave visitors breathless. In total there are more than 250 falls in this area. The Iguazu Falls have even been considered to be one of the new seven wonders of the world.
Rio de Janeiro
Rio is known all around the world for the annual Carnival, but the city also has much more to offer. Some of its most famous beaches include Ipanima and Copacabana Beaches. The iconic statue of Christ the Redeemer watches over this city, where you can dance the night away or spend the day perusing the numerous museums.
Amazon National Park
The Amazon National Park and the Amazon River are a must see for every nature lover. This is one of the most important ecosystems in the world, and a trip into the rainforests and on the river is not something you will soon forget.